Writer and concert promoter Leagues O'Toole pays tribute to cult US singer-songwriter Daniel Johnston, a much-loved legend of the outsider, lo-fi, and alternative music scenes, who passed away last week, aged 58...
Around 2007/2008, Daniel Johnston played several shows in Dublin, at Vicar Street and Whelans,
Accompanied by his brother and minder Dick, Daniel brought an all-star band of great musicians and songwriters to Whelan's on July 27th and 28th, 2008. The band included James McNew of Yo La Tengo, the late Mark Linkous of Sparklehorse, Scout Niblet, Jad Fair & Bob Sluggett of Half Japanese and Norman Blake of Teenage Fanclub. It was an exciting collection of artists and all the guests showed both a real sense of admiration, but also a sense of protection towards Daniel, which was nice to see. Dick Johnston was Daniel's carer and he travelled to make sure his blood sugar level was ok and his general well-being on tour was being looked after given he suffered from various strains of mental illness.
Daniel himself was very charming and, remarkably, greeted everyone he met with his catchphrase "Hi, How are you?" He also chainsmoked cigarettes. Dick explained that the big draw for Daniel touring Europe wasn't so much the shows, which he could take or leave, but the opportunity to visit the comic book stores of the cities he visited. Fans of Daniel will be familiar with his wonderful drawings, largely inspired by the early Marvel Comics aesthetic of Jack Kirby but with his own uniquely surreal motifs and twists (the frog character, babies with bulbous heads etc). So as promised we brought him to a comic shop. There was a particularly good one in Temple Bar at the time, simply called COMIX, which exclusively sold old and second hand Marvel, DC, Image and so on.
Rest in peace, Daniel Johnston. He inspired me so much. He taught me that you didn't need a perfect voice to be an artist, you didn't need to be a perfect musician or have clean sounding demos - you just needed to express your true heart and people would hear that. pic.twitter.com/ZntgV2kWfR

— MARINA (@MarinaDiamandis) September 12, 2019
As soon as Daniel entered this shop he was lost in a world of comics, shuffling from one pile to another, often forgetting about those he'd picked out and generally creating quite a mess! At one point I went up to the guy behind the counter (I think he was the owner) and I said "Hey sorry we're making a bit of a mess" and his response was "is that Daniel Johnston? He can make all the mess he wants." The comic shop guy was rewarded for his patience and kindness as Daniel spent about €500 on comics, leaving with a large shopping bag in each hand.
Our next port of call was to get Daniel a strawberry milkshake before we returned to Whelan's to set up for the show. Once Dick was happy with Daniels blood sugar level we went to Eddie Rockets on Wexford opposite the venue. Daniel sat and read his comics and slurped his shake. When he was finished, Dick went to the bathroom and I went to counter to pay. I literally turned my back for two minutes and turned around and Daniel was gone!!!! Nowhere to be seen. Dick came back from the loo and said where's Daniel? He had disappeared.
Shrine for Daniel Johnston in Austin, TX pic.twitter.com/TlKYRWUhEx

— Anton Jäger (@AntonJaegermm) September 14, 2019
We figured he must have gone across the road to Whelan's. He couldn't have gotten very far carrying two very heavy bags of comics. But he hasn't returned to the venue. He was no one to be seen and we were kinda freaked. five or six different search parties began combing the streets of Dublin. Julie Cooper will remember driving me around frantically trying to spot a large man smoking cigarettes and carrying two heaving bags of comics but we couldn't find him anywhere. Everyone was starting to get freaked, Scout Niblet was crying, we reported our missing person to the guards. WE HAD LOST DANIEL JOHNSTON!
There is a heaven and there's a star for you. Daniel Johnston 1961-2019. pic.twitter.com/tKRYofd15Z

— WILCO (@Wilco) September 12, 2019
But part of me was convinced he couldn't have gotten far and surely someone would recognise him and bring him to Whelan's. It turns out he made it all the way up to Rathmines village before he became too pooped and sat down on the side of the road and started reading his comics again. And lo and behold, an absolute hero of a woman was walking by, did a double-take and said "Hey you're Daniel Johnston!" "I'm lost" he responded! Soon after, she (I wish I could remember the woman's name) arrived in the door of the front bar, hand in hand with Daniel. Huge sighs of relief all round. Daniel himself seemed pretty unfazed by the experience but everyone else was close to meltdown.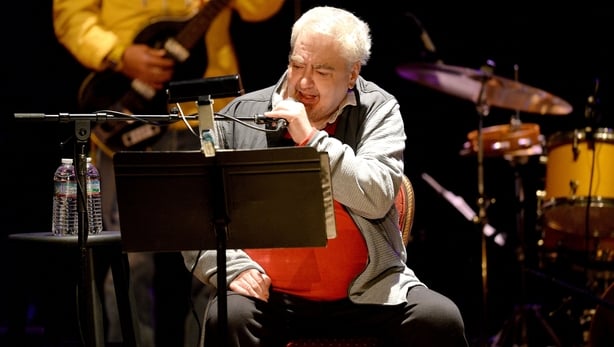 The shows were great, just joyous occasions. Daniel seemed to mean a lot to people in a lot of different ways. To some he represented outsider music, to some he was an icon of underground pop and tape culture. To others he just wrote great love songs and drew awesome pictures. Like some sort of renaissance man without the ego. To many, though, I think he genuinely represented someone who, despite all the setbacks and mental health breakdowns, still found his voice, his way of communicating to the world. Still found a way of sharing his gifts and brightening people's lives.
He'll be greatly missed, but always remembered.