We're delighted to present an extract from Two Souls, the new novel by Henry McDonald, former Ireland Correspondent for The Guardian and The Observer.
Robbie McManus is tortured. His psychopathic comrade 'Padre Pio' McCann is never far from wreaking havoc, his punk cousin 'Rex Mundi' has arrived from England and is getting in the way, his father is imploring him to finish his A-levels and get the hell out of Belfast - and then there's Sabine, the mysterious loner in The Pound who shimmers, trancelike, on the dancefloor to the opening track of David Bowie's Low. Her hair dyed jet black in a Cleopatra cut, she is a moving hieroglyphics that Robbie is desperate to decipher.
From the summer of 1978 to a frenzied Irish Cup Final day nine months later, and, through a series of smuggled 'prison comms', to the paramilitary-stalked Belfast streets of the late '80s, all threads collide in a tale that exposes human nature's futile efforts to make the right decisions and to choose a life worth living...
---
The Speed of Life
July 1978
She didn't dance. She shimmered. She almost stood still, quaking ever so slightly to the same song that DJ Derek put on for her every Tuesday evening after the band had put away their instruments and the punks had stopped pogoing. She quivered as if some force was coursing through her alabaster skin. She always wore the same tight white silk dress with Chinese script curling over it, over her body. She never slipped or slid on her spiked high heels and fishnets. Her dyed, jet-black hair was crimped and shaped in a Cleopatra cut, and her eyeliner swept out in a dramatic cat-eye. She was a moving hieroglyphic.
She was the mystery of The Pound: she sat on her own, with one can of Coke at her table all night, and spurned forever the advances of all the young punks. She never got up for any songs belted out by the three-chord wonders roaring 1-2-3-4 at the top of every tune, or for any other tunes the DJ played before and after the live act. Her interest was singular: she only got up and onto that sticky, treacherous floor when the DJ played the opening instrumental track to Bowie's Low. She was addicted to 'The Speed of Life'.
I had only ever seen her once before in 'real life'. It was one grim winter morning a few months earlier on the number 33 bus as it made its way over from East Belfast. I guessed that she came from 'the other side' but knew instantly that she didn't belong to them or to anybody. This is what drew me to her in the first place and why I felt compelled to summon the courage to talk to her that night. I won't deny being helped along the way by the bottle of Merrydown I had knocked back in the Baby Subway before the gig. That night, even the risk of humiliation did not deter me. I waited until Bowie's instrumental opener to Low was over to tell her that she had good taste in music, unlike most of them inside here or over in The Harp. I even found the balls to tell her that Bowie was producing his best ever material since he ran away from the sins of America to hide from them all right up against the Wall.
She said nothing at first, just as I had feared, and then I added, 'Should you really be wearing them high heels when you've all that walking to do on Saturday?'
When she finally replied, it was as if she was measuring every word, carefully and cruelly weighing up her riposte. 'Did I ask you to speak to me? Are you retarded or something?'
'No, don't be offended like. I was just thinking you will have sore feet on Saturday if you wear them heels!'
'And what is so special about Saturday?' she asked.
'It's the 12th! The 12th of July. Won't you be out with Orange Lil and all the girls marching to the Field and then coming back pregnant?'
I noticed that she repressed a laugh and was relieved that she hadn't taken offence.
'Either you are being sarcastic or else you are simply a moron. Now which is it?'
'Well, I can confirm that I am not a moron. I'm just asking if you will be OK for the big day.'
'I won't be going anywhere with that lot next Saturday. I don't like crowds, let alone big processions. Are you going?'
'I wouldn't think I would be welcome. I might be the invited guest on top of one of their eleventh-night bonfires, but I wouldn't qualify to be marching the next morning.'
She snatched up her leather handbag with fringes dangling from it and tried to make a quick exit.
'I'm only slagging ya,' I said, standing up with her. 'I've no time for any of that shit, green or orange. I'm not one of them. And by the way, my name's Robbie, but my friends call me Ruin, and I'm dead on.'
She stopped in her tracks and fixed her eyes upon me. They were still loaded with contempt. 'You're a cheeky wee shite. Does your mother know you're out?'
'I bet you're a secret ABBA fan. You can't admit that in here or you will be tried and convicted for being a secret spide. Truth be told, my ma's dead but don't feel bad about it.'
'Snap!' She smiled back at me. 'Snap! Mine's dead too.'
'Excellent. So we really have got something in common as well as Bowie and liking, ahem, ABBA. So, as I said, I'm Robbie. What's your name?'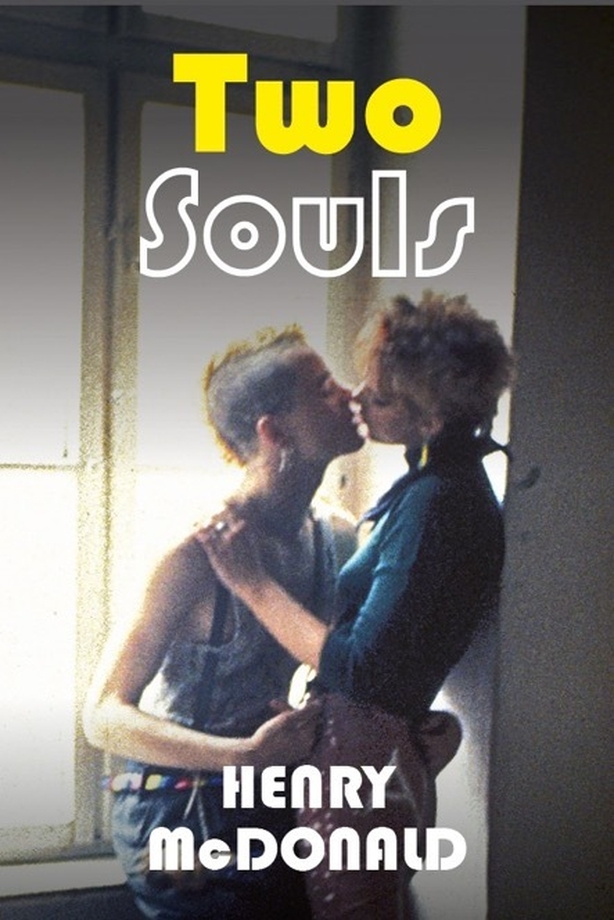 Two Souls by Henry McDonald is published by Merrion Press, available in bookshops, online and from Merrionpress.ie