Director Sam Yates writes for Culture about Incantata, his acclaimed staging of poet Paul Muldoon's moving examination of grief, loss and art, starring Stanley Townsend, which opens at The Gate Theatre later this month.
"I thought again of how art may be made... of nothing more than a turn in the road".
Stanley Townsend and I first worked together in 2017 on David Mamet's classic Glengarry Glen Ross in the West End, where Stan gave an acclaimed performance as Shelly 'The Machine' Levene opposite an ensemble including Christian Slater and Robert Glenister.
Quite different, then, at the invitation of Paul Fahy and Jen Coppinger, was the prospect of devising a one-person show inspired by Paul Muldoon's Incantata, written in memory of the artist Mary Farl Powers, who died of breast cancer in 1992. She was 43 years old.
How were we going to create visual performance from this incomparable poem?
We need your consent to load this rte-player contentWe use rte-player to manage extra content that can set cookies on your device and collect data about your activity. Please review their details and accept them to load the content.Manage Preferences
Listen: Paul Muldoon talks to Miriam O'Callaghan about Incantata
We began by looking up all the references in the poem so we knew what 'The Man' (as we named the speaker) was saying. Muldoon's references range from Lugh of the Long Arm to Dire Straits, and he is not constricted by time, place or tongue. What a joyous experience it was to burrow through Irish history, etymology, and the music referenced in the piece, trying to keep up.
We visited Dublin, sinking a glass in Riley's, McDaids, taking in Merrion Square. We met Paul Muldoon, who answered our questions graciously and generously. Just hearing him speak, his references spanning centuries, his sense of humour and rhythms, offered us an imaginative and literal connection to The Man speaking the poem.
Paul happened to mention that when he heard of Mary Farl Power's death, his first response was not to write, but to make prints from potato cuts. A physical act of making art came before committing words to paper. And so, we had the stimulus for what this man was doing in this space - making prints, waiting to speak.
Of equal importance and illumination was learning about Mary Farl Powers and her beautiful, technically rigorous works of art, a number of which are referred to in the poem, and in the production. We remain indebted to Jane Powers, Mary's sister, who has generously supported our investigations.
The team's response to this work is in itself an act of creation, and the next leap of imagination and creation begins when audiences pass into the theatre in an act of communion.
Having absorbed all we could from the text, places and people, we set about the physical presentation in a two week rehearsal period. Our brilliant designer Rosanna Vize created a flexible and inspiring space (which we referred to as "a very specific nowhere"), and we had a creative and stage management team with the skill and capacity to react quickly to daily ideas. So when we decided there should be a huge pile of potatoes in the corner of the set, it seemed like a fitting request and was quickly realised.
A key discovery was the camera, the device with which The Man records his remembrances (the parallels to Krapp's Last Tape seemed to chime fruitfully with the Beckettian references in the poem). The camera also became a physical embodiment of the person lost. And as such, the process of grieving, and remembering, became a physical act - a creation.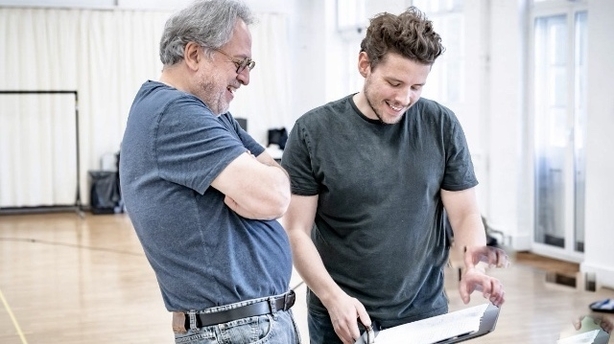 The team's response to this work is in itself an act of creation, and the next leap of imagination and creation begins when audiences pass into the theatre in an act of communion. We have all lost someone, and have wrestled with grief. There are many colours, peaks and troughs, stops and starts in the process, which perhaps never ceases fully. It is often non-linear, surprising, promising relief, or hopeless anger, or joy in recalling.
And yet grief is human, and perhaps through the act of creation we witness, as marshalled with such skill, heart and bravery in Stanley's performance, we may connect with one another in remembering those we have lost, and that we may continue to cherish in those close to us.
Perhaps we can build "from pain, from misery, from a deep-seated hurt a monument to the human heart." At least, there is value in the endeavour.
Incantata is at The Gate Theatre from 4 September, 2019 - more details here.