Sounds from a Safe Harbour, which runs from 10 – 15th September, is curated by Bryce and Aaron Dessner of The National, festival director Mary Hickson, Cillian Murphy and Enda Walsh, and presents 6 days of music, dance, visual art, and conversation across a series of venues in Cork City, with over 60 events in 30 venues, many of them free.
Director Mary Hickson writes for Culture about this year's SFSH programme...
Cork's Sounds from a Safe Harbour is very close to my heart, it is the only project I am working on in Ireland at the moment. Cork provides the perfect landscape for a festival with its intimate venues, incredible food, and unique and special hospitality. It really could not happen anywhere else in the world. I love making this with Bryce & Aaron Dessner, Cillian Murphy and Enda Walsh – our combined curatorial approach makes for a varied and exciting programme of events.
SFSH is made for artists first, in that we provide time and space for them to come together for the days leading into the festival to rehearse, collaborate, and react to the environment Cork presents to them. For the third edition of this festival (10 – 15th September), we have up to 70 artists arriving into Cork to collaborate and make music.
SFSH will present over 60 events (40 of which are free to attend) in over 30 venues through the city, including the River Lee itself. In addition to welcoming established international artists, we pride ourselves in shining a light on emerging artists and new music – presenting Cork firsts, European and Irish Premieres, as well as producing new projects.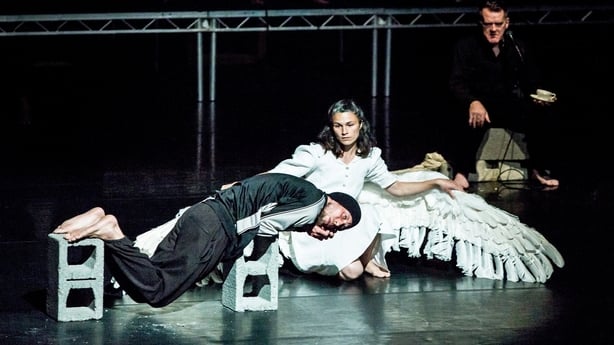 Artists featured this year include Michael Keegan-Dolan, with Teac Damsa (Swan Lake/Loch na hEala), Richard Reed Parry (Arcade Fire), Leslie Feist, Damien Rice, Efterklang, Grandbrothers, Dorothy Cross, Sam Amidon, William Brittelle, Bryce Dessner (The National), Lisa Hannigan, Dustin O'Halloran, Crash Ensemble, Jon Hopkins, and many, many more….
I couldn't pick a favourite from the programme, but there are three special projects that are particularly close to my heart:
HEARTSHIP
This new project by artist Dorothy Cross, featuring the music and presence of singer Lisa Hannigan, celebrates the Irish Naval services contribution to the humanitarian crisis in the Mediterranean where they helped save so many lives. It addresses the rescuing and disappearance of so many hearts within that ocean.
On Saturday 14th September, the L.É. James Joyce will sail up the river Lee in Cork from Haulbowline Island with a lone occupant visible on deck. Lisa Hannigan will be on board - with recorded sound of her beautiful, ethereal, voice emanating from the ship. The recordings will be of Lisa singing songs about the heart, together with the extraordinary sound of the glass armonica, played by Alasdair Malloy. These beautiful sounds will emanate from the ship and float out over the city. It will dock where an audience will be able to hear a live performance by Lisa from the ship - they will remain on the riverside. Admission is free.
DON'T FEAR THE LIGHT
The extraordinary 'Minimalist Dream House' quartet of Katia and Marielle Labèque, Bryce Dessner and David Chalmin (La Terre Invisible) present the Irish premiere of Don't Fear The Light, an exploration of minimalist compositions by new composers.
In 2013, the Labèque sisters recorded Minimalist Dream House, a double album celebrating the works of minimal music pioneers and their successors. Katia and Marielle Labèque now present a new version for two pianos and two guitars performing works by the likes of Thom Yorke, Steve Reich, Timo Andres, Philip Glass, as well as Bryce Dessner and David Chalmin. The performance takes place at Cork Opera House, 2pm, Saturday 14th September.
FESTIVAL FINALE: LHASA
LHASA is a live project which celebrates the life and work of the Mexican-American singer songwriter Lhasa de Sela.
In this heartfelt tribute concert, Lhasa's hypnotic melodies will be brought to life on stage by Andrew Barr (The Barr Brothers), Bryce Dessner, Clarice Jensen, Dustin O'Halloran, Emma Broughton, Joel Shearer, Leslie Feist, Melissa Laveaux, Pauline DeLassus (Mina Tindle), and Todd Dahlhoff, at Cork Opera House on Sunday 15th September, and then we are very excited to present it at the Barbican Centre, London, UK, Tuesday 17th September.
We are also planning a number of secret shows and pop-up events that we will announce about an hour before they happen over the weekend –keep an eye on our social media for updates…
Sounds from a Safe Harbour runs from 10 – 15th September - find out more about this year's SFSH programme here.