Alan Gilsenan, the director of Daniel O'Connell: Forgotten King of Ireland, writes for Culture about the two-part documentary in which Olivia O'Leary chronicles the life and legacy of Irish freedom fighter and politician Daniel O'Connell.
On Dublin's O'Connell Street, the looming statue of the Great Liberator stands largely unnoticed as it looks southwards across the River Liffey towards the old parliament buildings at College Green. Gun-metal grey against an often greyish sky, the towering figure of Daniel O'Connell is somehow too large, too remote, for the idle passerby to fully comprehend. For one needs a wider sense of perspective - in every sense - to fully appreciate the man who forged our democracy. Who lifted the Irish glance from the gutter towards the stars.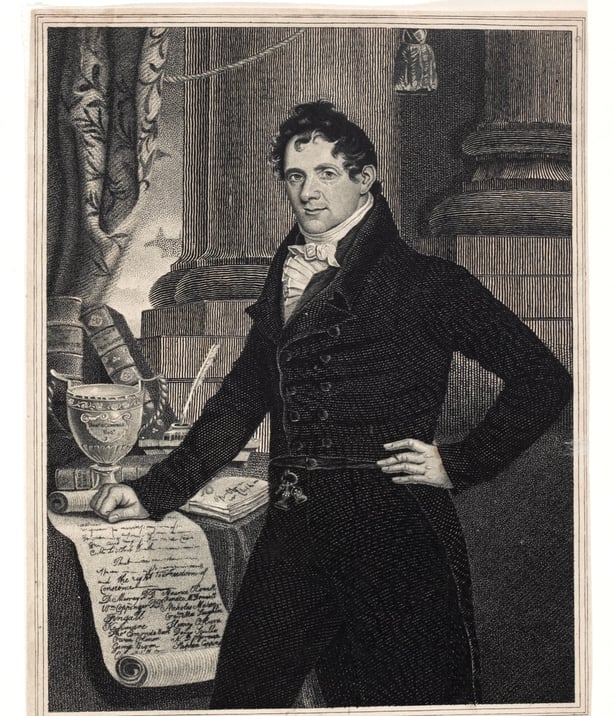 Filming the monument early one dark wet morning, we realised how hard it was to really capture its magnificence and the spirit of the man it represents. It evoked, somehow, some old forgotten grandee in a post-Communist era. One could imagine it being torn down by the frenzied masses in the thick of some revolution or other. Below, a broken red bicycle chained to the railings drew our attention while the commuting masses hurried by. If one looked up and took a moment to contemplate it, it revealed multitudes. Sculpted by John Henry Foley, the monument celebrates O'Connell's many achievements. But, mostly, it is the raindrops dripping slowly from the attendant angels that strikes a chord. For it is hard not to feel a poignant sense of loss when confronted with this powerful image of our forgotten king.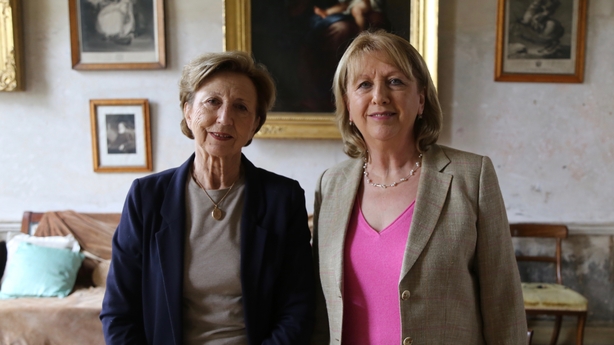 When the producer Paddy Hayes of Tua Films separately approached Olivia O'Leary and myself about making a documentary on the Great Dan, he found he was pushing two very open doors. For Olivia, there was a profound knowledge, respect and fascination with the man and his achievements while, for me, there was a dawning realisation that I - like so many of my fellow citizens - knew shamefully little about this iconic figure. But curiosity is a potent force and crucial motivation in documentary-making.
There are many reasons, perhaps, why O'Connell has been virtually forgotten in all but name. Our history prior to the Great Famine seems to evaporate into the mists of time and mythology. Maybe the absence of recorded images contributes to this? Or maybe it's because the liberal architect of Catholic Emancipation has been represented as a primarily Catholic hero in an increasingly secular Ireland? Most likely, it is because the history of our Republic has been so enraptured with the blood sacrifice mythology of 1916 and its subsequent struggles that O'Connell's radical vision of democratic progress and equality for all has been largely overshadowed.

Letter written by Daniel O'Connell transcribed
Regardless of the reasons, our appreciation of Daniel O'Connell as a contemporary figure is long overdue. And he seems contemporary in many respects. His abhorrence of violence. His embrace of civil and religious liberty. His belief in the separation of Church and State. It is not for nothing that the proud founding father of African-American culture and identity, Frederic Douglass, admired O'Connell so much and learnt much from him.
It was long and enlightening journey making the two-part series, Daniel O'Connell: Forgotten King of Ireland. Many memories. Prominent amongst them was filming in the Commons Chamber in Westminster [where O'Connell has the remarkable distinction of being the first Catholic ever elected to the so-called "Mother of all Parliaments"]. It was profoundly moving and significant to hear Olivia O'Leary reading the aging O'Connell's final speech, pleading with his fellow representatives for relief for famine-stricken Ireland. Knowing that my own grandfather, James J. O'Shee, had represented Tipperary and Waterford for so many years in those very chambers added to the moment.
It was one of the very few times that I could sense Olivia's voice break a little. For mostly, she is the formidable professional journalist that we all know. During the shoot, across the many car journeys and flights, it was rare to see her without an O'Connell tome clutched to her bosom, coloured post-its over-flowing from its pages. She is forensic in her attention to detail, to getting the facts right. To fairness and to rigour. And a dog with a bone when it came to my film-makers' sweeping generalisations or visual flourishes. But her steeliness is underpinned by a profound sense of compassion and sensitivity. And - like so many families across the country - Olivia O'Leary shares a personal family history, revealed in the programmes, that brings the story alive and makes it relevant for today's Ireland.

Ryan Tubridy chats to Dr. Geoghegan about the character behind Daniel O'Connell and the mystery as to why his heart is to be found in Italy.

As we retraced his remarkable life, there are many moments that stand out. The remote smallholding, some miles outside Cahirciveen, where the young Daniel, in keeping with the mores of the age, was fostered out. Here, we had a real sense of his childlike presence, that sense when the history of a place resonates across the ages. I kept a piece of old broken pottery that I found buried in the muck outside the old cottage which I imagined might have belonged to O'Connell's time.
His rise to prominence as a lawyer and politician was dazzling and his fine home on Merrion Square - now part of Notre Dame University - is a light-filled Georgian delight. It symbolises the grand, aspirational side of the man. An aspiration that he held for his people. Other moments too. Walking, in the dawn light, across the frozen field in Kildare where the youngish O'Connell - a devoted pacifist - killed a man in an ill-conceived duel. Former president Mary McAleese's enlightening interview, full of compassion and personal insight. Olivia's steely and brilliant exchange with Sinn Féin's Eoin Ó Broin were two interpretations of Irish history came face to face. And Professor Cormac Ó Gráda's considered but gracious criticisms of O'Connell economic policy.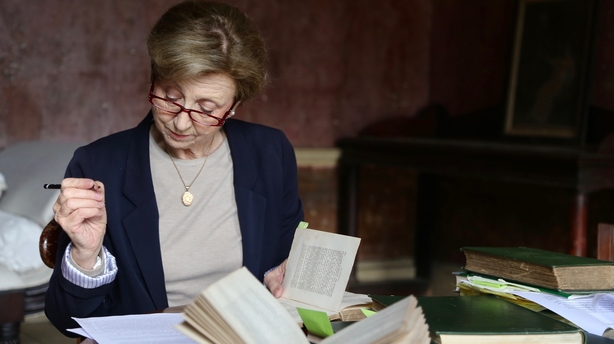 Later, we retraced O'Connell final journey across Europe when, sick and dying, he embarked on a pilgrimage to Rome. I was struck to learn of the national acclaim he received while travelling across France where he was celebrated as the liberal champion that he was. Finally, in the archives of the Irish College in Rome, encountering the hand-written letter that his chaplain, Father Miley, had written to announce that the great man had died in Genoa. "O'Connell is dead" he begins starkly.
His body was repatriated to Ireland where it now rightly lies in Glasnevin cemetery, a cemetery designed for "peoples of all religions and none" and that O'Connell helped to found. It seems a fitting legacy for the man. But, in accordance with apparent wishes, his heart was sent to Rome. However, following a huge funeral there, the heart mysteriously disappeared. We searched for that too and, once more, had a tangible sense of the past being very present today.
And then, of course, there was the elegant family home at Derrynane. The heartland. Where his beloved wife, Mary O'Connell, is buried on Abbey Island and where the O'Connell Summer School takes place every summer. There, of course, I remember the shimmering magnificence of the Kerry landscape. A timeless magnificence that the great Daniel O'Connell was very nearly the match for.
By Alan Gilsenan
Daniel O'Connell – Forgotten King of Ireland, presented by Olivia O'Leary, is on RTÉ 1 on Thursday, August 22nd at 9.35pm. Part two is on August 29th.