For more than 70 years, the Kenny family took care of the elephants at Dublin Zoo.
In this week's Documentary On One production, Amy Herron retraces the life and career of her grandfather Jim Kenny, who followed in the footsteps of his father to serve as an elephant keeper at the zoo from the 1930s to the 1970s.
When the caretaker of the Dublin Zoo stores raises the lid of a chest freezer to show us what is on the menu for that week my mum, Anne Marie, and I shriek with surprise. It is not for the faint of heart. Faced with bags upon bags of food meant for the reptile house, we realise that our behind-the-scenes tour of the zoo is set to be an eye-opening experience of the realities of modern zoo-keeping.
Our purpose? We are there to retrace the steps of Jim Kenny, my mum's dad, my grandad. Jim was the second generation of elephant-keepers at the zoo, having succeeded his father, my great grandfather, James as Head Elephant keeper. Jim worked at the Zoo for more than forty years. I never knew my grandad — he died before I was born. Making this documentary in collaboration with my mum has been an attempt of sorts to get to know him - and his unusual job - a little better.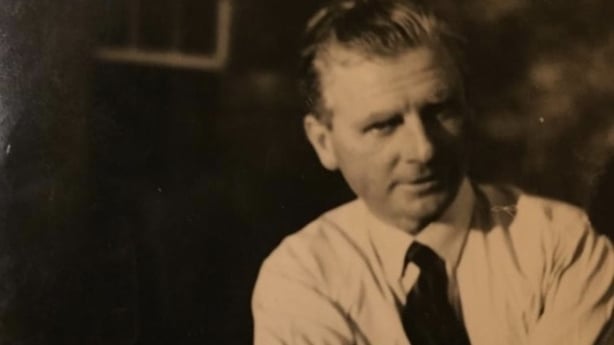 Growing up, I remember my mum, my aunt and my uncles telling stories about what a voracious reader my grandad was and what a sense of fun he had. But the most appealing anecdotes were always the ones that involved him working with the elephants. For as long as I can remember our whole family has been obsessed with these animals – there are elephant ornaments, keepsakes and paintings in all of my relatives' houses. My own childhood home is no exception.
Naturally, our family has photos of my grandad at work in Dublin Zoo but what is weird is that other people also have photos of my grandad in their homes. I chatted to people on the streets of Dublin who remembered 'the elephant man'.
They recalled how he would help pick them up and put them on the howdah, or elephant saddle, where they would be wedged between other excited children. The elephant rides and being on top of Sarah, everyone's favourite elephant, was a special – if not nerve-racking – experience. Keeper Kenny would also give out food to feed the elephants and generally make sure the children were having a nice time. It seemed my grandad was a kind of celebrity for Dubliners of a certain generation and people have kept their photos – and memories of him – over the years.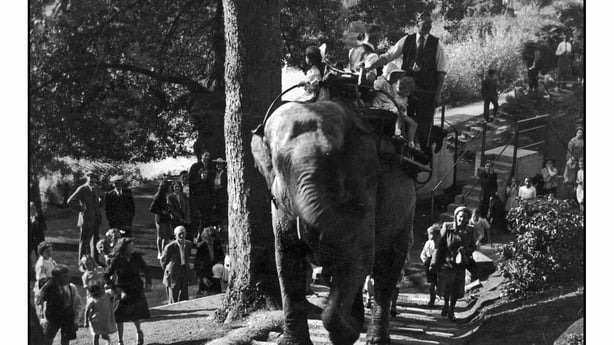 But for my mum and her siblings, hanging out with elephants was no big deal because the Kenny children were in the Zoo almost every day. It was "just what you did", I was repeatedly told as we all sat around watching old family movies; 8mm reels, the kind that make that hypnotic tick-tick-tick sound as you are watching.
Listening to my mum and her siblings reminisce, I was slightly envious. What an unusual upbringing, being so close to these incredible creatures as though they were as normal as a cat or dog.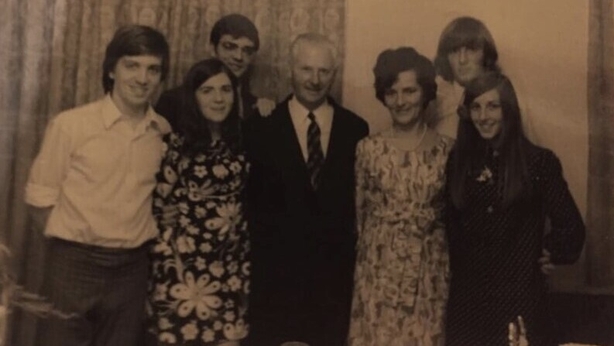 Having already made several trips to Dublin Zoo for the making of the documentary, it is my final visit there that comes closest to rivaling what the Kenny upbringing may have been like. The zoo is a dramatically different place to what it was in the 1950s and '60s and in today's era of conservation and protected contact, this is the closest I was going to get.
We are greeted warmly by Zoo Director Leo Oosterweghel, who announces "the zoo is ours". The gate rattles open, Jurassic Park style, and my brain goes into overdrive as I imagine all the nocturnal habits of the animals, their hunting instincts in particular. But it turns out I have nothing to fear. After hours in the zoo is special. Magical. There are no queues, no excited chitter-chatter. It is serene. We stroll over to the Kaziranga Forest Trail in the hope of seeing some elephants out on the plains. The sun is beginning to set and one half of the plains is drenched in sunlight with the other half in shadow. As we look out beyond the fencing, a young calf swiftly makes its way from light into darkness. It strikes me, we could be anywhere. Asia — India, even.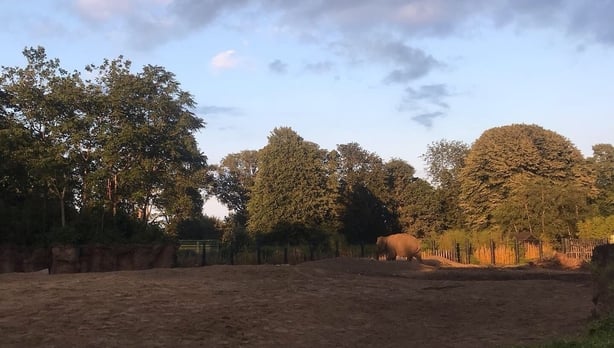 We continue along the trail to the compound – a new Elephant House which was not there in my grandad's time. With the turn of a single key, nothing more complex or security-heavy, Leo takes us inside where we are greeted by the entire herd: ten elephants. They are all lined up, almost standing to attention. It is reminiscent of the elephant march in the original Jungle Book animation. After some trumpeting and jostling, they settle down and are just as curious about us as we are about them. We are only about a metre apart but behind railings, for safety's sake.
I seem to strike up a bond with one little guy, a young bull whose tusks are just coming through. He is super playful and wants to sniff us with his trunk, which is far more dexterous than you might expect. I learn that there is even a part at the top called 'the finger' - an indication of just how flexible this appendage is. He is throwing hay about, prancing up and down, eyeing us up and copying the larger elephants now and then. He is a joy to watch.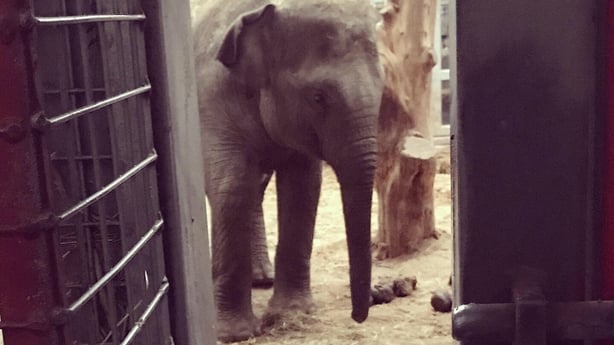 All sense of time disappears. One hour goes by like 10 minutes. Watching the animals play together, feed, joke around, throw hay, roam about… They have so much freedom and are encouraged to behave as they would in the wild; foraging for food in different ways, creating mud piles, operating as a herd. They seem happy.
By the time we emerge, the sun has set. I am having a hard time articulating how emotional and overwhelming it has all been. Being around elephants in this way is a surreal experience that leaves you on a high. I notice that I feel lighter.
My thoughts, naturally, turn to my grandad. Imagining a zoo where there were elephant rides and the keeper shared the same space as the animals seems unbelievably foreign and – unsurprisingly – from another time. But in my grandad's day, there was no herd. Sarah relied on him not just as her keeper but as her partner, her fellow herd member. And if I had felt a connection with some of the herd after just a few minutes, I could only imagine the deep bond that my grandad had with his elephants, Sarah and Komali, especially when he had to part with them.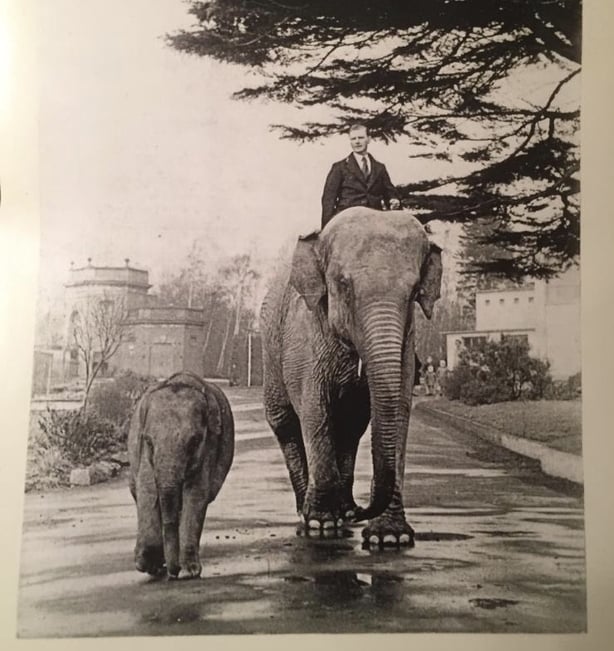 Elephants were his life. Not just part of his working life; but part of his childhood too. After all, his father had been elephant keeper in Dublin Zoo since 1899.
Although the Kennys of this generation have not taken on the elephant-keeping mantle, the connection to these majestic animals – and to Dublin Zoo – has been passed down. The documentary is testament to this. It is clear to all of us Kennys: there is absolutely something about elephants.
Documentary On One: There's Something About Elephants, RTÉ Radio 1, 17 August at 1pm and 18 August at 7pm.
If you have photos of Jim Kenny at work and would like to share digital copies with the Kenny family, please forward them to: kennyzoophotos@gmail.com - Fond memories and anecdotes most welcome too.