Peter McGann & John Morton from Kilkenny company Devious Theatre write for Culture about their latest historical epic, 'blood-soaked rise-and-fall gangster yarn' The Roaring Banshees, which opens at Dublin's Smock Alley Theatre on August 12th.
In December of 1922, due to the majority of its members voting against the Treaty, over 400 volunteers from the all-female republican political party Cumann na mBán were imprisoned by the Irish Provisional Government. A month later, it was declared an illegal organisation and suspected members were held in Kilmainham Jail. It lingered on nonetheless, though it never recovered the influence it held during wartime. Their downfall coincided with the rise of the newly-minted Sinn Féin splinter group Fianna Fáil, headed up by one Eamon de Valera, and the rest is history. And this is where The Roaring Banshees begins.
We need your consent to load this rte-player contentWe use rte-player to manage extra content that can set cookies on your device and collect data about your activity. Please review their details and accept them to load the content.Manage Preferences
Listen: John Morton, Ali Fox and Nessa Matthews chat about their play The Roaring Banshees on RTÉ Arena
Devious Theatre have been making a wide variety of plays and theatrical offerings since being formed in Kilkenny in 2006. In that time we have done quite a few seasons of work focusing on particular themes or writers. We had been kicking around the idea of an Irish historical trilogy (which we'd later call The Ripping Yarn trilogy) that we would stage over the centenary years between 2016 and 2022. A thematic trilogy set in the same universe, with characters tangentially related to those who came before, that would examine a period of Irish history through the prism of a different genre each time. Our first attempt was The Hellfire Squad, which premiered in Project Arts Centre, Dublin in July 2016 and focused on the origins of Michael Collins' hit squad and the raggle-taggle group of men who joined in pursuit of glory. In terms of genre, this was our men-on-a-mission western about the young men and women sold a pup about the glory in blood sacrifice. It was only when The Hellfire Squad was a hit that we committed to having a rattle at the second part.
The Roaring Banshees opens tonight in @WatergateKK, break legs all! The unit burst into #smockalley on Mon 12 Aug. See them in all their glory here in this slick @devioustheatre trailer by designer @seanclancywho. Tickets on sale now: https://t.co/1Ap1I5K3zu #noletup pic.twitter.com/jgOlLIrxn2

— Smock Alley Theatre (@smockalley) August 1, 2019
Gangster history fan Pete had an old idea about an Irish republican who flees to the states and gets mixed up in bootlegging during Prohibition. John suggested we make it a study of the Cumann na mBán women who were double-crossed by their former compatriots right at the very beginning of a new Ireland. An epic, blood-soaked rise-and-fall gangster yarn in the vein of old James Cagney movies, but with a shot of Irish republicanism. We had to write it.
We didn't set out to write "strong female characters". The Banshees are flawed, greedy, conniving, loyal, witty, violent, irresponsible, and at times, straight-up evil.
All great gangster stories are about someone who looks at the world as it is and decides to shape it to suit them. What have Irish women been doing the last few years only just that? Over the next two and a bit years of writing, Irish activism had some seriously hard-won victories both big and small that informed the script and the characters in unconscious ways that made the project feel more vital than when we had conceived of it. We worked alongside director Sarah Baxter to get the script in shape. Without Sarah these works wouldn't exist and we are very much a trio in the making of this trilogy. We then worked with dramaturg Ken Bourke (who knows a thing or two about Irish historical theatrical trilogies) to get the script in stage shape.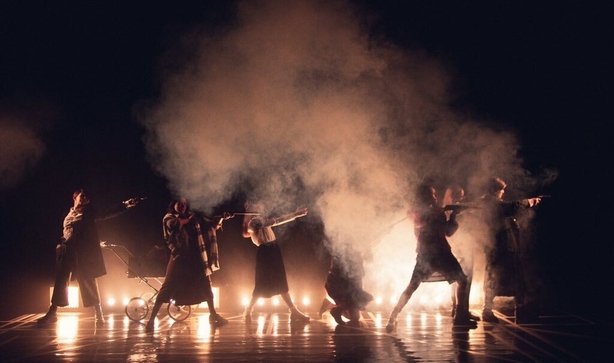 Over the course of many drafts, we found a play that we hope is richer, darker, funnier and more exciting than our first play, and seven characters we fell in love with. We didn't set out to write "strong female characters". The Banshees are flawed, greedy, conniving, loyal, witty, violent, irresponsible, and at times, straight-up evil. They are, ultimately, gangsters in a gangster tale. There's an in-built structure; tropes that need to be honoured. Film noir is ultimately characters damning themselves through the choices they make. But until they have to answer for them, those choices mean they have a hell of a lot of craic. We hope you do too.
The Roaring Banshees is at Smock Alley, Dublin, from August 12-31st - more details here.