Actor and activist Aoibheann McCann reports from this year's All Together Now festival...
To be fair, I have been very fortunate. Some might say that I'm 'jammy' and they're probably not wrong.
On Friday, when thousands of revelers lost their patience snailing their way into the All Together Now festival I was in the car that was stopped by The Portlaw Guardian Angel. She entrusted us with a short cut and we sailed into the car park twenty minutes later like four smug, obnoxious so-and-sos. To boot, I pitched my tent in the 'Performers' area which is basically a large green, tree-filled hill overlooking the festival campus and hosting approximately 15 tents. And I've been pretty much smiling all weekend.
Kick-starting the festival, Fontaines DC lived their best lives as the crowd lapped each drum beat and so we were perfectly primed for a proper bounce-about for Orbital. Ever the progressives, they flew the Extinction Rebellion flag as we bopped about in our thousands, still dry as a bone (the rain held off). I hadn't ever experienced King Kong Company before - one of this weekend's music highlights, their stage presence and the sheer craic they conjured means I'll be keeping a close eye out for their next gig.
Saturday gave me music goosebumps. Father John Misty, decked in his trackie bottoms and a nonchalant air delivered a gorgeous set. Despite his luggage issues (hence the trackies) and exhaustion he managed to woo a rain-drenched audience with his ever-unbeatable storytelling. Soda Blonde stole my heart though (they consist of 4 of the former 5 of Little Green Cars), led by Faye O'Rourke and charged by her stunning vocals, this band have the confidence of experience and the freshness of something very exciting in Irish music. We felt it in the tent.
Other highlights - so many amazing performers - included Hot Chip, Jon Hopkins, the Irish talent on display in the Now By RTÉ tent and Blindboy's Sunday service. If - I had to pick the performance of the weekend, however, it had to be the magnificent John Grant on Sunday evening.
I am now a 'spa facilities' lush, to boot. It's a fact. In fact, I don't know how to experience another festival without spa facilities. Who am I and what happened to the struggling actor? Possibly flushed down the seaweed bath I had at 1am on Saturday morning. To ensure optimum relaxation, we then booked into the hot tub last night. A midnight hot bath under the trees with 360 degrees of music beyond us is probably one of the best decisions I've made. I plan on availing of the sauna this evening. A hot spring hat trick, so to speak.
One of the special things about this festival is 'family'. Conversing with a bunch of friends last night, we concluded that having children at the same festival offers a 'balance' in energy. All Together Now has managed to facilitate full-throttle festival-goers and families alike. I feel particularly lucky to have had my brother, sister-in-law and their two beautiful kids present this weekend. Having a bop with my 3-year-old niece Faye has made the experience super special, and she has had "the best time". Their experience as a young family has been very positive, with the security of a 'Family Campsite' and endless activities for the children at the Kids Together Now area. I just feel very blessed to have ripped up the dancefloor at midday with one of my favourite 3 year olds.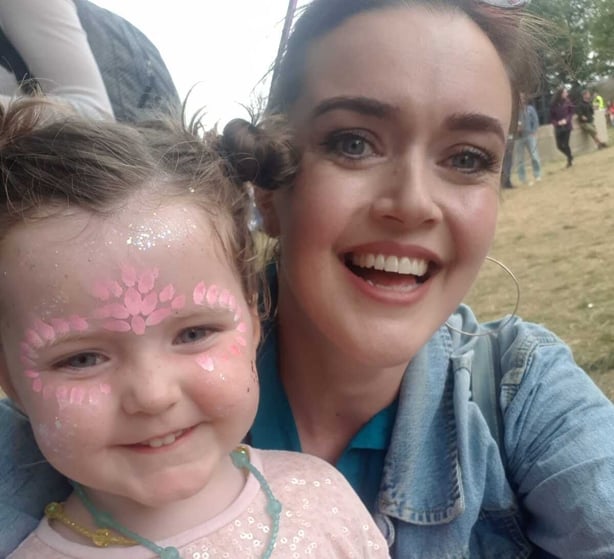 As a climate activist, I am always aware of my personal carbon footprint. Unfortunately, our leaders have achieved very little in enabling Irish citizens to live more sustainable lives. It can be hugely frustrating and often leaves a sense of guilt and worry about what 'one person' can do to ensure they are doing as little damage as possible. All Together Now's focus on sustainability across messaging, branding and vendors has been a very positive experience. The sense that there is a system in place to make the festival less 'plastic', more 'reusable-friendly' and 'compostable' has enriched my time here. Having a whole area Sustainable Now is exciting and hugely encouraging; lots of incredible human beings from various non-profit groups educating and sharing their own climate action stories is inspiring and important. My hope is that this message will take root across the board, ensuring that our government finally do what needs to be done and do less of what is endlessly damaging.
Find a festival campus that has more beautiful trees, views, wooden sculptures and a more stunning backdrop - Curraghmore House and its lands, to be specific - and you will be doing incredibly well. All Together Now's vibe is down to many things but the location is the magical backdrop to this festival. Celebrating the house, the walkways and secluded areas in the woods makes for a pretty special experience. I enjoy a large country house house as much as the next person but having one - originally built in 1167! - close to the action gives this festival the edge.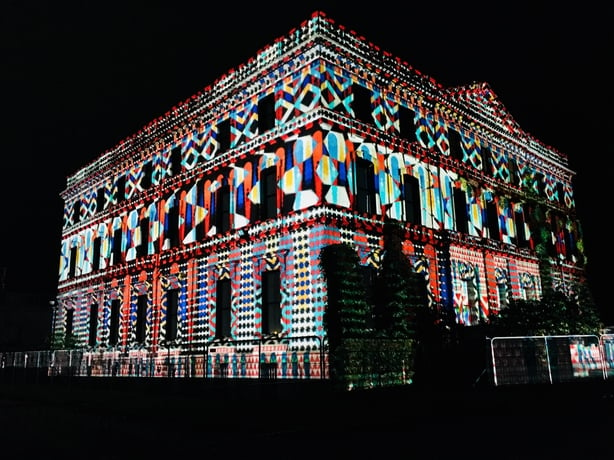 This weekend the rain has been ever-present but, as a lucky so-and-so/ optimist, I've been fuelled by great music, beautiful surroundings, the craic and the hope that we aren't about to leave a mess behind us. Cheers to that!
Hot Chip Pic: Aron Cahill