Marie Jones is the celebrated Belfast playwright behind such hits as A Night In November, Women On The Verge Of HRT and Stones In His Pockets.
Her latest work is The Miami Showband Story, written with Martin Lynch, a musical retelling of the life and times of legendary Irish showband, which tours Ireland in August and September, and plays at The Gaiety Theatre, Dublin from 16th – 21st September.
We asked Marie for her choice cultural picks...
FILM
Dog Day Afternoon, starring Al Pacino. It felt so real I am sure a lot of it was improvised. The dialogue was fresh, funny and at the time very moving. It's one of those 'Why am I laughing, this is serious...' movies. It's a gem. A comedy with a serious subject matter where no-one thinks they are amusing.
MUSIC
Well for me, it's gotta be Bob Marley. When I hear it, it reminds of so many different experiences I have had in my life. It almost feels like a best friend, there when needed. When there is something to worry about, on goes 'Don't worry about a thing…' We all need a bit of Bob.
BOOK
I remember being on holiday and my husband was reading a big fat book…. I thought, dear God, too many pages for a holiday. He finished it and I read the first chapter and well that was me, an absolutely fascinating read. It was called The Thousand Autumns of Jacob de Zoetis, by David Mitchell. It's unputdownable. Set in Japan, it follows the life of a Dutch shipping clerk, newly arrived to the tiny man-made island that functions as a trading post, and a young midwife who is kidnapped by a sinister, magical cult.
PLAY
About 25 years ago I saw a Hungarian production of The Government Inspector by Gogol at the Old Vic in London. I did not understand a word, but the plot was so clear and vivid and hilarious. It was genius. I was so impressed that a few years later I did my own adaptation… what a blast that was. A motley crew of great actors including the wonderful Conleth Hill, Dan Gordan and my husband Ian McElhinney.
GIG
I try not to miss the Máirtín O'Connor Band - Seamie O'Dowd, Máirtín and Cathal Hayden. Amazing talented musicians as solo artists, and together mind-blowing. After one of their gigs you feel so invigorated. Máirtín did teach me the button accordion for a TG4 series. The idea was to teach people who never played an instrument to learn it over 12 months. Poor Máirtín, I don't think he was ever the same again… but he did it. Our dog ran away several times when I practised.
ART
I am such a philistine when it comes to art. I don't really get abstract art, I need to be seeing a picture of something I recognise… I do like the Belfast artist Markey Robinson - there is something beautiful, raw and primitive about his paintings. It says Belfast to me, where I love and live.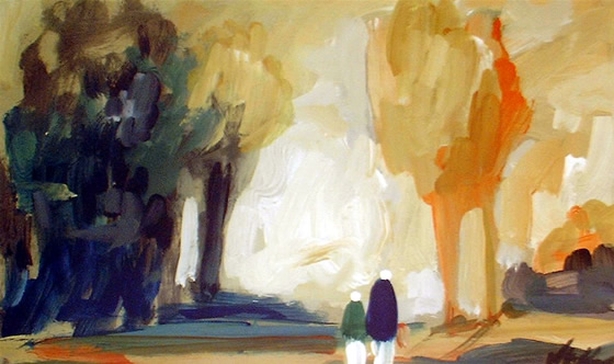 TV
I try not to miss Andrew Pearce and Kevin Maguire on Sky News. They could be two stand-up comedians and yet they are there to discuss serious matters. It's sharp and informative; although these two are diametrically opposed politically, you feel they actually do like respect each other - that's rare. Most political commentators are dry and serious and lacking in the humour department, not these two. They actually make you want to be interested in the world. 'An Audience With"' would be a sell-out. If you ask me about a fantasy dinner party, they'd be there.
PODCAST
I have never listened to a radio pod cast. Not even sure what it is, but I listen always to BBC Radio 4 and only in the car and turn off promptly as soon as The Archers comes on… That hurts my head.
TECH
I have no opinion about any website. If I need to look up something, buy something or book a holiday then I go to the first one that comes up on Google. None stand out in particular - aren't they just a necessary part of modern living? I can't imagine ever getting over-excited about one.
THE NEXT BIG THING...
I recently bought a Polaroid camera. I remember way back the excitement of having an instant photo in your hand? Could that be the next big thing? Who would have thought record players and LP's would come back as the next big thing? Funny to think that the next' big thing' could be a thing that was a thing of the past.
The Miami Showband Story is on tour nationwide throughout August and September.