Writer and dramaturg Nicholas Johnson writes for Culture about The Sleepwalkers, the new collaboration between Dublin Youth Theatre and Pan Pan, which runs at axis: Ballymun from October 2-5th as part of this year's Dublin Theatre Festival.
Working with Pan Pan and Dublin Youth Theatre on The Sleepwalkers has led to some unusual investigations into my personal archive. For instance, this month I accessed a ten-year-old file called "Sleeplogic" on my computer, which is a list of the many complete sentences that I have overheard my wife say while she is asleep (don't stop reading — I'm not quoting any here). I'm not saving them because of the truths they reveal, nor because of a particular story that they make: at one level, they are just nonsense.
But in their absence of logical content, they nonetheless produce a kind of glee, which only seems to improve on rereading. In the jumps they make across syntax and sense, they reveal the extraordinary power of language to create surprise. It turns out that it's much harder to write this way when we are awake (and don't worry — I'm not planning to try it here).
Some of the earliest dramaturgical sources for The Sleepwalkers were the dream diaries (both recorded and written) of the members of the Dublin Youth Theatre. The members shared honest articulations of their personal thoughts, fears, desires, and ambitions, as well as a few pages of so-called 'nonsense', embracing the vulnerability of whatever might be exposed.
Watch: The Sleepwalkers in rehearsal
The bravery of this should not be underestimated, and it lies at the foundation of this project. One of our tasks has been not to interpret, not to judge, and not to frame such honesty into a coherent politics or 'message': instead, the theatre tries to present such internal events as meaningful, insistent, and real expressions.
As is usual in a Pan Pan process, more material was on the table than just dreams.
Much money has been made on the promises of the interpretation of dreams, but we are not in that business. Psychoanalysts from Freud to Jung to Langs have encountered parasomnias – sleepwalking, sleeptalking, and night terrors – and sought to spin them into meaningful data about the underlying person. Theatre artists, from Shakespeare to Strindberg to Tzara, have seen the explosive possibilities of characters on stage being unbound from waking life and its narrow logic. Our question has been more experimental: what happens on stage when our wakefulness is called into question? And who better to ask whether we are truly awake than the young?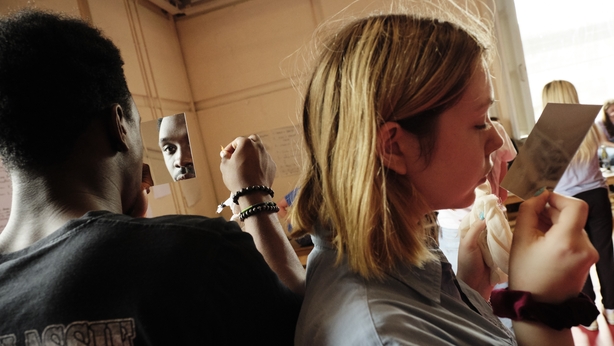 As is usual in a Pan Pan process, more material was on the table than just dreams. Later collisions of other sources that inspired us — Arthur Miller's The Crucible, for example — intersected with the original dreams, resulting in something 'paratheatrical' as well. The result is a play that is something like a dream about sleepwalking through Crucible rehearsals in the (now former) DYT premises at 23 Upper Gardiner Street, haunted by furniture, visual art of uncertain origin, and endless debates about witchcraft, forest rituals, and the merits of pineapple pizza.
If we could say that the world of such a play mirrors our reality, then it is a fractured mirror, or a concealed mirror, or a bent mirror. It refracts as well as reflects light. It sends us back an unclear – but we hope enticing, entertaining, urgent, and surprising – message. Come see what the members saw, and hear what they have to say. Dream about it. Put a few strange sentences on your computer. Wait ten years. Then, we humbly suggest, consider making some theatre with it.
The Sleepwalkers runs at axis: Ballymun from October 2-5th as part of this year's Dublin Theatre Festival - more details here. Nicholas Johnson is a scholar-artist based in the drama department at Trinity College Dublin. He convenes the college-wide Creative Arts Practice research theme and directs the Trinity Centre for Beckett Studies. He works with Pan Pan and Dead Centre as a dramaturg.
Pics: Ros Kavanagh