And how was your week? Here's our handy digest of Cultural musts...
KNOCKANSTOCKAN
Located upon the shores of the Blessington Lakes, this under the radar music bash has steadily become one of the summer's most essential events, thanks to its chill vibe, affordable ticket price and a bill that focuses on championing Ireland's finest emerging acts. This year's bill includes the cream of Ireland's hip-hop crop - Mango X Mathman (pictured above), Soft Boy Records and Kneecap - alongside the likes of Farah Elle, The Scratch, Ye Vagabonds and spoken word from the mighty Emmet Kirwan. Find out more here.
HOT CHIP - A BATHFUL OF ECSTASY
What do you do for your seventh album? If you're Hot Chip, you double-down on your trademark lush sounds and treble the pleasure points of the grooves. An album which moves minds and shifts emotions.
THAT TOP GUN: MAVERICK TRAILER
The long-threatened sequel to the '80s classic finally lands next summer, a whopping 35 years after the original. with a focus on old-school CGI-free aerial thrills and a near-total inability to make 58-year old Tom Cruise look weathered. Jon Hamm, Miles Teller and original Top Gun star Val Kilmer are also in the movie - not that you'd know from the trailer. You don't remain a movie star for four decades by sharing the spotlight...
FRASIER ON RTÉ PLAYER
"Hey baby, I hear the blues a-callin', Tossed salad and scrambled eggs..." While we're on a nostalgia kick, the first five seasons of the classic sitcom have just landed on RTÉ Player. We're talking a 100 episode-plus comedy masterclass from a genius ensemble headed by the incomparable Kelsey Grammer, and a veritable feast of televisual comfort food - get stuck in here and fingers crossed for the impending reboot...
GAMEFACE SEASON 2
While you're at it, be sure to make some time for a future comedy classic in progress - English/Irish comedian Roisin Conaty's hilarious Channel 4 sitcom just returned to screens, and it's better than ever - catch up with the first season here.
BURT BACHARACH IN DUBLIN AND GALWAY
I Just Don't Know What To Do With Myself, The Look of Love, Make It Easy on Yourself, Raindrops Keep Fallin' on My Head, I'll Never Fall in Love Again, Anyone Who Had a Heart, Close to You, I Say a Little Prayer, (There's) Always Something There to Remind Me... The 91-year-old genius behind some of the greatest songs in popular music (a three-time Oscar winner and eight-time Grammy winner) is in Dublin's Iveagh Gardens on Saturday night, and in Galway's Big Top next Monday, playing magic moments from an extraordinary career.A little something to get you in the mood...
EVERYBODY'S GOING TO THE MOON...
You can't get away from the 50th anniversary of the moon landing - two must-see events to catch are Icebreaker performing Brian Eno's seminal Apollo album at the National Concert Hall on Tuesday, July 23rd, and Moonshots of the 21st Century, a discussion event at this weekend's Festival Of Curiosity in Trinity College featuring NASA astronaut Cady Coleman - find out more here.
THE MAN WHO WANTED TO FLY
Showing on RTÉ 1 on Monday at 9.35pm: Frank Shouldice's glorious tale of 81-year-old Cavan farmer and accordian player Bobby Coote and his quest to take to the skies. You'll laugh, you'll cry, you'll believe...
THE NEW SHOW FROM COLLAPSING HORSE
A new show by Collapsing Horse is always an event, and A Very Old Man With Enormous Wings is the latest work from these purveyors of choice theatrical mayhem and magic; based upon a tale by Gabriel Garcia Marquez, it's aimed at audiences aged 8-80 and premieres at Riverbank Arts Centre in Kildare this week, en route to the Dublin Fringe next month.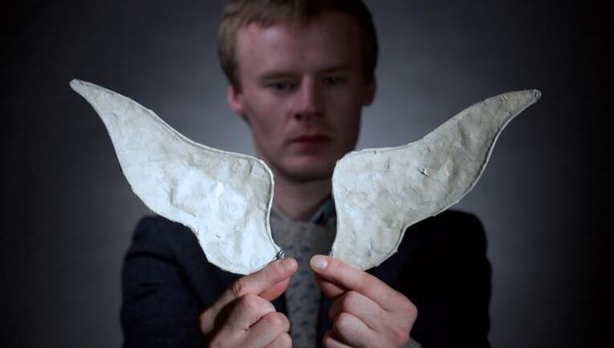 GARBAGE LOVE RTÉ 2FM'S DAN HEGARTY - AND SO DO WE...
Great to hear about @garbage giving a shout out to @talldanhegarty at Iveagh Gardens last night for his @RTE2fm support. Dude more than deserves it - one of the unsung heroes when it comes to championing, plugging & actually playing new music in Ireland

— Jim Carroll (@byjimcarroll) July 19, 2019
Contributors: Jim Carroll, Rick O'Shea, Ian McGlynn, Derek O'Connor