Design and Destroy is an exploration of Irish design through the medium of virtual reality, currently touring to a number of Irish venues, following its international premiere at this year's Prague Quadrennial. Contributor Peter Power writes for Culture about 'a new frontier for all of us'.
Pretending could be our greatest attribute as a species. As children, we possess the power of pretence so vividly that we can manifest worlds unfettered by the confines of the real or the jading of experience. As adults, we yearn for the same ability, but employ science, art, film, music, dance, computer games and story to push us past our own hardened boundaries. From this place of pretending comes our capacity for imagination, language, industry, invention, song, story, empathy, sympathy, love, and connection. In simpler terms, we can only know ourselves (even this is debatable!), so must pretend to know everything else. It's here on the edges of ourselves that we find the potential to change, to grow, to awaken.
Fantastic response yesterday to the Design&Destroy #VR exhibition @projectarts @DubTheatreFest. We'll be back on Sat 5 & 12 Oct, 11.30-19:00.

Featuring Katie Davenport's design for The Tales of Hoffman by @IrishNatOpera

Supported by the @DCCoI & funded by @artscouncil_ie#DTF19 pic.twitter.com/N2jLvaZyz8

— Irish Designers (@isssd_ie) September 29, 2019
My job is for all intents and purposes, being a full-time pretender. I make music, theatre, dance, visual art, and more recently Virtual Reality (VR). Disconnected as those things may feel on paper, really they are all bound by the same principle: creating and connecting. I've always felt that when at it's best art bridges the gap between these known and unknown places within us and between us. I think that's why I got into it; so much of the world I occupied felt unseen to me, and I had never possessed the capacity to share that reality with anyone. So I experimented with different ways of communicating. You make a few shows, a few pieces of music, a few paintings in order to try 'breach the void', and the next thing you know, people start calling you an artist!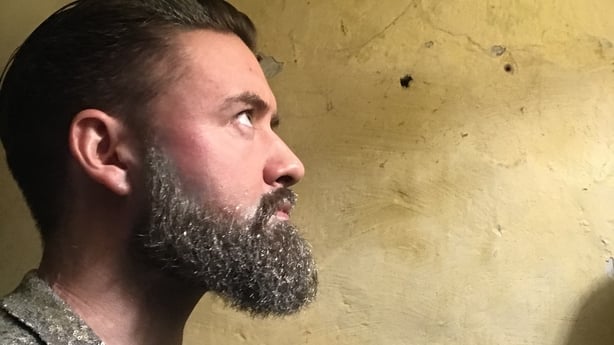 My main work as a practicing artist has been in theatre these last few years. At its core, reality building is by and large the purpose of theatre. Simulated places, relationships, stories, all coalescing under carefully designed intentions in curated spaces, crafted to elicit in the viewer the most specific of things: the effect of otherness. The virtuality of this experience, known to be unreal to you in its essence, does not stop it from having profound and formative effects on you as it happens. In this truth lies the magic of theatre; it may be nothing but a clear simulacrum of the lived world, but this does not stop it having very real effects on you.
To much of my surprise, the capacity to understand this has been my greatest ally when working in VR. At first, you think it can recreate and compete with reality itself. Very quickly you realise currently it very much cannot. Then you wonder why it exists at all if it falls so short of this goal. But, like with theatre, if you embrace the limits of the medium, and engage with them rather than avoid them, we can inspire the imagination of the viewer to complete the leap from this virtual reality to a newer sense of real virtuality.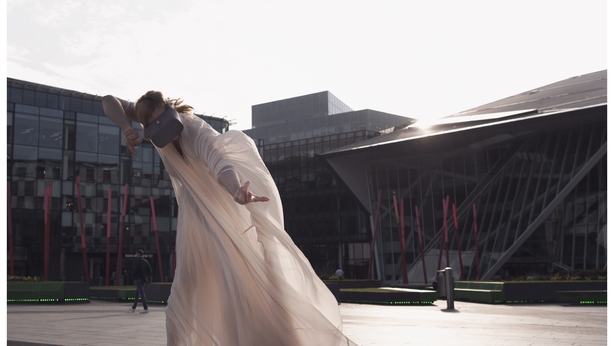 This truth was what drove Jo Mangan, the curator of the Irish Society for Stage and Screen Designers' entry to this year's Prague Quadrennial, to consider the VR medium as the performative method for sharing our Irish design ecology. The work, Design and Destroy, focused on the ephemerality of performance design, the wastefulness of its manifestations, and the hidden nature of the process in regards to the outcomes. The VR film plunged us in and out of live performance, technical rehearsals, designers studios, model boxes and costume, performed and unperformed moments, underscored by music and sound design throughout. As a featured designer this was my main role, the sound spatialised and immersive for the VR experience. It required of me a complete rethink of sound design as a medium, many late nights, early mornings, researching new technologies, trips to Belfast and back to meet the VR crew Retinize and a quick residency jaunt to SARC in Queen's University facilitated by Hanne Slattne to learn more about ambisonics (that's a whole other article!).
A new frontier for all of us, the making of this VR film was the kind of difficult you lay awake at night thinking about. But at our most insecure moments, what we realised to do was to not fear the unknown of it. And instead, do what we do best. Bridge the gaps between things. Lean into the theatre of it. Promote the Art of it. Trust our instincts for creation and connection. And pretend.
See Design and Destroy at the Project Arts Centre, Dublin (28th September, 5th October, 12th October) as part of Dublin Theatre Festival, then at Lyric Theatre, Belfast (31st Oct and 1st and 2nd of November) as part of Belfast International Arts Festival, then in Sligo (12th November) at Yeats Academy of Arts, Design and Architecture, IT Sligo as part of the annual Live Art event. Find out more about the project here.