And how was your week? Here's our handy digest of Cultural musts...
PRIDE 2019 IS GO
The annual celebration of all things LGBTQ promises to be bigger and bolder than ever this year, with Pride events across the country - RTÉ Lifestyle have got you covered for Pride here. Be proud...
Very moved thinking of bravery & fighting spirit of lesbians & gay men in 70s & down the years. Delighted to see Hirschfield Plaque now at 10 Fownes St @DubCityCouncil @DublinPride @tonie_walsh @ActUpDublin #DublinPride2019 pic.twitter.com/dTW7lKAtyc

— Ailbhe Smyth (@ailbhes) June 21, 2019
UNA AND ANDREA'S UNITED IRELAND
In the latest episode of our new favourite podcast, hosts Una Mullally and Andrea Horan ask an important question for the week that's in it: What does the queer community lose when Pride goes mainstream?
Have we moved forward enough for Pride to simply be a party or does the protest element need to remain front and centre? ...And who gets to decide? EP 6: Pride is live now 🏳️‍🌈🏳️‍🌈🏳️‍🌈 https://t.co/lXMg8Bqdmi

— UnitedIrelandPodcast (@united_podcast) June 26, 2019
A HOUSE ARE ALIVE (FOR ONE NIGHT ONLY)
The legendary Irish rock outfit reunites for their first live show since 1997, playing their classic album I Am The Greatest at the National Concert Hall on Saturday, June 29th. It's a masterpiece. Here's a sample:
DRAG SOS
Channel 4's blatant attempt to hop onto the drag bandwagon shouldn't be as entertaining as it is, but one episode in, we're already hooked. It's a makeover show with heart and sequins - soooo many sequins...
APOLLO 11
You may think that you've seen it all when it comes to the space race, but this new documentary (in cinemas this weekend), assembled from a newly discovered treasure trove of stunning 65mm footage and over 11,000 hours of audio, documents man's greatest adventure in all its jaw-dropping splendor. See it on the biggest screen you can find...
THOM YORKE'S ANIMA
The new album from the Radiohead frontman is, as with most of his solo work, definitely an acquired taste, but definitely worth the effort - it's the headphones record of the summer. Be sure to catch genius filmmaker Paul Thomas Anderson's splendid 'one-reeler', made to accompany the title track, now on Netflix.
THE MUELLER REPORT - THE PLAY
Watch an all-star reading, recorded in NYC earlier this week, of The Investigation: A Search for the Truth in Ten Acts, playwright Robert Schenkkan's adaptation of the Mueller Report, with an all-star cast that includes Annette Bening, Kevin Kline, John Lithgow, Michael Shannon, Zachary Quinto, and Aidan Quinn, with cameos from Sigourney Weaver, Julia-Louis Dreyfus and Mark Hamill. Check it out here.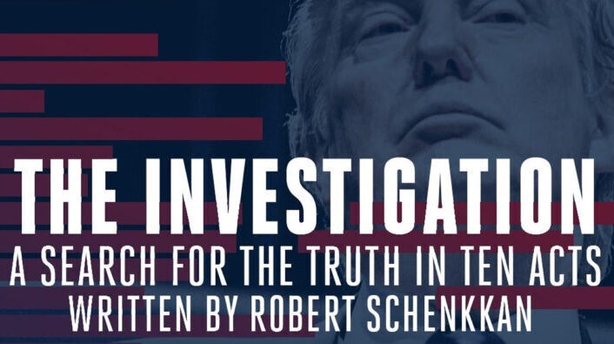 PHILIPPE ZDAR'S FINAL DREEM
Philippe Zdar of seminal French electronic duo Cassius died in a tragic accident earlier this month, one day before the group's fifth studio album, Dreems, was released - it's a fitting (and positively euphoric) testimony to one of the most talented producers and performers of the modern electronic age.
NIGHT BOAT TO TANGIER
A new book from the incomparable Kevin Barry is always an event, and his latest work is a compelling two-hander about two aging Irish crooks on the lam in the Spanish port of Algeciras, and a veritable masterclass from a singular talent. Listen to Barry in conversation with RTÉ's Sean O'Rourke below...
SEE JAN CARSON & EMILIE PINE IN CONVERSATION
Two of Irish literature's leading lights - Emilie Pine, author of Notes to Self (Winner of the An Post Irish Book of the Year 2018) and Jan Carson, author of The Fire Starters (Winner of the EU Prize for Literature Ireland 2019) - sit down in Dublin's O'Reilly Hall to have a conversation about trauma and the contemporary reworking of myth for modern Irish audiences. Sure, what else would you be doing upon a sunny summer weekend? Get your tickets here.
Contributions: Derek O'Connor, Jim Carroll, Rick O'Shea, Nigel Wheatley