Bernard O'Rourke writes for Culture about CIACLA, the Contemporary Irish Arts Center Los Angeles, an exciting new project promoting contemporary Irish culture in Los Angeles.
It's no understatement to say that the packed out launch of CIACLA in Bergamot Station, Santa Monica earlier this month felt like a real moment of celebration for all involved.
The opening of the new Contemporary Irish Arts Center Los Angeles is a project that has been a long time in the making. The seeds of this new initiative were sown by Dublin-based curators Matthew Nevin and Ciara Scanlan, who have been bringing exhibitions of Irish Artists to LA for almost a decade. For two incredibly driven advocates of the arts, the opening of a permanent space was the next logical step – albeit one that required a huge amount of ambition and hard work to bring to fruition.
Watch - A walkthrough of the CIACLA space with Matthew Nevin:
We need your consent to load this Facebook contentWe use Facebook to manage extra content that can set cookies on your device and collect data about your activity. Please review their details and accept them to load the content.Manage Preferences
In 2016 I first met Ciara and Matthew in MART Gallery and Studios in Rathmines. The pair have been curating through MART since 2007, and now run an exciting arts programme in addition to Ireland's largest studio network, providing workspace for 150 artists. Since I joined the organisation, I've watched Ciara and Matthew as they've worked tirelessly to showcase the work of Irish artists abroad – with the west coast of the US, in particular, appearing as a fresh frontier for Irish visual arts.
In recent years, Los Angeles has come to rival New York (the traditional heart of the visual arts in America) with more and more young artists drawn out west in search of a fresh start. Add to that the fact that Irish emigrants are no longer concentrated in the likes of New York and Boston in the way they once were, and now have a huge presence in LA.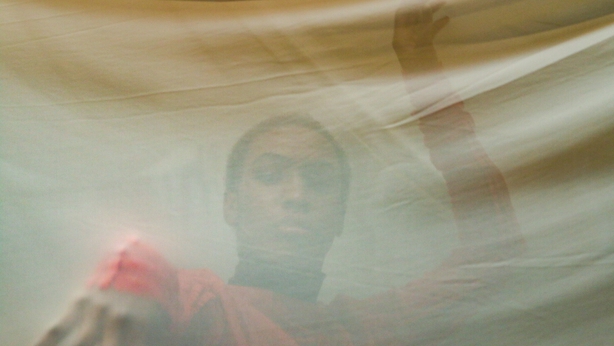 The preparations for CIACLA began in earnest this time last year, and the decision was made to launch a new organisation that could act as a counterpart of MART's activities back in Ireland. The directors have spent the past year meeting with several arts officers across the city, as well as estate agents, trailing the boulevards of a sprawling city to secure a space in the recently relaunched Bergamot Station; a complex of former warehouses that has been transformed into a home for a number of contemporary art galleries.
For the past two weeks we've been busy transforming this white cube space into a living centre, with a large main gallery, screening room, reading room and project space which will host artists' residencies.
Delighted to say the launch of @CIAC_LA yesterday was a grand success. Come pay us a visit if you're around LA in the next three months! pic.twitter.com/ZFIBRRl1wa

— Bernard O'Rourke (@guyserious) June 17, 2019
CIACLA launched on Saturday June 15 with the opening of The Ladder is Always There by Amanda Coogan, one of the foremost practitioners of performance art. Visitors to the space entered a landscape of billowing fabric suspended from the towering ceilings, among which Coogan led a mesmerising live performance that recontextualised the installation as shapeshifting piece of living art. Accompanied by a team of local dancers, actress Jenn McGuirk belting out haunting Sean Nos, and a resounding score by LA-based Irish composer Emer Kinsella, the performance moved in and around the gallery visitors, weaving them into a work with no set boundaries between viewer and the artist.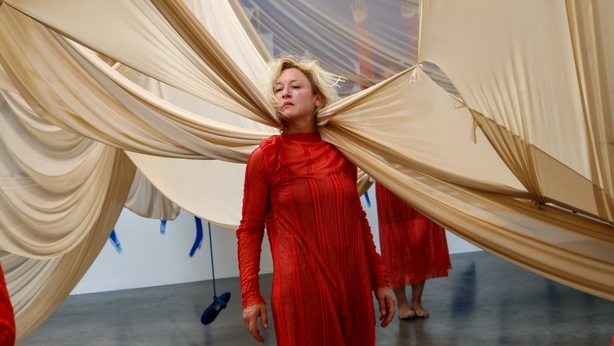 Continuing Coogan's explorations of embodiment and liveness that appear throughout her work, this installation transformed our main gallery into an immersive experience. Made of fabric the colour of the artist's skin, the sculpture hangs entangled in peaks and troughs throughout the gallery, calling to mind a landscape, or a seascape perhaps, all while constantly referencing the body. A ladder, suspended from the ceiling at an unattainable height, is always there; a metonym for the potential of movement and change. As a work presenting this level of experience to the viewer, it represents exactly the kind of contemporary art that CIACLA was established to showcase.
In his speech to officially launch the center, Special Guest Robert O'Driscoll, Consul General of Ireland-Western United States, praised CIACLA's mission to recontextualise Irish arts as a form that is breaking free of traditional preconceptions and creating work which reflects the modern, diverse nation we have become.
Los Angeles is a place where the Irish contemporary arts can make themselves at home.
Coogan's exhibition launch was followed by Care. Complicity. Critique; two days of live performances from local LA artists (including Lili Beranrd, Michiko Yao, Cindy Rehm and Thinh Nguyen) alongside an academic seminar organised by Katherine Nolan. The next major exhibit opening happens on July 27th by Maser, another artist who represents the new Ireland championed by O'Driscoll. The summer programme mixes visual art, theatre, dance, film, literature and comedy, as well as a series of events aimed at fostering connections between visiting Irish artists and the local community is intended as a taster of all that such a space could achieve, and will hopefully lead to greatly expanded activities down the line.
Day 1, the first open day after the launch, and its a full house for #bloomsday
The support for #Irisharts in #LosAngeles is astounding! @CIAC_LA needs to become a permanent fixture of the LA arts scene. #makeithappen #Ireland #globalirish #irishinla #irishinamerica #irishart pic.twitter.com/2MLgST74Lf

— rachel rath (@rachelrath) June 18, 2019
While CIACLA's immediate future after this programme ends is still to be confirmed. As a nonprofit, we're reliant on government funding, membership and sponsorship - CIACLA has been made possible by the support of Culture Ireland and Emigrant Support Programme. The overwhelmingly positive response received already has confirmed a core belief that has been driving us to make this happen: Los Angeles is a place where the Irish contemporary arts can make themselves at home.
Find out more about the Contemporary Irish Arts Center Los Angeles here.