Documentary maker J.J. O'Shea writes about his Lyric Feature programme, Gathering the Harvest, which celebrates uileann piper Seamus Ennis's parallel career as a documenter and collector of traditional music both in Ireland and in Scotland - you can listen to Gathering The Harvest above.
Séamus Ennis was an outstanding talent. He was a master musician and singer, a pioneering broadcaster and a charismatic stage performer whose name is still revered in the world of traditional music. So when I realised that 2019 would mark the 100th anniversary of Séamus Ennis`s birth, I wondered if there was any aspect of his career that had not yet received the attention it deserves. I discovered there was.
Séamus Ennis had made a trip to the Gaelic-speaking Hebrides in 1946/7 while he was still working as a collector with the Irish Folklore Commission. His mission had been to transcribe the wax cylinder recordings made in Nova Scotia by the Scots collector John Lorne Campbell. But while he was there Ennis also travelled to some of the neighbouring islands recording traditional Gaelic songs and music on John Lorne Campbell`s new, state of the art, Presto Recording Machine. These recordings are now archived in the National Folklore Collection and while the sound quality is poor by today`s standards the performances are often extraordinary. When I heard the material in the collection I became very excited at the prospect of a programme that would look at Ennis`s field recordings, and in particular his field work in Scotland. The seed for "Gathering the Harvest" was sown.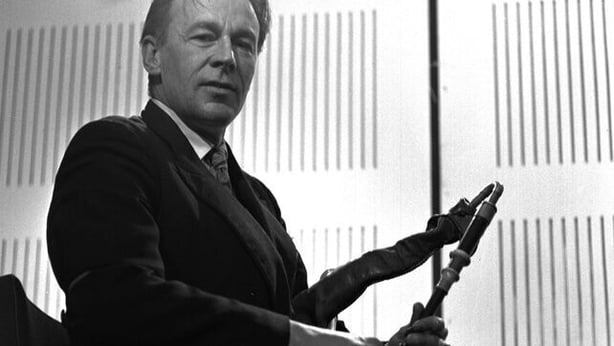 I arranged interviews with several contributors in Scotland, in particular Fiona Mackenzie who manages Canna House, John Lorne Campbell`s former home, which now serves as part-museum and part-archive of his collection. I also met broadcaster Cailean Maclean, the nephew of Calum Iain Maclean who had worked alongside Séamus Ennis in the Hebrides and David Brennan who shared some wonderful personal memories of Ennis which feature throughout the programme.

Former RTÉ presenter, producer and uileann piper Peter Browne also shares his memories of Séamus Ennis and his ongoing influence on musicians and broadcasters today and folklorist Ríonach uí Ógáin looks at his years as a collector with the Irish Folklore Commission and why he was particularly suited to this type of work. Actor Dónall Ó Héalaí brings excerpts of Ennis`s diaries and letters to life.
The programme features examples of Ennis`s field recordings including the unique and extraordinary singing style known as "Canntaireachd" which made such an impression on him. Canntaireachd is a system devised in Scotland to teach tunes to pipers because, more often than not, they are unable to read music. There is no equivalent to Canntaireachd in Irish piping. The programme also features a sample of the slow and regal style of Scots piping known as "Ceol Mór" and the wonderfully rhythmic sound of "waulking" songs which are work-songs sung in unison by women during a stage in the process of making tweed.
Gathering the Harvest sets the Scottish trip in the context of Ennis`s life and in particular in the context of his career as a collector. It seemed to me that this aspect of his working life, as a gatherer of tradition, was hugely important and hadn`t received the same degree of attention as his remarkable skills as a musician.
The Gathering of the Harvest can be heard on Sunday 26th May 2019 6pm on RTÉ Lyric fm