On the first of May, summer officially begins in Ireland. And in centuries-old fashion, it's also the time that many people in Wexford will gather their painted eggs shells, ribbons and bunches of flowers and decorate their May Bush.
The May Bush tradition is not just a Wexford tradition and is found in other counties in Leinster, East Munster and Ulster, with variants in Connaught; Wexford, however, is regarded as the stronghold of the tradition.
Watch: Decorating the May Bush in Ballindaggin
This tradition has been brought back to prominence by husband and wife team Michael Fortune and Aileen Lambert from Folklore.ie, who like many people in Wexford, grew with the tradition first hand. Some years back they established The Wexford May Bush Festival as a slow-burning, grassroots event in a bid to spread the word throughout the county.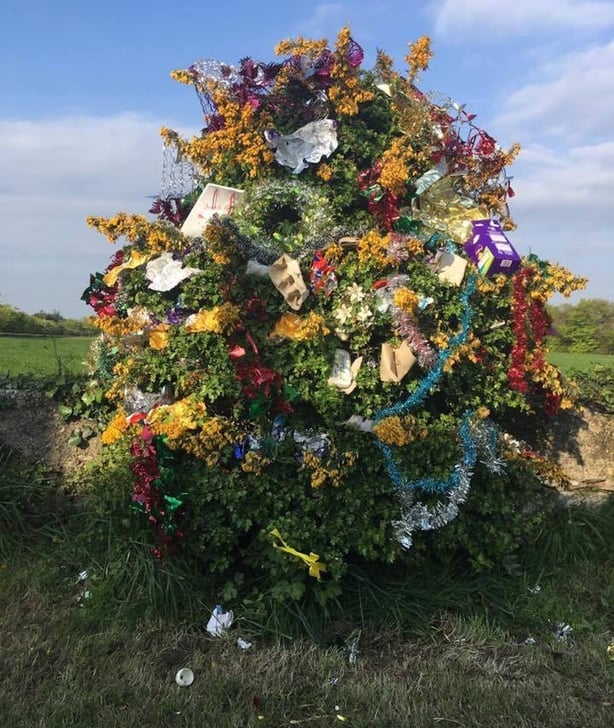 For those who don't know, the May Bush is a piece of a whitethorn (known locally as a 'skeagh') or gorse/furze bush which is erected on the first of May or May Eve and decorated with painted eggshells, ribbons and seasonal flowers. In the past in Co. Wexford, small candles were also placed on the May Bush and in some cases these May Bushes were burnt that very night. Throughout north-east Wexford, bonfires were lit on this evening and this tradition is still alive in some areas to this day. These fires are a continuation of the ancient Bealtaine fire tradition that stretches back in time and gives the month of May its Irish name, Bealtaine, meaning bright light or bright fire.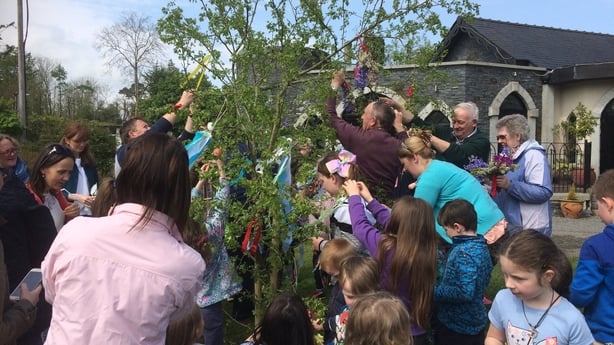 Traditionally, these May Bushes were erected in a prominent place in a bid to keep the 'pisheogs' away (ie the fairies), and like so many of our customs the May Bush was centred on the protection of the growing crops and the milk yield. Eggshells were kept up after Easter Sunday, mostly by girls, and then painted and hung on these bushes. A contemporary version of this now is the use of plastic Kinder Egg shells and leftover foil from Easter eggs.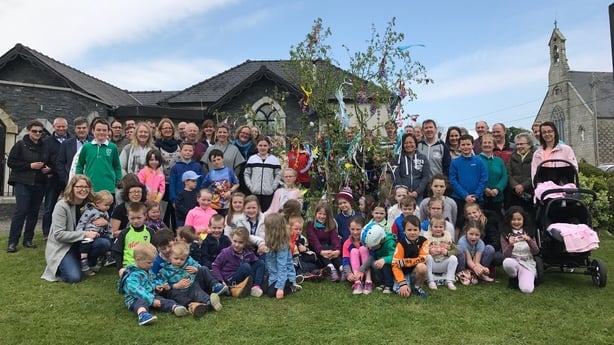 Through a combination of social media, local papers and radio, Michael and Aileen have helped spread word throughout the county. Earlier this year they distributed hundreds of young whitethorn bushes to homes, schools and communities around the county which were planted and in years to come will be decorated on the 1st of May.
Watch: A Penny for the May Bush - accounts from New Ross, Co. Wexford
This year, however, they are managing the festival remotely from 3,000 miles away, as they and their three young daughters are on the Cape Shore in Newfoundland, where they are working for a month documenting the shared folklore and customs between there and the people from the South-East of Ireland.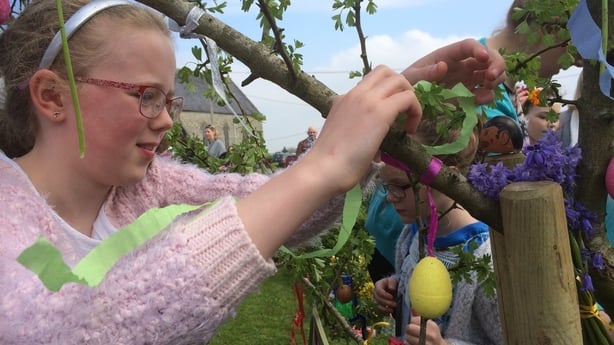 They won't be far away from a May Bush though, as they discovered that the people from Wexford, Waterford, Kilkenny and Tipperary who went to Newfoundland, aside from bringing their accents, music, songs and folklore, also brought with them this May Bush tradition. So come the 1st of May, certain families along the rural Cape Shore will erect a May Bush or Tree as they call it in the same way as in Wexford. As they don't have the whitethorn or gorse, they use a pine tree and decorate it with ribbons - and instead of candles, they now place Christmas fairy lights on them.
Watch: The May Bush Films - five films from Crinkle, Birr, Co. Offaly
To find out more about the May Bush tradition or May-related folklore and customs, in general, please visit The Wexford May Bush Festival's Facebook page or go to Folklore.ie.