Dancer & performer Lisa McLoughlin writes for Culture about the inspiration behind her new show, The Kindness Of Strangers, a collaboration with Professor and mathematician John McLoughlin to be performed as part of this year's Live Collision, the annual international festival of live art.
Every inch of the precious freedoms we experience in society is hard won. Without thinking much about it, we all rely on the kindness of strangers all the time. We rely on people being decent humans and, overall, they are. We pay our taxes so we can create a fairer society, we live in relative harmony with each other. This is a period of comparative calm. I'm not saying life is easy, it never has been, but we have probably reached peak comfort in the western world and have things our children very well may not. This is a time of change, no doubt, so even the most avid climate change denier can admit that we are going to have to change how we live. I talk about this a lot… I worry about my kids, about what I am doing, what can I do. If we are going to sink or swim together, we are going to need a whole heap of kindness. I think people are innately kind. This may be naive of me, but I think that on the whole we are all doing the best we can with the deck we've been dealt.
Every inch of the precious freedoms we experience in society is hard won. Without thinking much about it, we all rely on the kindness of strangers all the time.
To this end, I decided to put my money where my mouth is and head out on to the streets of Ireland and test that kindness and ask people to help me for no other reason other than that I have asked. I know this is problematic, in that there are people who really need help on every street, so me, not really needing help, is grand and all but why bother? Well, I need to bother, I need to see for myself how we help, who we help and most importantly practice asking for some damn help! So far, I've walked arm in arm with 184 people in Galway, Cork, Belfast and Limerick. It's a privilege to walk alongside that many people. It's also hard to ask so many folks and face into lots of perfectly understandable "no's". It has made me a small bit braver as I've had to look into the eyes of a lot of strangers and try to connect with them. I'm carrying a big backpack full of soil, it's heavy…. Why, you ask?
We need your consent to load this YouTube contentWe use YouTube to manage extra content that can set cookies on your device and collect data about your activity. Please review their details and accept them to load the content.Manage Preferences
Well, here is the back story: I live in East Clare, have three small kids and a husband who works in Dublin. This past year, I've had to learn to ask for help. Being far away from family and trying to keep my job going has been a serious struggle. But the other side of reaching out and asking for help is that I open a door for someone else to ask me to help them - this is how I am building my networks of support. I was so reluctant to do this, I didn't want to be a burden to the friends around me, but what I've learned is I am building trust and community. I've been born and raised in a city, we didn't know our neighbours, so this is not something that has come naturally to me. I don't think it comes naturally to most of us. We equate asking for help as being needy and weak, no matter how many soundbites say the opposite. Practicing on 184 strangers was like aversion therapy. I'd ask anyone anything now, and I faced so much rejection I really didn't take it personally because it's not about me…. It rarely about anyone of us, usually just bad timing.
Being a dancer, I'm obsessed with the machinations of bodies.
For this piece, I decided to create a symbolic equation of care and dependency with my insanely clever cousin, John McLoughlin, who is a professor of Math in the University of New Brunswick. I set him this task - to create an equation of people's lives that would result in an actual weight. This weight is all that we carry in our lives, the roles of care, the emotional burdens, the stress and strains of life, minus the support we receive from those around us, near and far. I wanted to make something clean out of the chaos, the overwhelming sense of responsibility that is the daily life of most parents and carers. So, he did just that. Created a thing of beauty that is more letters than numbers that symbolically quantifies what you carry in your life. My equation amounts to a weight, 15.3Kgs to be exact, which I carry. I then multiply by 3 (the magic number!) so that it equals 45.9, rounded off to 46. This has then meant I walk with 46 people in every city. Interestingly, 46 is also the number of chromosomes in a cell.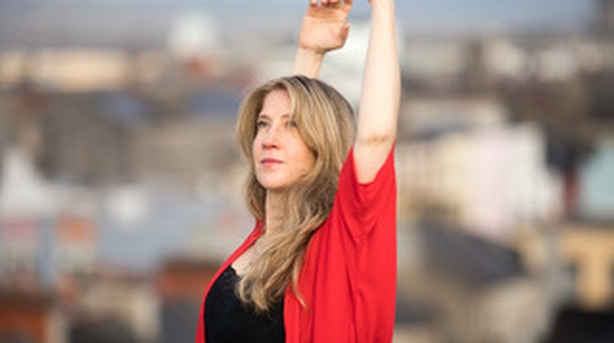 Being a dancer, I'm obsessed with the machinations of bodies. While scientists are heading to outer space to find black holes, dancers and somatic practitioners are finding inner space. Not only the mechanics but attempting to hone our sensitivity so that we can feel every part of ourselves. To explore the cosmos that is our human bodies. Bodies are empathic, just watch someone stub their toe, you'll wince. Bodies are hard wired to feel other people's pain, that is why it is hard to be in our bodies these days. We are exposed to so much pain and suffering and, on the whole, feel powerless to change anything. But I believe that by connecting to our bodies we live softer, can be kinder, we are more empathic. The "warm animal of the body" is a wonder of design and intelligence that we sometimes need to fall back into. That's why my body, physically walking, taking time to look and touch other bodies was, for me, an important act. When 46 people have walked with me, I drop my weight and I dance. I dance a dance of thank you and of freedom and just the smallest dab of hope for us all. The world is filled with acts of kindness, and sometimes we just need to be brave and ask for them to be seen.
The Kindness of Strangers will receive its world premiere at Live Collision International Festival on Thursday 25 April at Project Arts Centre in Dublin, after a series of site-specific workshops across Limerick, Galway, Belfast and Cork - find out more here.