Irish filmmaker David Gleeson writes for Culture about his new supernatural thriller, Don't Go, starring Stephen Dorff and Melissa George, which opens in Irish cinemas on April 12th.
If I had my way, everyone would get to direct a movie at least once in their lifetime. It truly is a transformative ordeal which breaks you down and in the end makes you into something quite different. Whatever about the characters played by Stephen Dorff and Melissa George in Don't Go, my own transformative arc was at least as dramatic as theirs.
A little background — After directing my last movie The Front Line in 2006, my next project was a hundred-million dollar sci-fi movie called The End Of History. Not the most realistic prospect to get off the ground in Ireland, so when Sony Pictures opened their checkbook to purchase the screenplay, I immediately rolled over and sold my soul to Hollywood.
Since then, I've written screenplays in many genres for most of the major studios. In fact, I have another movie coming out next month; Tolkien, a biopic of JRR Tolkien starring Nicholas Hoult and Lily Collins. Movies are like buses I guess, you wait forever and then two come along at once.
Though I find writing incredibly rewarding and am grateful for the opportunities it has afforded me, I have been itching to get behind the camera again but very little of what excited me was feasible to realise on a budget in Ireland. So when my producer, Nathalie Lichtenthaeler, brought me Ronan Blaney's script for what would become Don't Go, I jumped at the chance to make it.
Don't Go is a rollercoaster of emotion, a gut-wrenching psychological puzzle with a cathartic denouement.
Fortunately, finance came together relatively quickly and we were able to secure the hugely talented Stephen Dorff and the incredible Melissa George to play the lead roles of Hazel and Ben. Supporting them are Simon Delaney, in what I feel is one of his finest performances, along with Aoibhinn McGinnity, who really gives her all in this.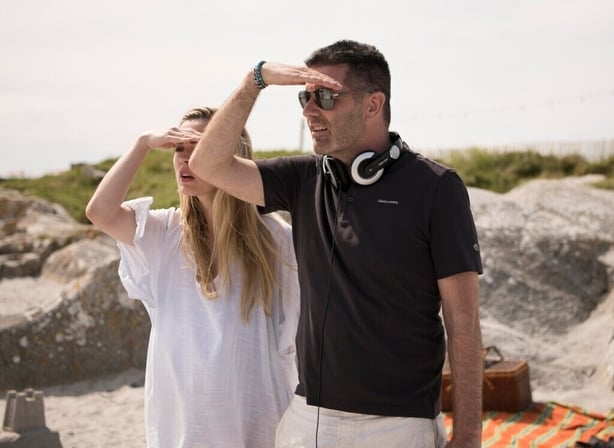 Don't Go is a rollercoaster of emotion, a gut-wrenching psychological puzzle with a cathartic denouement. Attempting to capture this lighting in a bottle with such committed actors in a compressed 22-day shoot was an intensely emotional experience for all of us who lived it.
I find that every movie becomes its own odyssey and one of the real pleasures on this was the glorious summer I got to spend with my family living in Spiddal, Co. Galway. The deciding factor in choosing Spiddal as a location was hearing Ned Giblin sing one night in his pub when we were scouting locations.
I was so moved, I wrote his performance into a scene and following the theatrical release of Don't Go in the US, 'Variety' accused us of fabricating a too-perfect impression of the place with 'breathtaking and cozy pubs in which world-class musicians sing traditional airs'. What can I tell you? That's the reality.
Come see for yourself.
Don't Go is released in Irish cinemas on April 12th.