Recently RTÉ Drama On One welcomed Eimear McBride and Aoife Duffin to record Eimear's new radio work, Mouthpieces.
Mouthpieces divides into three miniature plays, all of them in the author's vivid, original and sharp-witted style. In recordings for Drama On One's In The Wings programme, Eimear and Aoife discussed how this unique radio project came to be.
"About a year ago I was offered a creative fellowship at the Beckett Research Centre at the University of Reading," says Eimear. "And the remit was that I would spend an academic year coming in to look at Beckett's archive - which is stored there - and at the end of that year, I would go away and write something original that was inspired by my time in the archive. And so Mouthpieces came out of that. Mouthpieces is three short pieces put together under the one title - The Adminicle Exists, An Act of Violence and The Eye Machine. They're three mostly abstract works, but really trying to write about female experience."
Listen to Drama On One: Mouthpieces by Eimear McBride
"I was a fan of Beckett beforehand," Eimear explains, "probably more a fan of Joyce, but I was very fond of his novels and I knew some of the more famous plays. And so it seemed to me a kind of perfect moment to really find out more - to dig down into the archive and find out more about his other works, smaller works, especially those I hadn't known about before."
Mouthpieces is is performed by McBride and actor Aoife Duffin, who starred in the Corn Exchange's stunning adaptation of Eimear's novel, A Girl is a Half-formed Thing, directed by Annie Ryan.
"Well," explains Aoife, "(Drama On One's) Kevin Brew sent me the scripts and said, 'There's a piece that Eimear McBride is doing,' and I didn't even have to read it. I just said, 'Yes, I'm in. I'll do it.'And it was a joy to be able to read her words again."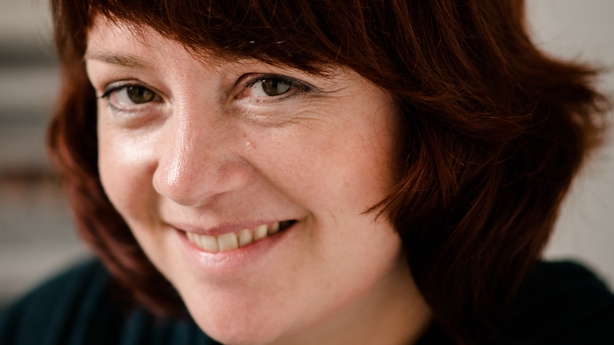 The conversation turns to Eimear's acclaimed debut novel, celebrated for its fierce and original depiction of a young woman's resilience in the face of punishing conservatism, family illness, sexual abuse and self destruction.
"I wrote that really when I was 27 in about six months", says Eimear. "And I think I had been really trying to work towards writing a book from my early twenties on. And, of course I was living in London so I had to temp to pay the rent. But I used to get up at five in the morning to write, for an hour or two, before I would go into my temp job. And it was all, you know, terrible, but it was really learning how to write and learning the discipline of just sticking with something. And then my husband got a job directing a play in Japan and it was pretty well paid. And he said: 'OK, we're going to go to Japan and when we come back, whatever is left of this fee - that's going to be writing time. You sit down and write the book at last.' So I sat down and I wrote it in six months. So it was just... I had the time. I had the gift of time and I used it."
Watch: Aoife Duffin in A Girl is a Half-formed Thing
Aoife remembers engaging with the role of Girl. "(Director) Annie Ryan had, for a few years, wanted us to collaborate on something. And I had moved to London and was working on a production of Spring Awakening - the second production of Spring Awakening I had been in. And Annie posted me A Girl is a Half-formed Thing and asked me to read it. And ...(laughs) with a heavy heart, I read it."
"I read it and I guess I was uncertain because I had, up to that point, played a lot of roles that required me to go to places that were dark. Which is fine, but it takes energy. Annie had the idea to do it as a one-woman piece.I couldn't say no to it because I had never done a sort of big one-person show. It sounded like a terrifying prospect and great also, because, as my friend said, 'you get all the praise, (laughs) because it's only you!'"
Listen: In The Wings - writer Eimear McBride and actor Aoife Duffin discuss Mouthpieces:
Eimear also performs in Mouthpieces, revisiting an earlier part of her life, in the 1990's, when she trained as an actor at London's prestigious Drama Centre. The experience also fed into her writing style.
"I think not having an academic background and having a drama school background was actually the makings of me, as a writer. I think that training that I had at Drama Centre, which was really hardcore-Method-Stanislavski, really taught me to think about character in a different way. And so when I came to write the book, that's what I brought with me – that was my tool kit. And luckily I was interested in character. That was my primary driver and still is really. And so I think if I had had a much more traditional, literary education, I would have been more preoccupied with the supposed rules of how one writes well, how a book is supposed to look, or what the language is supposed to sound like. And I didn't feel that. I was, you know, very unconstrained by all of that. I read Ulysses and thought, 'Wow, you can do whatever you like - if you can pull it off.'"
Eimear continues, "Joyce said, 'Here you go'. You know for me he was the man who opened the gate. You could go through there and do whatever you wanted, if you had the courage to do that. Because, you know – no one thanks you for it. No one's dying for you to that. But, hopefully once it's done, people will see value in it or find meaning in it."
Drama On One, Mouthpieces, RTÉ Radio 1, Sunday, March 31st - listen to it (and more from the Drama On One archive) here.