We're delighted to present an extract from Blue Hills & Chalk Bones, an essay taken from Constellations, the acclaimed collection from Sinead Gleeson, published in the US this week. 
How do you tell the story of a life in a body, as it goes through sickness, health, motherhood? How do you tell that story when you are not just a woman but a woman in Ireland? In these powerful and daring essays, Sinéad Gleeson does that very thing.
---
1988
In 1988, Dublin is a thousand years old, and the city celebrates with parades and commemorative milk bottles. The focus-grouped slogan for the year is 'Dublin's Great in '88'. In 1988, I am thirteen, and Ray Houghton scores for Ireland against England in the European Football Championship. Headscarfed women like my grandmother light candles in churches in the hope we'll beat the Soviet Union (we draw) and the Netherlands (we lose).
In 1988, my mother brings me to an old redbrick house near Dublin's South Circular Road. The woman who lives there owns a small glass relic of Padre Pio, containing some of his bone. My hip and the bones of a Catholic saint are briefly united as she rubs it over my hip with a susurration of prayers. Although nothing happens in the weeks that follow, my faith stays strong. I develop a habit of dipping my fingers in the holy water font at Mass and flicking a few drops in the general direction of my pelvis.
In 1988, my school announces a trip to France. A previous year's destination was Russia and my brother had gone, lugging an extra suitcase loaded with chewing gum and chocolate bars for trading. He returned with metal badges of Lenin and the Space Race, a carved wooden Kremlin and an Ushanka fur hat. The French trip includes Paris and a stop in Lourdes, and demand for places (because of Paris, not Lourdes) is so high that a raffle is held. I automatically qualify for a place: my crutches are the equivalent of a playoff clean sheet and my best friend is allowed to be my plus one. She's Protestant, and her religion doesn't hold the same kind of devotion for the Virgin Mary. Neither of us knows if Mary will intercede on my behalf. All eyes are on me, because they think I'm their chance of a miracle.
In 1988, a leap year, I spend all 366 days of the year on crutches.
Equilibrium
Lourdes, like Medjugorje or Knock, is an important place of pilgrimage for Catholics. In Ireland today, church par- ishes still organise trips to France, rounding up busloads of the faithful. In the 1980s, the cheapest option was bus and ferry, before budget airlines began offering €37 flights to Perpignan and Carcassonne. Pilgrims sat next to nouveau riche Irish off to 'Perp' for a weekend of fizz and shopping.
Today, Lourdes has its own airport, squeezing into the title: Tarbes-Lourdes-Pyrénées.
When I made the trip in 1988, it was an epic, complicated journey. The ferry ducked and bobbed across a heaving English Channel. Everyone stayed in their cabins vomiting – because of the equilibrium and sheer will required to make it to the bathroom. Our coach rolled off through Rouen and on to the lush gardens of the Palace of Versailles. From there to Paris, with its cafes, the iconic tower. We took endless photos and binged on souvenirs, but I could only think of the grotto, and of what would happen. The drive south to Lourdes took all night and pain made sleeping difficult. We passed vineyards and I watched the stars, listening to the untroubled breaths of deep sleepers. I thought about the baths, and how if I believed it enough, I would be cured.
Lapis Lazuli
The hills in Lourdes are vertiginous. They rise, fall and repeat like cartoon geography. Flanked by the Pyrenees, Lourdes is visited by six million tourists a year, and Paris is the only French city with more hotels. The castle, Château fort de Lourdes, can be seen from all around and was once attacked by Charlemagne. Reports of its topography were not wrong – the roads are narrow and the descent to the basilica is steep. Beside it, the Gave de Pau is the fastest flowing river I've ever seen. It loops around the Massabielle rock, where Bernadette saw her first vision of Mary, and here in the rock face is where the grotto stands. Crutches and splints hang from the walls, like oversized Christmas decorations. The concourse teems with people and this surprises me. I hadn't expected it to be so popular.
Surrounded by mountains and valleys, Lourdes is remote and self-contained, which sounds strange for a place where faith is amplified. Metaphysical or impalpable, all the elements of religion are made real in these holy spaces. Believers carry their prayers inside themselves, speak them wordlessly in their heads, but here their faith – that elusive, blind thing – is tangible. There are physical signifiers everywhere, along with commodification. You can take home souvenirs in every form: Virgin Mary-shaped bottles of holy water, Bernadette mise en scène with her friends, cast in alabaster. Garlands of glass rosary beads. Relics in shades of sea and sky, heaped in buckets like mackerel. Blue is considered the colour of holiness, of nature, of truth and heaven, and the shops here are banks of azure and periwinkle. I avoid miraculous medals and crucifixes and buy a View-Master for my younger brother, with rotating rectangular shots of the basilica, Bernadette and the grotto.
'Everywhere We Go (Everywhere We Go)'
The hills were the reason I had to bring a wheelchair. When my mother heard about the up-and-down nature of the streets she borrowed one from the Irish Wheelchair Association. On the day we were due to leave from the school, the coach eased into view and I cried in our car. The arguments had gone on for days: that I didn't need a wheelchair. That once I got into it, everyone's view of me would change.
There would be pity. Deep as a trough.
A crippled girl.
My parents made a strong case – comfort, safety and those hypotenuse hills. Outside the car window, there was excited chatter, with parents pressing extra francs into teenage hands. My father promised he wouldn't load the chair into the baggage hold until everyone, including me, was on board. He waited, and discreetly heaved it on top of the suitcases. The bus shuddered with its weight. I just won't use it, I told myself. Like the swimsuit at the doctor's, the circular routes around dance floors, I felt the familiar burn of shame as we drove to Wexford and the ferry.
Wheelspin
It was a spring day when we arrived, the air not yet warm. When I look at the photos now, I smile at my friends' perms and pastel blouses with shoulder pads; my denim skirt and ankle socks. We don't know what's ahead of us or who we will become. Our shyness is palpable. The hotel bar sold café au lait in small, white cups for three francs, which we asked for in untried French, and sipped, feeling sophisticated. Paddy the bus driver told me I never look him in the eye when I speak as he lifted the wheelchair from the bus. I refused to get into it. Missing the first three months of term in a new school had left me in a hinterland. Fast friendships had already formed, and although I was trying to catch up, I was separate; an island away from my classmates. Now, eight or nine of them, boys and girls, stood silently regard- ing the chair, while I sank into my own stubbornness. I've thought of this moment many times since, and every time, I remember the panic as a completely physical thing. The internal stomach flip and external cheek flush. The utter hush, the wait for a reaction. The boys grabbed the chair and began to whizz up and down the road outside the hotel.
They pulled wheelies, spun each other around, and it had a domino effect: everyone wanted a go. Our sense of others is frequently wrong. We second guess, and make assumptions. The chair became a comic prop, without making me the butt of the joke. There in the French sunlight, we laughed, and I loved them for their kindness. It mattered more than prayers.
The Weight of Water
When the Virgin Mary appeared to Bernadette in 1858, she revealed that there was a spring beneath Lourdes. The waters are said to have healing powers, and are funnelled into its famous baths. Housed inside a stone structure resembling a cave, they are tended by sturdy women, who have guided thousands of hopeful visitors into the water. We queued, and at my turn, I entered a dark room. A woman instructed me to remove my clothes, and wrapped a wet, white shroud around my body. She asked if I could walk without crutches, and I explained that short distances were manageable. The bath resembled a large stone trough, and, as with the grotto, had a uterine shape: the power of these spaces, whether they're flesh or stone. A step down, and I was eased into the water. The cold – the extremeness, the sting of it – was a jolt. In that barely lit room, these women with their strong arms slowly dipped me backwards. I was immersed with all my prayers and hopes, and for a moment the chill of the water obliterated everything. I wanted it to
seep into my bones and make me new. And after months of thinking about how it would feel, it was already over. My skin was instantly dry. Apart from the purple mottle left by the cold, nothing felt different.
After dark, rain fell hard, sluicing down the hills in streams. Every night, there was a torchlight prayer procession, with thousands of people carrying candles thin as stems. The wax encased in white paper with blue ink images of Mary. With the weather and the terrain, a teacher advised me to swap my crutches for the wheelchair, leaving my hands free to hold a candle. Flames fizzed in the rain and the crowd snaked around the basilica, murmuring prayers and rotating rosary beads in their hands. The mood was sombre but comfort- ing. And in the middle of this crowd of believers, my faith wavered: for the first time since my arrival – mere hours since the holy baths – I didn't think there was a miracle here for me any more.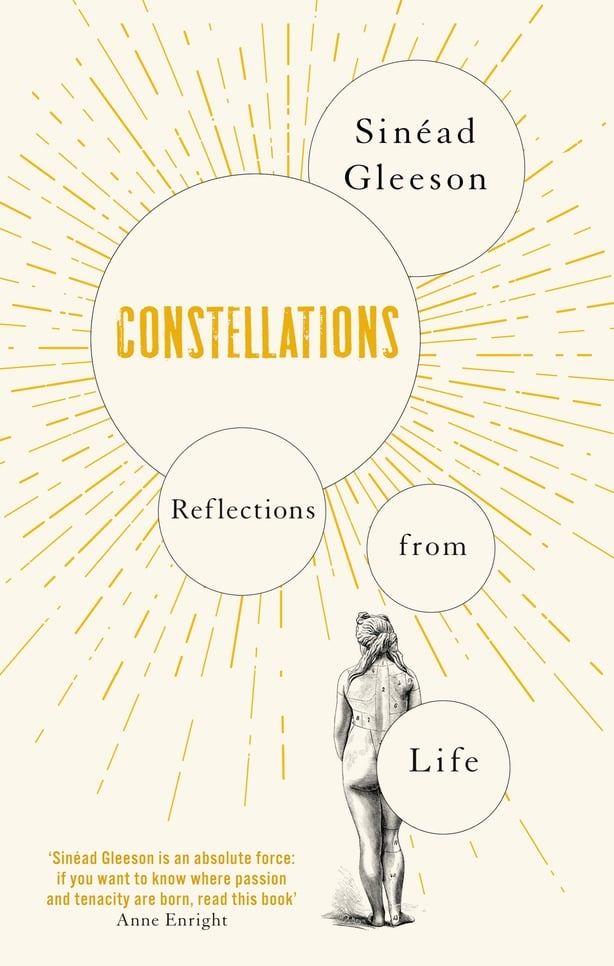 Constellations by Sinead Gleeson (published by Picador in Ireland, and Mariner / HMH books in the US) is out now.