If you've lived in Ireland for any amount of time, you know Ann Devine. Or, at least, you know AN Ann Devine. You know a Kilsudgeon, the town she's been born to and bred in. Indeed, you probably know the whole community… or one that is unnervingly similar.
Ann Devine, Ready for her Close-up is the fifth book from O'Regan, and his first journey into fiction. The three-part Irish Mammies series was a response to demand from followers of the eponymous Twitter account. The series is a sort of round-up of all the topics that only an Irish mammy can really speak with any authority upon, such as, of course, elaborate rules on usage of the Immersion. Next came his book Bolloxology. Chips served to you in a tiny shopping trolley? Bolloxology. Another inspirational quote popping up on your Insta feed? Notions. Farmers' markets selling artisan chutney? Well, that's bolloxology and Notions. You get the idea, it's everywhere and now we have an indispensable guide to navigating it.
But here comes a long-form tale about Ann Devine and her merry band of mad neighbours. O'Regan nails the miscellany of observational humour. The question is whether he can write a novel with similar success?
Ann is almost done with child-rearing, which is not to say that her four offspring aren't still putting years on her, with their various dramas. Her youngest, Rory, for example, is off to Cork to study a new course and the unlikely transfer, half-way through the academic term, seems a little suspicious. On top of that, Rory is living in the pocket of independent TD, fixer and all round dodgy-yet-useful man about the town, Patsy Duggan. Whilst Ann's job as a carer keeps her busy (washing aul fellas undercarriages and politely nibbling on their stale buns does prevent a person from lying totally idle), she still has a hankering for action.
This is an astute take on rural life with relatable themes. Political jiggery-pokery, globalisation and rural isolation all feature.
When her daughter Deirdre nominates her for the Tidy Towns committee, Ann soon realises that she has signed up for more than a bit of rubbish-collecting and chrysanthemum-planting. There's something afoot in Kilsudgeon. Fierce odd things are happening. There are lads booting around the town in four-wheel-drives with northern regs. There are young fellas looking for obscure drinks in the local restaurant. And then there's people talking about something called Veganuary. Soon enough, things are going very wrong for Ann herself. Though she'd usually be a woman to keep the head down, it's time for her to delve a bit deeper, for the sake of her own reputation.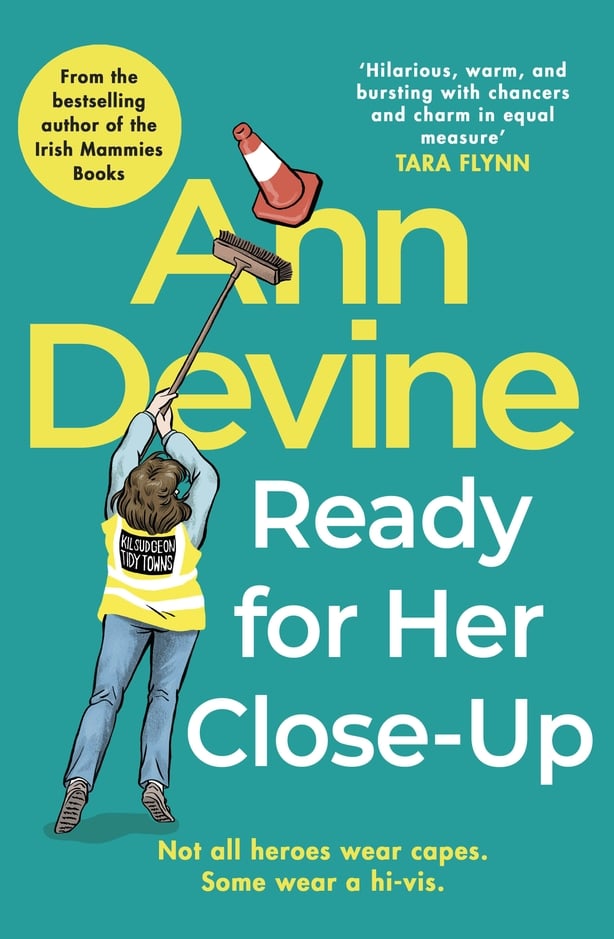 O'Regan does a stand-up job with his main character. Ann is hilarious, and no surprise on that one, given his expertise in capturing the essence of the Irish mammy. But there's a vulnerability and humility to Ann's character that touches you too. If you met Ann, she'd probably give you a good, hard squeeze. And you wouldn't be one bit put out by it either. This is an astute take on rural life with relatable themes. Political jiggery-pokery, globalisation and rural isolation all feature. But any blows to the Irish ego are softened by a warm wit. And yes, there's a decent, and very original, plotline.
Those loyal to the OMGWACA books (if you know, you know) will likely enjoy this offering. Equally, fans of Paul Howard's anti-hero Ross O'Carroll-Kelly may find what they're after here. Ann Devine, Ready for Her Close-up is a solid first novel and this reviewer will be keeping an eye out for any follow-ups.