Virgin Media Dublin International Film Festival preview: Irish writer & director Alexandra McGuinness writes for Culture about her new film, She's Missing, starring Eiza Gonzalez (Baby Driver) and Josh Hartnett (Penny Dreadful), which premieres at this year's event.
The journey to She's Missing began in the summer of 2013. I was driving from Texas to California, and my car broke down in a small town in the California desert. I spent the night there in a run-down motel, with a door that didn't quite lock. The town was pretty deserted, it used to be on a major road, but that road was by-passed by a bigger highway. I noticed there was a high number of missing posters in the town. All missing girls, all last seen along a stretch of the interstate highway.
There was one girl in particular whose name I wrote down. When I got home, I started reading about her case. She went missing in 2004, she was last seen in this town. She had kids and a family in another state, she'd been a model for a bit, and she'd ended up in this town with a guy she was seeing. He left, and she stayed on and started waitressing, and possibly got involved with meth. She's never been found and the clues surrounding her disappearance are very weird. Her mother still travels to search for her daughter, or her daughter's remains, a few times a year. Her disappearance was not really investigated by the police and so her mother, and Facebook, and rumors have really been the driving force for the search. So there was this tragic story that stuck with me, and inspired the early seeds of the story. The town, and the danger of being a woman on your own in a town like this was the starting point.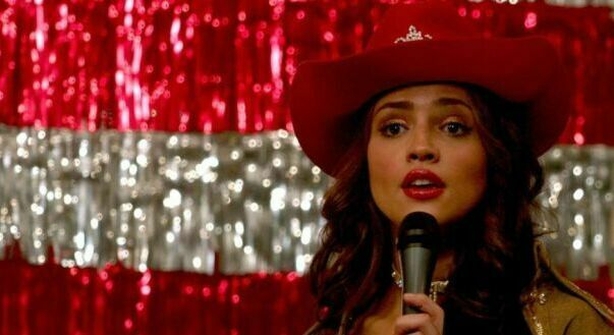 I had just moved to Los Angeles on my own, and I would take long drives into the desert in an old pick-up truck that I had bought. Coming from Ireland, the Californian desert might as well be the moon, it's so different and weird. I knew I wanted to write a film that was set in the desert, and that it should have a quality to it, as if that desert were the moon, like it was uncharted, unknown, unsafe territory. I started writing the story and I took some details from this missing person's case, but not enough that her mother would ever be offended. I went to a rodeo, and discovered that world for the first time. The rodeo queen competition was amazing to me, very old fashioned, but very glamourous, and I found that imagery really hooked me in; a girl in a sequined cowboy hat making speeches about America, the ambition that was involved in competing in a pageant like that, I knew I wanted to recreate that image and that ambition as part of this story.
Coming from Ireland, the Californian desert might as well be the moon, it's so different and weird.
I met a cowboy at one of the rodeos, he had been a state trooper and then worked for ICE, he was advising Obama on immigration reform yet here he was at this tiny rodeo in the middle of nowhere. He was a good man, someone who had experienced a lot of tragedy in his life, and was having a crisis with his own masculinity. I knew some version of him had to be in this story. I wanted the central character Heidi to have a destiny, and I wanted her to be both running away from and towards that destiny, as happens in classical Greek stories and in Shakespeare.
When Trump was elected, that added another surreal element to the story. The film was now set in a border state in the rural America that voted for Trump. We don't deal with it directly in the film, but I think the influence of his presidency, the chaos that surrounds it, the sexism and the misogyny, is definitely there in the background.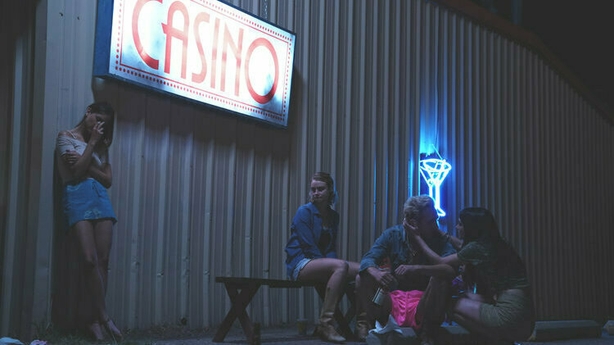 At the heart of it all, I wanted to tell a story about a friendship. A type of friendship that I think a lot of girls experience in their late teens, early twenties, when that friendship is everything, it's the main thing in your life, it's obsessive and co-dependent and there is often a power struggle element to it. And in my experience you build your womanhood on the bones of those friendships, and hopefully that relationship changes into a healthy one, or you meet new people and build more even-keeled friendships and your world grows.
But in this story that's not what happens. In this story, the girls won't allow each other to outgrow the friendship. And so the film asks the question - is a friendship worth saving if it can destroy you?
She's Missing will be screened at Cineworld on March 1st - tor tickets and more info about this year's Virgin Media Dublin International Film Festival programme, go here.