Artist and folklorist Michael Fortune explores the folklore and customs surrounding St. Brigid's Day, which takes place on February 1st, complete with the voices and stories of people from all over Ireland.

The 1st of February is a special date in the Irish calendar. For many, it is the feast day of St. Brigid, to others it marks Imbolg, one of the older Celtic quarter days, while for others it announces the start of Spring. For most though, like myself, it is a mixture of many of these layers, where we pick and choose aspects which make sense for us on our own personal level.
For St. Brigid's Day, I've prepared a selection of short clips which I've collected over the years around the country. These are by no means lengthy scholarly pieces, but instead they are the voice of a people who recall their own rituals, beliefs and practices.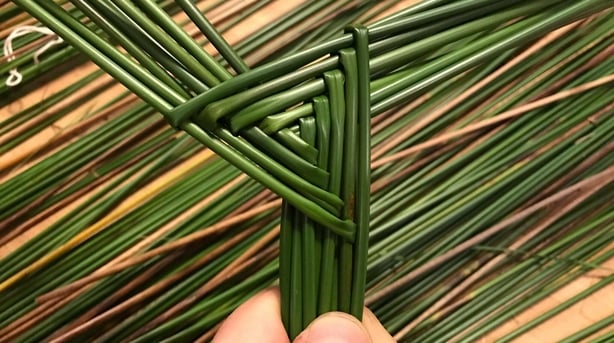 It's fairly well established that many Christian feast days in Ireland were built upon older pre-Christian quarter calendar dates and St. Brigid's Day is no exception. The 1st of February marks the start of Spring or Imbolg, the 1st of May/Bealtaine marks the start of Summer, the 1st of August/Lughnasa marks the start of Autumn, while the 1st of November/Samhain marks the start of Winter.
This time of year is certainly about re-birth and life re-emerging after the months of darkness. Sheep are yeaning, the calving season has started, flowers are emerging and buds appear on trees. Life is literally springing up all around us and even as a child I always looked forward to this day, certainly much more than the feast day of Brigid's male counterpart, Patrick. Throughout Ireland, I find a greater connection with the figure of Brigid in comparison to Patrick, and a larger amount of folk belief and practice surrounding her. This may be the result of how we view the church as an institution, but I'm also of the option that the pre-Christian landscape in which St. Brigid's day was built continues to come through to the present day.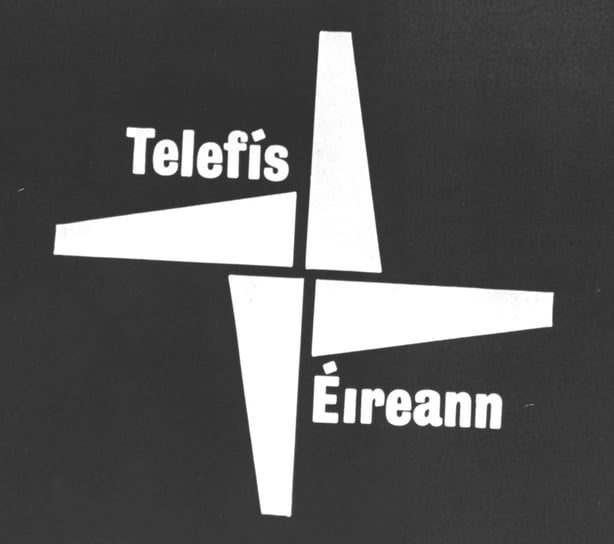 As someone who was born and reared in the country, I found that St. Patrick's Day for me was a townie affair; tractors, lorries and people marching in straight lines. Maybe I was attracted to the concept of Brigid more as I preferred the personal aspect of calling to the fields and gathering the rushes or simply the hands-on craft of making crosses. Or maybe as you get older, especially for country people, we have a better sense of the seasons and this date lets us officially know that we have turned the dark corner of winter.
Watch: St. Brigid's Day Mummers, from Co. Mayo
I've been making rush crosses of different styles and sizes for the past 35 odd years, thanks to a primary school teacher and my grandmother, whose own father was a straw weaver.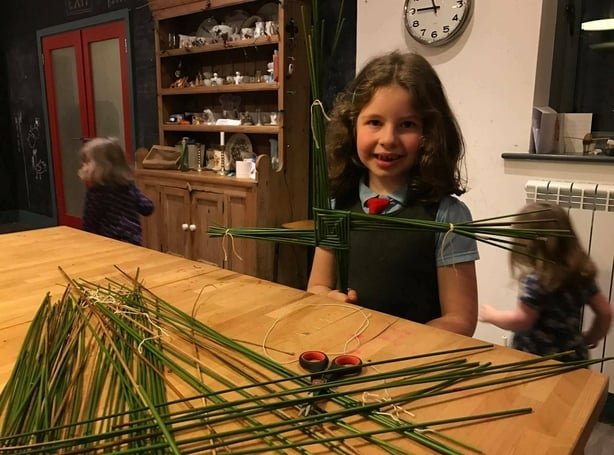 We grew up in a wet, boggy land called The Macamores on the east coast of Wexford, an area known for its rushes and every year I returned to the exact same field ('Billy Lough's Field') to gather these. In 2017 I found a recording from 2013 which documented me visiting this very field and making crosses with my grandmother, who was 101 at the time.
Watch: St. Brigid's Eve in Ballygarrett, Co. Wexford
Aside from the actual making of the crosses, there are many rituals involved in collecting the rushes which vary from area to area. From Wexford to Donegal, rushes were traditionally collected on the Eve of St. Brigid's Day, the 31st of January. This was done before dark, with the rushes collected and brought in, sometimes with a ceremony involving the youngest child in the house or in other cases where a prayer was said. Once this was done, the family and sometimes neighbours would gather and make these crosses.
These crosses were then left out on the doorstep or on the windowsill, with the belief that Brigid blessed them as she passed by during the night.
Watch: St. Brigid's Eve/Day customs, from Co. Donegal
In Donegal, many people will remember eating 'poundies' which were potatoes 'pounded' or mashed on this night. This is linked in with the tradition of eating a meal of the eve of the feast day, such as Hallowe'en for example, where we feasted on nuts and fruit etc.
Another St. Brigid's Eve tradition involves the hanging out of a cloth/rag/ribbon on your washing line or out on the ditch so that when St. Brigid would pass it that evening after sunset, she would bless it. The colour varied around the country, some used blue, more white and others green. Others would also hang out rosary beads that night in the same way. This rag/cloth is also known as Brat Bríde (Brigid's Cloak) and these would be kept up and used for cures, mostly headaches, over the coming 12 months. Here are two women from Clonmel in Tipperary talking about this particular tradition and how in one case the rag was used to draw out a broken needle from someone's finger.
Watch: St. Bridid's Rag explained, from Co. Tipperary
Protecting Animals
Brigid is still closely associated with dairies, cows and animals in Ireland to this day, and every year new crosses are placed in barns and cowsheds. Throughout the country, the general belief is that these crosses protected the animals, especially cattle, from harm. To this day, you will find layers of these crosses tucked into rafters or hanging on nails in barns beside old calendars, veterinary labels and instructions for dousing cattle and sheep. The old ones were never thrown out - instead, they were left to fall apart.
Watch: Drinking beestings and blessing your cows, from Co.Mayo and Co. Offaly
This is similar to the harvest 'cailleach' tradition found around the country where the last sheaf of corn or oats cut at harvest was hung up in the kitchen to keep hunger and harm away over the Winter months. The 'cailleach' was then fed to the horses in the Spring to symbolise that we had made it through the Winter. The life cycle of the natural material of the rush interests me and the idea of replenishing the old ones with new ones makes reference to the cycle of life and the seasons.
Here is a great series of accounts recorded in 2018 in Co. Wexford where a woman near Gorey recalls how her husband's family were losing a lot of stock. However, this all changed when she moved to the area and started putting up Brigid's crosses in the cow-houses.
Watch: St. Brigid's Day folklore, from Co. Wexford
She ends the recording with another similar story involving a neighbour who put a cross in his cow houses for the first time and that night all the cows broke out as he said the cross upset 'the devil' who had been residing in the sheds until Brigid came along. This story is similar in style to that of St. Patrick and the snakes, and it's incredible to find such a personal version of this story in living folk memory today.
The Threshold
One place you will always find a St. Brigid's cross in Ireland is over a door within the home. It is at the threshold that money or medals were put in the foundation when building the home. It is where holly was placed at Christmas, and where holy water was sprinkled or holy water fonts hung.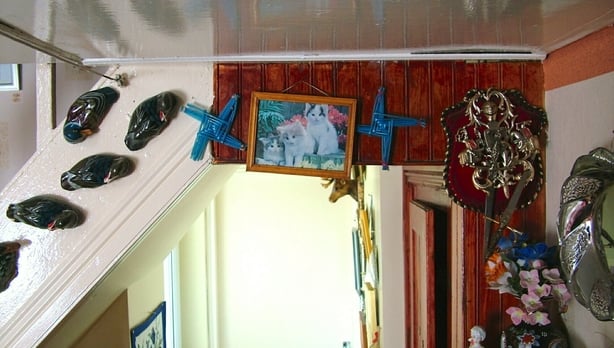 Here are some photos of my grandmother's house in Wexford, taken in 2006 where we can see various crosses over the thresholds within her house. Some of the crosses are in various stages of falling apart, unlike the plastic drinking straws seen here, which were made in the early 1990's and were a big hit with her as they kept their shape and never fell apart.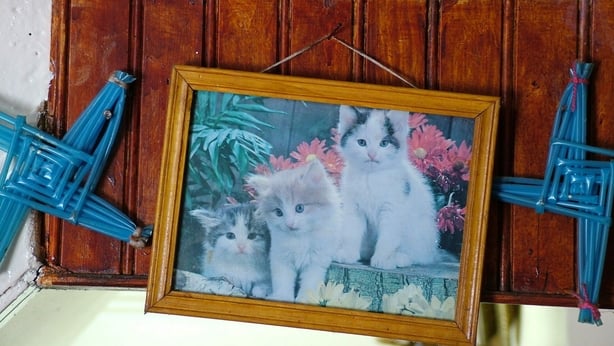 The Various Designs
Although many of us are aware of the classic St. Brigid's cross, there are in fact many different designs found around the country. In my own wider area in Wexford, I've encountered four different traditional designs: the standard 4 legged cross, a triskel/trinity design, a weaved/lapped design with twelve rushes and a two-legged version. Included are some photos of these designs as well as two people from Co. Mayo telling me about metal St. Brigid's crosses from their childhood.
Watch: St. Brigid's Day cross styles, from Co. Mayo
We should never underestimate the social side to these dates. For example, it was on Samhain/Hallowe'en that 'mummers' in costume would call to your home looking for money, food and drink. These all went by different regional names and this was also done in pockets around the country at Christmas and Easter as well as for Weddings and Harvest Dances. From Carlow to Mayo and Kildare to Kerry, these Biddy Boys or Mummers would call to your home on St. Brigid's Night, dressed up and with a little effigy of Breege/Brigid looking for alms.
In the past, this effigy was made from straw or rushes wrapped in a cloak, while in later years, like my grandmother's fondness for the plastic straw, plastic dolls were also used.
Watch: Biddy Boys, Breege Ógs and Mummers, from Co. Mayo
Another little design I got from my own grandmother was the making of Bridóg dolls. I learned how to make these as a child and these were made from the leftover rushes after making St. Brigid's crosses. I've found that this custom was also brought to Newfoundland and only recently one woman from there told me she learnt to make these in the same way in a school in St. Johns from an Irish nun. My grandmother's dolls were never complete unless they had the face of someone, usually a local or a relative, cut out from a photo/newspaper and pushed into it.
The best I could find for display purposes in this case was RTÉ's very own Kathryn Thomas.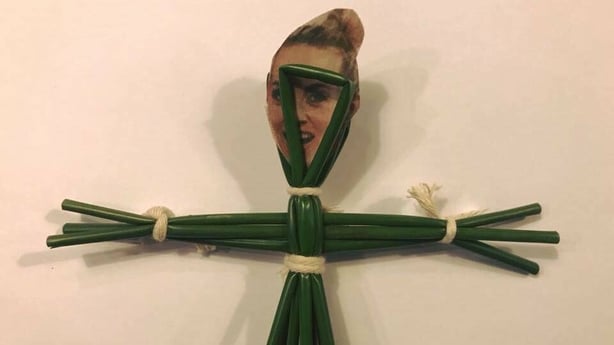 The Sacred Cow
Finally, the cow has always been central to rural Irish society and that still stands to this day. In folklore we are told Brigid not only protected the cows and their calves but also the milk. Much of our folklore tells us she drank the milk of a special cow, which gave her unique powers. However, foreign as this may sound to many, a similar practice existed until the 1960's in rural Ireland where the 'beastings' (colostrum), the cow's first milk, was given to children to drink or eat. Beastings was consumed all over the country, either drank or made into a type of omelette/pancake and as expected some loved it but most hated it. Many people claimed it was full of goodness while more claimed it gave magical/creative powers to those who consumed it. Many farmers still keep a bottle in the fridge for young calves during calving season to this day.
Another spring/birth related tradition I found was the tradition of keeping the afterbirth of the cow or a horse. Again, foreign as it may sound now, here is an account from South Carlow where these 'cleanings' were kept and hung on the cowhouse/stable door as people believed that it brought good luck to the animals and the farm.
Watch: On keeping the 'cleanings' of the cow, from Co. Carlow
In age of science and reason, these practices can easily be debunked and ridiculed - we must never forget, however, that for centuries these rituals have helped many understand or reason with a world around them. Most of these rituals were quiet private affairs, done in people's own homes, outside of the walls and halls of established doctrine and maybe that is why many of these still survive to this today.
Whether you are looking for solace and protection by putting up your cross, or hanging out a rag, there's no denying that marking this date certainly helps us connect with the natural cycle of the world around us. And sure it's like this - we could be at worse.