First Fortnight preview: Artist Emma Sheridan's new exhibition, Warpaint, was inspired by her experience of using art as a way to help her deal with her mental health difficulties.
Below, she explains how an idea through social media led to a sharing of stories with strangers about their mental health experiences and recovery and her upcoming exhibition at the First Fortnight European mental health arts and culture festival of their colourful portraits.
---
George Bernard Shaw once said, "Life isn't about finding yourself, life is about creating yourself" and this is something I have seen over again in those involved with my new project, Warpaint, which I'll unveil at the First Fortnight European mental health arts and culture festival this January.
The mind is something that has always really interested me creatively. But it wasn't until recently that I really started delving into the area as a real source of inspiration. I had a difficult birth experience with my first child and some buried mental health trauma issues resurfaced for me. I was struggling to even communicate what was going on in my own mind. Over the next few years, I was helped to harness my artistic skills on my journey to recovery. This was a journey of hope that I would love to share with others to let people know there is light at the end of the tunnel even when that seems impossible.
I have been sharing my story alongside my artwork as a way of communicating this journey. I was ready to stop looking at my own story. I wanted to hear other people's stories as I felt it could help them in some way. When the idea for Warpaint came to me I honestly didn't know if anyone would be up for getting involved. I was asking people to come forward to share a piece of their journey with me to inspire a painting of their portrait. Mental health is such a vast and complicated area and people can be very private about their personal stories.
I got in touch with a friend of mine who was also working through some things. I was terrified to ask her if she would be up for it. I mean I had spent years accepting my own struggles and had learned to be very open about them but this wasn't something I could force someone else to do. When I texted her the response was so positive it gave me such an amazing feeling that this might be possible. If she was will to join in my hairball idea, maybe others would, too.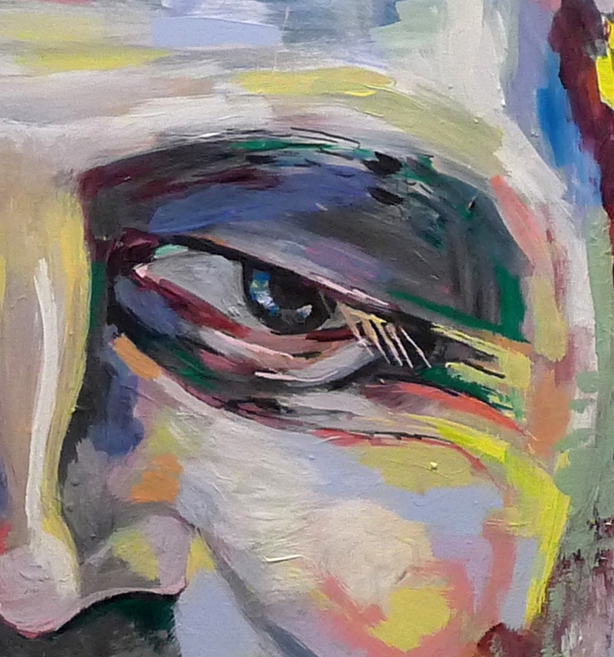 I knew if I was going to do this I would have to tread very carefully, people would really need to be at a certain point in recovery to even think about being involved in a project like this. I didn't really know how I would get people involved. I asked another close friend of mine who had also had a difficult time with his health which had impacted him mentally too. He sounded really intrigued, maybe there was something in it. I decided to put the question out on social media with no expectations.
When I finally did I was completely overwhelmed with the response. Emails started coming in from all over the place – so many people wanting to be part of it and share their story in this unique way. I was also blown away with how open everyone was willing to be. Unfortunately, I only had time to scratch the surface with this first exhibition, which means I fully intend to grow it into something in 2019. By getting in touch with all of these people I was sort of building a little community of us together connected somehow with the sharing of our stories.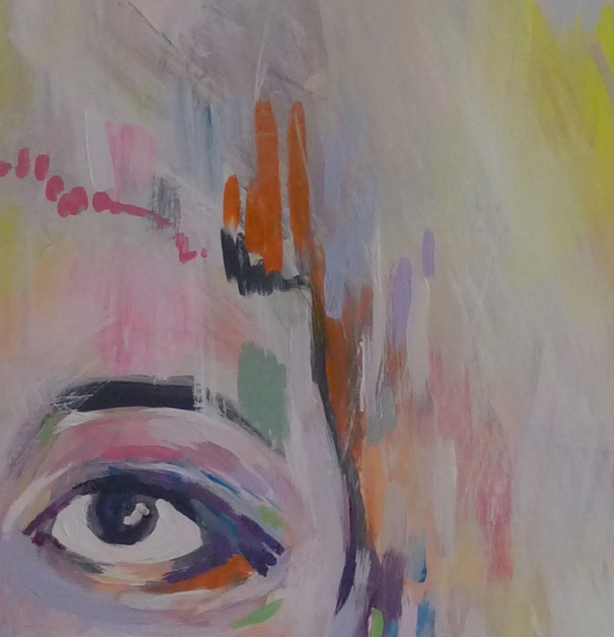 I started to meet some of the people who were to join me on this adventure. When I say these meetings have been some of the best conversations I have had in my life I am not saying that to be dramatic. I have been completely moved by the bravery and strength I have heard. It's been an amazing discovery of the capacity for human minds to heal.
I had chats with close friends about things I never could have imagined they were going through and formed the beginnings of friendships with people I had never met before. We have sat on park benches, kitchens drinking tea and over facetime putting everything out there for discussion. There is something very contagious about honesty, once you take down your defences and say 'hi this is me warts and all' people are very receptive to join in the conversation. They were like those 'solve the problems of the universe' chats you have at 4am after a night out with a close friend. Only we weren't drunk. And it was a Tuesday afternoon sitting on the banks of the canal.
I think some of these meetings were quite emotionally draining for the sitters and they brought up a lot of things in me too, which I wasn't able to predict. But we have all coped through the experience, I think we all decided it was worth it.
While chatting, I would doodle colours and images that came to mind from their story. Some people were all about the colours. For others, it was more about symbolism. I did the final pieces alone in the studio. I would let the character sink into me and instinctively get their person across on the page. I could sort of see them in my head and I tried to communicate this through the work. It sounds kind of intense. And I suppose it was. But the whole experience has been totally cathartic. I fully understand that people might have an emotional response to seeing their painting, so what happens to the piece after the show is completely up to them.
Warpaint by Emma Sheridan can be seen at the Science Gallery, Dublin from 7th to 19th of January as part of the First Fortnight European Mental Health Arts & Culture Festival. Entry is free. Emma Sheridan will also be hosting a workshop on Saturday 12 January at 2pm. Joe Caslin and Gearoid O'Dea will be facilitating mental health and art themed workshops on Wednesday 16 January and Wednesday 9 January respectively, at 3 & 6pm. These will also take part in the Science Gallery and are also free but you must register - go here for details.