This week's Poem Of The Week is an extract from Reconstructions, a new collaboration between acclaimed photographer Bobbie Hanvey and his son, Steafán.
World-renowned Northern Irish photographer, Bobbie Hanvey, captured some of The Troubles' most defining and devastating moments. Now, in the fiftieth year since the outbreak of hostilities, these photographs take on even greater resonance through the work/poems of Bobbie's eldest son, singer-songwriter and poet, Steafán Hanvey in a new book entitled Reconstructions.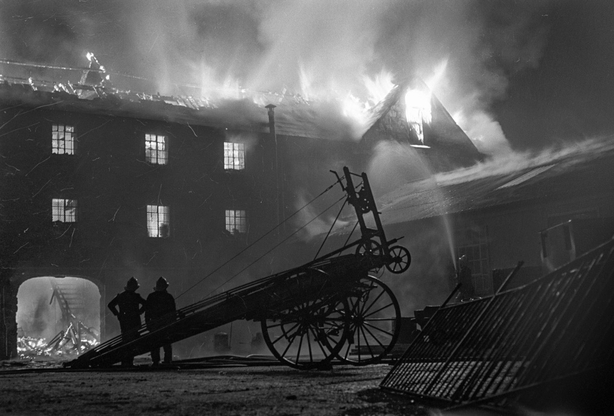 Inspired by the photographs that he often witnessed coming to life in the darkroom, Steafán's memories of an out of the ordinary childhood are presented in a lyric poetry filled with startling imagery and insights that capture the wit, anguish, and dreams of the people of Northern Ireland.
---
All Key-holders Attend (The Devil is in the Retail)
No sound needed to hear this one:
Hugh J. O'Boyle's hardware store is roaring
like a Titanic furnace, going up,
just like t'other went down.
Both would only shine bright the once,
and the very thing that did for the ship
was exactly what these firemen could have done with
on this night to remember.
Hard to believe this was taken in the Seventies –
it looks ancient!
That quaint turntable-ladder is straight
out of the Blitz but …
Shutter-speeds paying heed as they transform
ecstatic spark into tracer-like ribbons on a stick,
all skite and bow,
flitting away aimlessly
Proprietors, key-holders, and brave decent folk
would all too often find themselves
running around in pyjamas and overcoats,
living a nightmare
as they hurled buckets of water
on the bastard-flames of history.
One last look before I file it away
with all the others.
What an awesome, awful and awe-inspiring sight!
Who said the night belonged to lovers?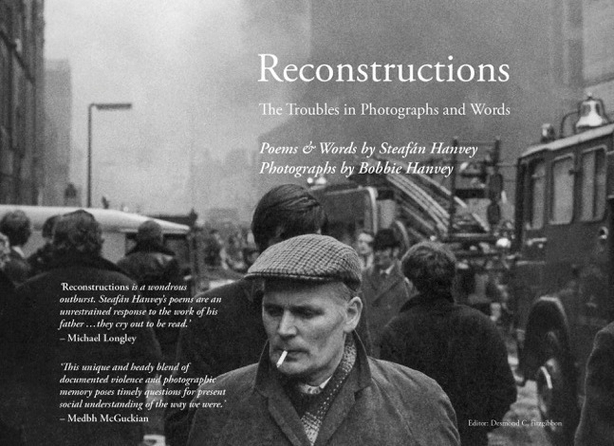 Reconstructions (published by Merrion Press) is available now. Photograph © Bobbie Hanvey Photographic Archives, John J. Burns Library, Boston College, Massachusetts - courtesy of the Trustees of Boston College.