Filmmaker Morgan Bushe writes for Culture about his feature directorial debut, Belly Of The Whale, starring Pat Shortt, which opens in Irish cinemas this weekend.
First day of the shoot. It's not raining. I resist the urge to do air punches.
It's the middle of November and it's cold. Really cold. It's 5 am and still dark outside. I pull on long johns, then trousers, two pairs of socks, a long sleeved thermal vest, two t-shirts, a jumper and some stupid bright red ski trousers I bought out of TK Maxx you need to wear held up by braces, Donegal Catch style. I could have stayed in bed a half hour longer and had a hot breakfast at the location with the cast and crew, but I couldn't take my ensemble of various meds on an empty stomach, and I couldn't reach the car, let alone drive it, without them.
We need your consent to load this YouTube contentWe use YouTube to manage extra content that can set cookies on your device and collect data about your activity. Please review their details and accept them to load the content.Manage Preferences
I had wrecked my back a few months earlier and had to be pretty much airlifted back home from a family holiday. It was initially a herniated disc that manifested itself into acute sciatica. I spent the end of the summer pretty much bedbound and then slowly as the pain subsided, housebound. Crutches, brace
posture supports, acupuncture, the works. Part of the film's finance was time-dependent and we had a window with the cast, so as autumn arrived it was a case of prepping the film while patching up my back the best I could. There wasn't enough time to get the operation to properly fix it. That would have to wait until the day after we wrapped.
As I ate, I read over the printed A5 sides of the scenes we intended to shoot that day. Nearly a year prior the screenwriter Greg Flanagan and a film school buddy Mark Gildea had hit the road in a rented camper van with the bold ambition to map out the tale of our times. A pre-internet parable of sorts in the vein of John Steinbeck. An unorthodox buddy film that centres on two trampled down characters that bandy together to fight back against a world stacked against them. Stand up people in a sit-down and shut up world. The game was money, but what was at stake was so much more.
We snaked our way up along the east coast town by town, and then took a U-turn, bulldozing our way through the midlands to County Clare, staging scenes and scenarios around the locations we came upon, eating a lot of baked ham cooked out of the camper and meeting the weird and wonderful eclectic array of characters found on the outskirts of Irish society. We returned to Dublin in high spirits and wrote a further four drafts with seed support from Screen Ireland.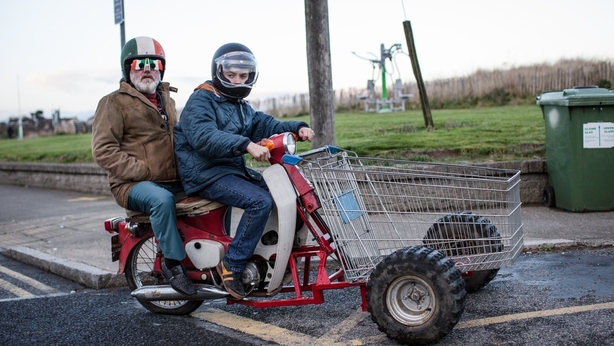 5:20am: The wife is up now and checks how I'm doing before she returns to bed. Stapled to the back of the A5 sides, a list that breaks down every shot for every scene we intend to cover on the first day. Over the long months while the producer Rory Dungan and I had waited to hear back news from the various financiers, the cinematographer Arthur Mulhern and myself thrashed out the film's shooting style and blocking with the collective acting talents of Grattan Smith, Matthew Darcy and Emma Eliza Regan. A simulacrum that involved a room in Bow Street, a suitcase of props pillaged from my house, different colour t-shirts for the different characters, and all shot with a camera borrowed from JJ Rolfe. We knew we couldn't afford a steadicam or a dolly (or a standby), and in the case of the latter have the shooting time available to start laying down tracks, so any camera movement would need to be handheld or with the five-foot slider out of Filmbase.
Walking out the door I slip on the orthopaedic hiking boots my old man had plundered from Barnardos. I top the look off with a blue puffa jacket and Russian style Leinster Rugby hat that will cover my ears for the twelve hours I'm going to be outside shooting. I catch my reflection in the car window. I look like an extra from Wham's Last Christmas video.
We need your consent to load this Facebook contentWe use Facebook to manage extra content that can set cookies on your device and collect data about your activity. Please review their details and accept them to load the content.Manage Preferences
Watch: Morgan Bushe talks to Arena about Belly Of The Whale
My wife needs to bring my kids to school so for the duration of the shoot I'm rolling in a rented bright yellow Fiat 500. We're shooting in Bob's Amusement Arcade up in Skerries in North County Dublin. I count my blessings as I cut a dash through the airport tunnel and arrive in less than thirty-five minutes. Some of
the crew has to travel from the other side of the city and take their chances on the car park-cum-motorway that is the M50. An hour travelling there and back on a good day.
I get there twenty minutes before call time. First thing I do, after I've extinguished my fifth cigarette of the day, is run through the schedule with the First Assistant Director and Arthur. The average shooting page count for a film is somewhere between three and a half to four and a half pages a day. The bigger the budget usually the lower the page count. We have to get through six and five eights, including three stunts that involve our fourteen-year-old lead Lewis MacDougall getting a cigarette flicked in his face, a scuffle on the pavement
between Lewis and Pat Shortt after Pat's character has tried to cable tie their wrists together, and Peter Coonan sporting a prosthetic nose, an outstanding Navan drawl and the head of a dead pig in a cardboard box.
Early joggers and dog walkers crane their necks to see what's going on as they pass, failing completely to notice the hunched, vagabond looking man, waiting patiently on a wall beside the arcade. A salt and pepper beard Robinson Crusoe would be proud of, coupled with a thick mullet and Rick Moranis style glasses. It's a testament to the magic worked by Kathy Strachan and her costume team, Susan Kenny on make-up and Sharon Watson on hair, to transform one of Ireland's most revered and recognisable comedians into his character Ronald Tanner. Lewis arrives over and the pair chew the fat for a moment. An odder pair I've never seen. After a week of rehearsals, it's clear a strong bond has formed. Michael Smiley, one of my favourite actors ever since I saw him in Ben Wheatley's Kill List, shows up tomorrow. I love it when a plan comes together.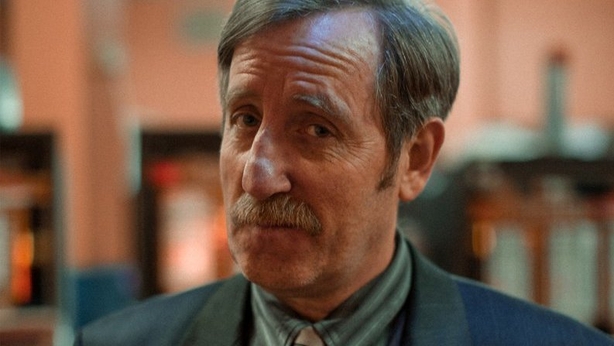 As the crew finishes their breakfast I spend a final few minutes with co-producer Kathryn Kennedy, line producer Emmet Fleming and the production designer Michael Moynihan inside Bobs. Michael is in the middle of rearranging the cavernous back room, which two weeks earlier was a storage space for the mountain of aging machines and assorted bric-a-brac. At the end of the week we will need to shoot the intricate final chase and shootout. We exchange notes and then I return to matters outside, namely how to thaw out the pig's head so it's ready before lunch. I leave it in the capable hands of David Jones the stand-by props. The camera is now set up for the first shot and everyone is ready to start.
6:55am: As sound recordist Arron Faye hands me headphones, I hobble onto a chair placed beside the monitor, and remember I haven't yet done my morning ritual yet. It involves finding a bird in the sky, and however their flight trajectory goes will determine how your day goes. I look to the skies and catch a seagull as it emerges over the rooftops and heads straight and true out across the Irish sea. Wherever it's going, it seems to have a plan. Assistant cameraperson Sarah Dunphy suddenly appears on the monitor, holding out the clapperboard. It reads. Scene 15A. Slate 1. Shot 1.
I've never been more excited in my life. Thank Christ it's not raining.
Belly Of The Whale is released in Irish cinemas on Friday, 7th December.