Every year, 16 young people from youth theatres all across Ireland take part in the Young Critics programme, run by Youth Theatre Ireland.
Essentially a theatre access and appreciation programme, the participants (aged 16-20) get to see a number of quality theatre productions, take part in workshops and create critical responses to the work they see - these critical responses take the form of videos, podcasts and written reviews.
We need your consent to load this YouTube contentWe use YouTube to manage extra content that can set cookies on your device and collect data about your activity. Please review their details and accept them to load the content.Manage Preferences
Over a six-month period, the young critics work with, and are supported by, a dedicated team of skilled professionals including theatre critic and academic Dr. Karen Fricker and Alan King from Youth Theatre Ireland.
The organisation is committed to ensuring its opportunities are accessible, so participation is free of charge. An important element of the programme is the chance for participants to meet other like-minded young people with a passion for theatre and many firm friendships are forged in the process. This October, the group came together and visited Dublin as part of the Dublin Theatre Festival. They saw a number of productions, and the weekend culminated with the Young Critics Panel discussion at the Project Arts Centre.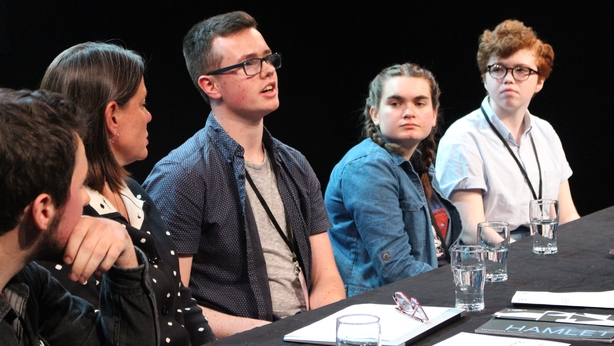 The participants wrote reviews of specific shows, along with reflective pieces about their experiences - read some choice examples below...
William McCabe, 18, Griese Youth Theatre, Co. Kildare - Reflections On Young Critics
Our eyes darted around the room. The questioning silence filled the air. Eye contact was broken just as skittishly as it was made. Another person had died the night prior and we know there is still one murderer left. And like an over-strained cable, the silence snapped into an explosive eruption of accusations.
This level of intensity over a simple game of Mafia is what happens at your second weekend of Young Critics. A closeness that develops beyond the realm of critique, something that can only be incubated so quickly in an environment that allows you to open up about your opinions about what you all collectively just witnessed and openly discuss, disagree, agree, and when you walk out of the room for all the opinions to stay as just that: a stance on a piece of art that we all interpreted in our own ways.
Writer's block doesn't become a thing when you can lean over, ask the person beside you on what they thought about this, that or the other and use that as the jumping-off point for a discussion you are having with yourself just as much as this other person who happened to fall within your firing line.
And in the end, as we left, we all had our own subjective views on what we'll take away from all this. And as I walk away from the Project Arts Centre, leaving everyone behind, I realize what an absurd term "The Critics' Consensus" truly is. How are we all supposed to agree on the quality of a piece of art when we can't even agree on who killed Debbie last night?
MARVIN: So do you want to make a definite date?
SOPHIA: Okay. Let's say. In one hundred years time.
MARVIN: Perfect. In one hundred years time.#ELIZAsAdventures @BeckettTheatre @DubTheatreFest
Until Sunday.
Booking: https://t.co/oyVxQ6PNmn#DTF18 #ai #robots pic.twitter.com/qMfYoiKhn4

— Pan Pan Theatre (@panpantheatre) October 5, 2018
Piers Keegan, 17, Mayo Youth Theatre - Review: Eliza's Adventures in the Uncanny Valley, by Pan Pan Theatre
This is a contemporary piece that would appeal to both theatre-goers and fans of philosophically-leaning SF alike, e.g those who would and do cherish the works of Philip K Dick, Isaac Asimov, Ray Bradbury and Ursula LeGuin. Its title invites the audience to what should I would view as a more drone-like and unsettling rendition of Alice's Adventures in Wonderland, which I felt was an appropriate homage in the case of these two very differently surreal works.
The characters were intentionally set on a predetermined course by their programming, which is evident roughly halfway through the show. One of these was Sophia, who became more manipulative and seemingly more human as what little non-linear narrative there was progressed, whereas, the contrasting Eliza maintained the same/very similar demeanour for the duration of the play.
A core theme of this piece was what it means to be human, which is a questioned begged by these players, who, at the beginning, may or may not be AI. The emphasis placed on this way of thinking left me thinking about my own life and my own experiences that were programmed into the "memories" of these machines, ranging from the mundane - like when I last had a "good laugh" to the personal and private of my own childhood and family life - compared to Eliza's, as she's asked in this series of questions by the unsettlingly enigmatic Mrs H, the character we are first introduced to.
Opening the play was a carefully choreographed dance that placed the players all around the set, which had a mirror running along the back of it. There were two sets of double beds (all linking to the theme of duality which the androids had to live as being machines and convincing themselves that they were human) and to add to the surreal aesthetic of the show, the red curtain that divided the stage against the patterned carpet was clearly inspired by David Lynch's Twin Peaks, a director world renowned for his surreal cinema. For those interested in seeing this show, read about the topic it covers and if you already have a keen interest in robotics and science-fiction/fact, this is a must-see.
Josh O'Reilly, 19, Dundalk Youth Theatre - Reflections On Young Critics
I thought young critics was one of the best experiences of my life. It was amazing. It gave me an insight into the lives of actual critics and it also most importantly helped broaden my mind when it came to appreciating traditional and experimental theatre. My journey on young critics is something I will never forget, the friends I made and the knowledge I have gained during the course of the programme are some of the things that made young critics so enjoyable for me. I also think that what makes young critics such a worthwhile experience is the fact that it reminds you how entertaining it is to go and watch a piece of theatre, preferably good than bad, and discuss your thoughts about it after. I would recommend this experience to any young person. It is a blast.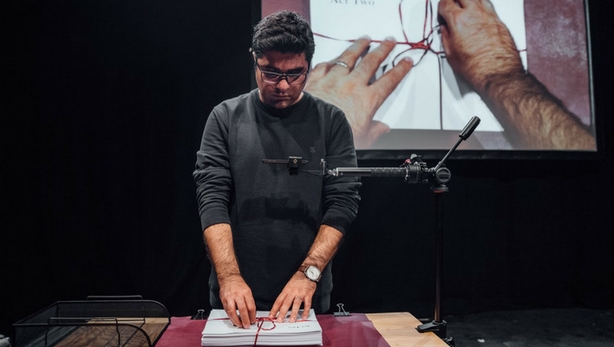 Róisín Finnegan, 18, M.A.D. Youth Theatre, Dundalk - Review: Nassim, by Nassim Soleimanpour
Nassim is essentially a play about language. How it can divide or unite us. The premise of the play is that a different actor performs the play every night, having no rehearsals and reading the script for the first time when they take it out of an envelope on stage. The show is mainly an autobiographical story about the writer, Nassim Soleimanpour, and also includes interaction between the actor, the writer and the audience.
Throughout the performance are conversations about language, varying from the audience teaching Nassim new words in English to Nassim teaching the actor and audience words in his native language Farsi. By the end of this performance, I was shocked at the fact that I understood sentences in Farsi that had been taught earlier in the show and realised that language was no longer a barrier. This show emphasises the importance of being proud of your own language and culture yet embracing new ones, a shockingly relevant theme today. This performance is unlike anything I have ever seen before, or probably will see again, and is undoubtedly an experience I will never forget.
Laura O'Flaherty, 17, Glengarriff Youth Theatre Group, Co. Cork - Review: Nassim, by Nassim Soleimanpour
Are you a foreigner in your own country? Nassim is. On Friday night, in the Project Arts Centre, I met Nassim.
With the use of a projected script, camera and a clueless actor, the playwright took the audience into the world of Nassim. The producer introduced the actor Mark Fitzgerald to the stage. Mark walked confidently on the dimly-lit stage to the box on the table that awaited him. It wasn't what he expected. It wasn't what the audience expected. Then Mark began to unravel the brilliant mind of Nassim. The interesting part of this piece of theatre was there was a different actor each night. They were as clueless as the audience. The element of risk and experimentation of this piece added to the suspense. On Friday night, Nassim was blessed with Mark. He was obviously nervous with no preparation, but his deep voice and big personality were perfect for the project. I felt that in this particular script Mark had no opportunity to show his potential as an actor. This performance was very educational as it gave insight to the Iranian culture and taught us some Farsi. This humorous and enjoyable tale unfortunately had no real storyline. His life - a very sad and amazing life - was repeated throughout, and instead of emphasizing its message caused the subject to be saturated. It felt like a very long and expensive performance just to meet someone. Though I know I personally enjoyed this project, it was very dependent on technology and un-traditional with audience participation so much so that I thought it belonged in the Fringe festival instead of the Dublin Theatre Festival.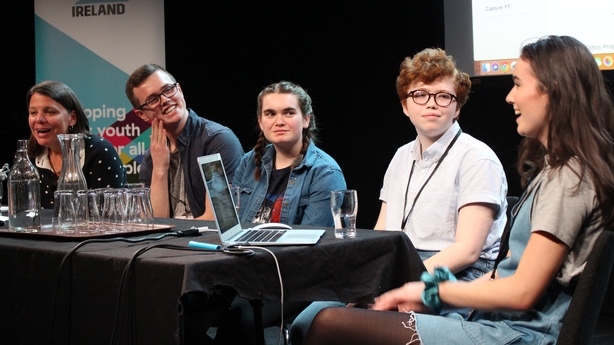 Olwyn Patterson, 16, Activate Youth Theatre, Cork
Reflections On Young Critics
This is the most unique programme I've ever seen. The importance of teaching young people about theatre analysis is so overlooked which therefore makes this project so valuable. I have learnt so much in the 6 months we've worked with Dr Karen Fricker and Alan King. I have a completely different approach to theatre now, and am a sharper critical thinking because of the Young Critics Programme.