This week's Book on One on RTÉ Radio 1 is The Lady of Deerpark by Seumus O'Kelly, read by actor Andrew Bennett - listen to the first installment above.
The inclusion of this novel is to mark the centenary of the death of author Seumus O'Kelly, a writer whose developing literary talent was being recognised when he died after being wounded in November 1918, caught up in the turmoil around Armistice Day in Dublin.
A writer and journalist, O'Kelly was from Mobhill, in Loughrea, Co. Galway. Aongst the newspapers he wrote for and edited were The Southern Star in Skibbereen and the Leinster Leader in Naas, Co. Kildare, where there is a plaque remembering him in the town where he is described as 'a gentle revolutionary'.
The Leinster Leader reported on his funeral:
'The procession started at noon from the church of St Teresa , Clarendon St., whence the body was removed on Friday night was of imposing proportion while along the route to the cemetery the streets were thronged with spectators." The report from the Leinster Leader goes on to describe the scenes: "Amongst the carriages was that of the Lord Mayor of Dublin who was present. Occupying position in the cortege were Cumann na mBan and other women organizations, Sinn Fein clubs, Fianna and other boys' organizations, the fife and drum band of the Dublin Builders United Labourer Trade Union, the Ashbourne Irish Pipers and the Sinn Fein pipers.'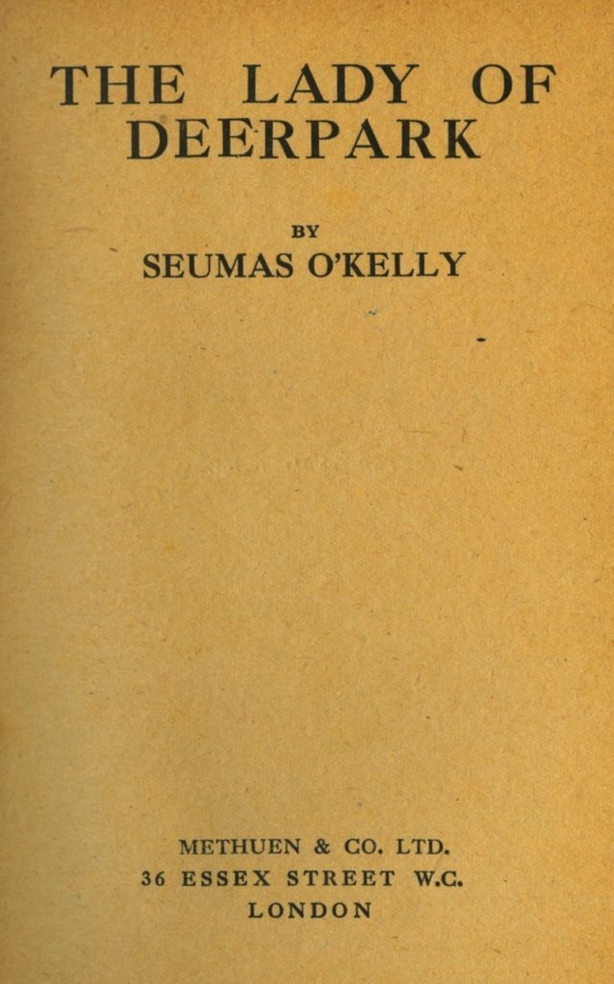 Seumus O'Kelly also wrote short stories, poems, and plays. Among his works are The Weavers Grave, Stories of Connacht, By The Stream of Kilmeen and many others. The Abbey Theatre produced three of his plays.
The Lady Of Deerpark is told from the point of view of Paul Jennings agent of Deerpark, an estate house in the west of Ireland in the 1890s. The book is an ironic elegy for the way of life of the Big House in decay. It has been hailed as significant in wonderfully capturing the atmosphere of a country in flux as struggles for the upper-hand in land ownership and social status were re-inventing themselves.
Current episodes of The Book on One can also be heard on the RTÉ Player, or via the Book On One website. Tune in nightly to RTÉ Radio 1, weekdays at 11.20pm for the latest installment.