The rural village of Baltinglass, County Wicklow was a quiet community where people tended to mind their own business until 1950, when they took on the Irish Government. The appointment of a new sub-postmaster shook things up and forced their hand...
Programmer maker Joe Kearney writes about this week's Documentary On One - listen to The Battle Of Baltinglass below...

One of the side benefits of hill walking is companionship. There is nothing finer than a trek in the mountains shoulder-to-shoulder with someone who has stories to share. This documentary has its source on one such walk and in one such tale.
Hugh O'Donnell was a friend and walking buddy who lived a full life, rich with the sorts of adventure that we all envy. He was a joy to walk with and I am sad to relate he passed away suddenly and unexpectedly in September of this year.
I recall a morning when we were enjoying the autumnal colours on the slopes above Lough Tay in County Wicklow. As we paused to look across the valleys, Hugh spoke of small village communities and the plusses and drawbacks of residing where everyone knows your business and all are aware of your seed and breed. It was then he asked me if I had ever heard of the Battle of Baltinglass? Initially, I assumed this to perhaps refer to a skirmish from the 1798 rebellion. Hugh said no, this was more recent history, from the early 1950's. Having grown up in a small midland town in that same decade I was intrigued. I was aware of how local sins and injustices are rarely forgotten and how they can haunt and divide neighbours and friends over generations. Civil War politics can still get dredged up over even minor disputes where I come from.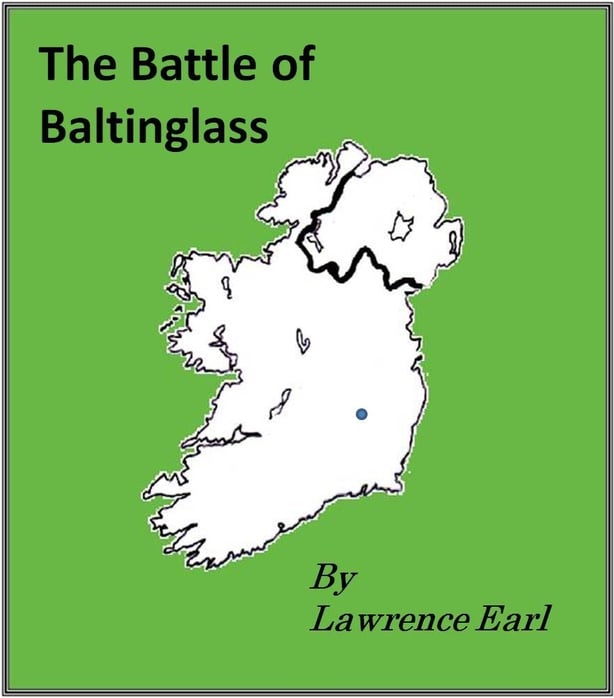 From our many journeys together, Hugh was very aware of my inquisitive streak. I am a storyteller at heart who is always on the lookout for fresh material. As we walked together, Hugh spun out the Battle of Baltinglass for the next hour or so. He caught my imagination, hook, line and sinker. When we met again, about a week or so later, he presented me with a first edition copy of Lawerence Earle's book, The Battle of Baltinglass. I devoured it in one sitting.
At a time when public protest has become commonplace, the story of Baltinglass in November 1950 and its push-back against, what many believed to be, a grave social injustice seems hardly credible. One tiny community in West Wicklow took on a government and all its might over the relocation of a small sub-postoffice. This seemingly insignificant local protest engaged the imagination of, not just this country but also, the World's press. At that time in Washington a budget was passed to finance fallout shelters should the button be pushed and a Soviet atomic bomb strike the USA. On the Korean Peninsula, America and its allies were being forced to retreat due to a Chinese backed thrust by the North Koreans. Prime Minister Clement Attlee flew to meet President Truman in Washington to beg him not to drop nuclear bombs on North Korea without consulting with him first. All this was headline news and yet international newspapers sent reporters to Baltinglass in County Wicklow to capture the story of the sub-post office dispute first hand. Articles concerning The Battle of Baltinglass appeared in papers in Canada, America, Australia, South Africa, India as well as Europe and the UK. There were not enough available beds in Baltinglass to accommodate the influx of media folk who descended upon the town.

All of this over the removal of a 55-year-old spinster lady, Miss Helen Cooke, from her job as sub-postmistress of Baltinglass. The then minister for Posts and Telegraphs, Mr James Everett, decided to award the post office job to the son of a political supporter. Mick Farrell was the new appointee. He was a 27-year-old publican and draper and was well liked in Baltinglass. But Miss Cooke was a single woman caring for her 80-year-old bedridden aunt and relied entirely on her salary as sub-postmistress to make ends meet.
The battle lines were soon drawn and the town torn apart with divided loyalties. The Battle of Baltinglass was ugly and divisive. The townsfolk faced off the might of government. There were torch-lit black flag marches through the town reminiscent of wartime Germany. Protestors stormed the visitor's gallery during a session of the Dail. They marched on the GPO in Dublin and established a Baltinglass air force to bomb the capitol… with leaflets that is! Telegraph poles were chopped and sawn down. All telephonic communication to the town was severed and there were pitched battles on the streets as the Gardai tried to restore civil order.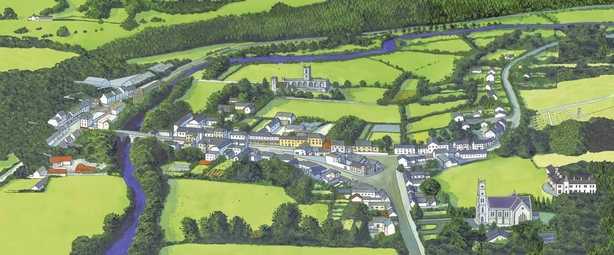 The spinster at the centre of the dispute became an anti-corruption symbol. Her name was on the lips of a nation and her image graced the pages of international newsprint. In the town, she was beyond reproach even given the unbending catholic morays of the time. She would cut a caller off if they used profanities and refused to connect people during the Angelus. But Miss Cooke was not as she appeared. Behind her strict demeanour she held a secret. Had it been revealed at the time of the protest, it would surely have altered public sympathy and completely affected the outcome of the battle. When the truth about Miss Cooke finally became public, some 30 years later, the citizens of Baltinglass were shocked to the core.
Today, as then, the river Slaney divides the town of Baltinglass. But no river, however powerful its waters, could sunder the townsfolk of this West Wicklow town as did the fall out from the Battle of Baltinglass.
I am so glad that I had the privilege of walking in the shadow of Hugh O'Donnell that beautiful autumn morning above Luggala in County Wicklow and that he shared this story with me. Without him, this might never be told.
Listen now, and be amazed at what can be achieved by people power.
Documentary On One: The Battle Of Baltinglass, RTÉ Radio 1, Saturday - listen to more from Documentary On One here.