Choreographer John Scott talks to RTÉ Culture about his latest production, Cloud Study, which plays at Dublin's Smock Alley Theatre from November 21.
Cloud Study, my new work for Smock Alley Theatre and Dance Limerick, is an impulse about two ideas; clouds, and the dancers' physical objective to run 1000 Kilometres in a 50-minute performance.
I'm working with two amazing dancers: Salma Ataya, a contemporary and Dabke dancer from Palestine, and Mufutau Yusuf, a young Irishman from Co. Meath, born in Nigeria. Salma is an MA graduate of the late Micheál Ó Súilleabhán's Irish World Academy for Music and Dance, at the University of Limerick. She works between Ireland, France and Palestine. Salma has toured internationally with Belgium's les Ballets C de la B. Mufutau, started in Dublin Youth Dance Company and has worked with me since 2011.
Watch: Portrait of Salma Ataya , from Cloud Study
Cloud Study was commissioned by Galway International Arts Festival. Festival director Paul Fahy and I discussed spaces that were not traditional theatres – where the public could experience dance without barriers. He gave us the old Connaught Tribune Printworks. For Dublin, I chose Smock Alley Theatre's Boys' School, for Limerick, Dance Limerick's beautiful Saint John's Church. Each space is like another dancer, dialoguing between the performers and the space and the audience and the dancers. In the studio, we studied the beauty and freedom of running and reasons for running: how the body moves: arms flaying, pushing or pulling, legs lifting or throwing, as starting points for dances. Running reminds me of children's games and joy, also war; running from home, searching for home. We integrated running away from something, to somewhere, on the spot, running against walls. We looked at the opening running sequence of the Rwandan genocide film Shooting Dogs and Jodie Foster's run through the grey forest in Silence of the Lambs.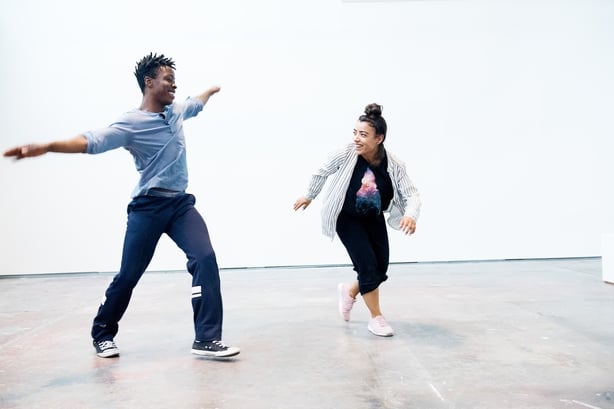 Then there are clouds. In 2003, I performed in choreographer/composer Meredith Monk's masterpiece Quarry at the Spoleto Festival in the US. Quarry examines World War II through the eyes of a child, engulfed bhalf-understood adult terrors. A chorus weaves through the space carrying giant clouds, floating about the menace of the Holocaust and war, witnessing violence. I was also inspired by German painter Anselm Keifer's Die Wolken Heitere Stimmung (The Clouds' Cheerful Mood) and the medieval idea of saints traveling in clouds, and clouds linking Heaven and Earth. Another influence is William Forsythe's production Three Atmospheric Studies, performed at Dublin Dance Festival 2008. The first section, Clouds after Cranach, refers to images with huge angry clouds: Lucas Cranach's painting The Lamentation beneath the Cross and a photo of an Iraqi car bomb. In Cloud Study, Salma and Mufutau embody clouds: sometimes they are clouds, sometimes they're just bodies running/dancing through the space.
Watch: Portrait of Mufutau Yusuf, from Cloud Study
Ryan Vail, the brilliant Derry composer, is creating a ravishing musical soundscape. A musical pioneer with vision, Ryan blends the worlds of electronica, folk and classical. Ryan is also a DJ - his music makes you move. He recorded everyday sounds: trees, cars, birds, adding electronics, voices, culminating in huge orchestral textures, then dissolving into sparse piano, reminiscent of his stunning album For Every Silence but in a new universe.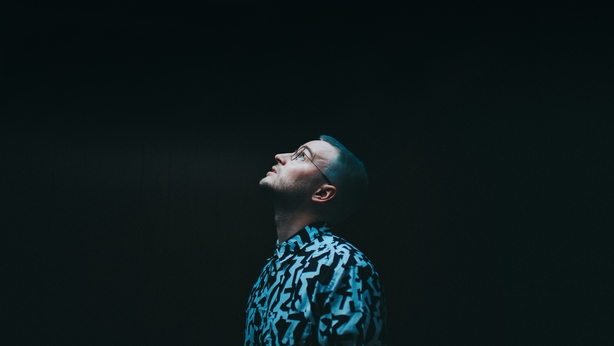 My late father, Leslie Scott, was lighting designer at the Abbey and I'm fussy about lighting. My light inspiration is Eric Würtz, who works with many of the great European, African and American choreographers. Eric works like a painter, illuminating textures of the space and the accents of movement. We've been working together since 2004; Eric adores lighting spaces that do not look like a typical theatre. His contribution is a corresponding choreography of light. Justine Doswell, a dancer and choreographer with a great instinct for clothing and movement, conceived the costumes.
Since making Fall and Recover in 2004 with the Centre for Care for Survivors of Torture, I'm preoccupied with the crisis of migration and knock-on racism. The Cloud Study dancers were born somewhere else, but live and work in Ireland and are part of Ireland's new cultural identity. At the Galway International Arts Festival, they put every living breath into the performances, and got standing ovations. They dance, float, sweat and run through Cloud Study with joy, pride and passion. We are ready to run!
Cloud Study runs at The Boy's School, Smock Alley Theatre from November 21-24 - more details here.