Acclaimed Norwegian author Edy Poppy is in Ireland next week for a pair of discussion events - Poppy's debut novel, Anatomy. Monotony. is now available for the first time in English translation from Dalkey Archive. In the spirit of Poppy's ouevre, visual artist Lee Clough writes for Culture about her friend Edy, and her particular relationship with Poppy's work.
I have lived with the novel Anatomy. Monotony. for the entire 19 years of my real-life story with its author, Edy Poppy. I've known its players, the inside story – from her first notes in the galleries of Tate in London. Now I have a chance to read it. Dare I?
Encountering a Self-Made Woman
I met a young woman with long white hair, white eyebrows and perhaps even lashes. She was Norwegian. It was 1999, in London. We were in our mid-twenties. Nearly two decades later, I discovered she had been fascinated with albinos and was trying to mimic their look. Forgetting her hair wasn't natural, it was actually her blue eyes that stood out to me as unusual, with an almost supernatural vitality. This quality of lightness (which often actively pervaded darkness) would show itself to be an integral part of her personality. Edy Poppy was her name. It was a pseudonym. One half after Edie Sedwick of Warhol's 'Factory', the other I can't remember. This was the first time I'd encountered someone who had manufactured their own persona to such an extent.
Edy was married. In my crowd of young artists who were attempting to move out of these norms of society, this suddenly seemed quite an alternative option. Also, it was an open marriage. Her French husband Cyril, as a counter-point to Edy's white locks, had a black tumble of curls. He supervised the contracted team of gallery attendants at Tate Gallery, just before it became Tate Britain, during this culturally electric time in London. He also had a pseudonym: Tam, after the painter, Tamara de Lempicka.
For hours, the team, which included Edy and I, would stand in those refined, architectural spaces, in either silence or excited whispering chatter, meeting surreptitiously at the borders of our posts. The large, square 'patch' style pockets on our blazers were perfect for keeping notebooks. This was especially useful for Edy, who was often scribbling notes in her tiny, much-used book. She was trying to finish her first novel. Her life was her subject. The coming years allowed me to witness how her life actively created the writing and her writing actively created her life.
At age 17, Ragnhild Moe had left her small, Norwegian village and plunged herself into a French experience that led to the completion of her A-levels in French, her new identity as Edy Poppy, and marriage. Not long after their wedding, however, Edy discovered that Tam had been cheating on her. This seems like perhaps the key moment in Edy's life. Her response to this shaped her entire future biography (and indeed her novel Anatomy. Monotony., that was her autobiography or 'auto-fiction', as she more accurately describes it). In response to the crisis, Tam proposed an open marriage. Not only did she accept this, she thrived on it.
In the gallery (by this time, we'd moved to the brand-new Tate Modern), Edy would come and go, telling me tales of her lovers: the hippest club owner in London, romances in New York and Russia. These were deep connections and exchanges, which shaped her whole being and life philosophy. I was impressed that Edy had chosen, created, who she was by consciously throwing herself into the exact situation she wanted. It wasn't that it was all under control. On the contrary – it was a wild experimentation and dance with the unknown.
Not only was it a wonder to witness how Edy changed and grew, I also could see how her dynamic with Tam transformed over the years. From the outside, their marriage appeared to be
a precariously balanced game, as their outer armour of power and inspiration grew increasingly thick, around their inner amour forged so deeply on trust and their joint dream; impenetrable by the others.
In 2004 they left London and, in the days before social media caught on, we weren't much in touch.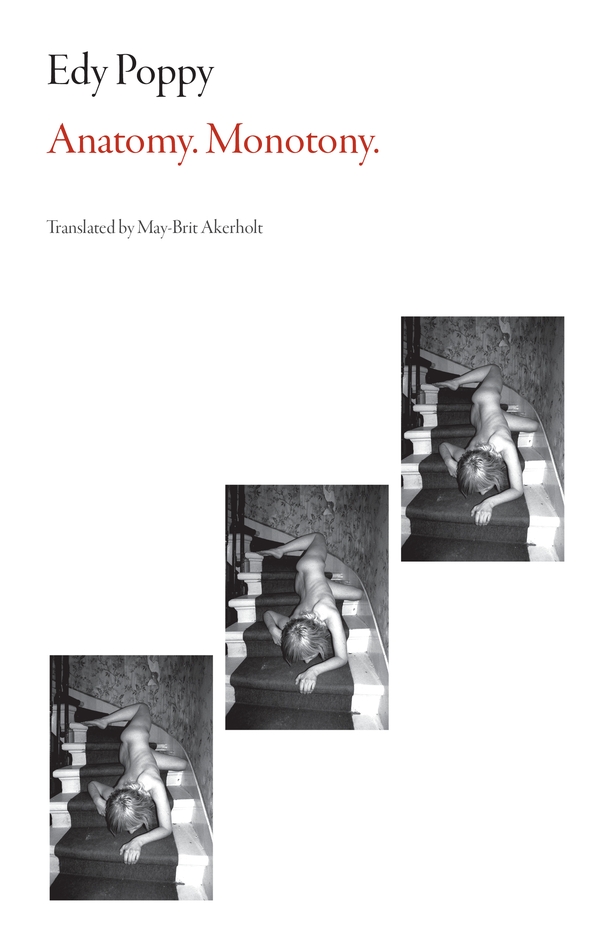 Limits…or no limits?
I moved to Berlin in May 2006 and immediately contacted Edy and Tam, as two years previously this is where they'd said they were heading. To my surprise they told me that Edy had won one of Norway's most prestigious writing competitions, and with it, a contract to publish her novel. So, in fact they had spent that time in Norway and by coincidence finally came to Berlin just one day after me. They moved into an apartment on Bürknerstrasse, two streets away from my place. A new phase in friendship dawned.
Edy and I declared the city our new lover, repeatedly drawing metaphors on our relationship with 'him', as our love grew. At first 'he' romanced us with new wonders, sites and philosophies, then as the initial novelties faded, fond familiarity embraced us, still with much excitement and many surprises, in his foreign and still slightly anarchic ways. I loved my tête-à-têtes with Edy, often brunches at the Ankerklause, looking over the red geraniums along the Landwehrkanal, with its urban swans passing us. She'd always be bursting with news and ideas. We'd share thoughts on our creative process. She said it is as if we have an inner creative teenage girl whose rebel attitude has to be gently harnessed, tempted and teased into production; and encouraged me to 'sick up' all my thoughts, as she'd do in a messy scribble of 'hot' writing that later could be curated, selected, edited in 'cold' writing. I learned how she and Tam would sit at their laptops, working opposite each other with the paired strength of their ambitious work-ethic and schedule. Writing, then critiquing and editing for one another, making it both easy and hard for each other.
Dear Edy was always so busy enthusing, she'd take an eternity to get through her food. Not only that – it also took her ages to choose from the menu. I soon realised that was the case whenever Edy was presented with a choice. It was funny to see the extent to which she couldn't stand limiting herself, to rule anything out and would waiver until forced to do otherwise.
Death and Rebirth
One night possibly at the end of the following summer, Edy arrived at my door saying that Tam wouldn't let her into their apartment until she chose between him and her latest lover, Demian, a charming and brilliant dancer and writer, half-Norwegian, half-Italian and incidentally much younger... Unlike all of his predecessors over the 16 years of Tam and Edy's union, it appeared Demian had become a real threat to their marriage. What's more, Edy was experiencing Tam as increasingly powerful and sometimes even controlling. Yet, in my occasional chats with Tam, he also complained that Edy could be a diva.
The intricate balance of tension, vision and power that was their marriage had reached its fatal breaking point. I can't recall the short-term outcome of that night, I just remember Edy's sweet face, as she begged me for advice, full of aliveness and even a disarming self-mocking humour in the face of her trauma. She appeared to see it all from the outside and the inside simultaneously, surely the advantage of a life lived in ongoing reflection, a life lived in art. The longer-term outcome, however was (loving) divorce. A certain chapter – or rather entire book, in this case – had been completed and there was no way forward for the couple than to begin an entirely new one.
They parted ways and Edy travelled to the U.K., Italy, Spain, France, Argentina, … and eventually moved to Oslo. A few years passed where I didn't see her, yet I always felt connected with her.
Then news came to me via social media that Edy had married again. This time to herself: a gesture of independence and self-love. It was comical to be unexpectedly confronted this way with images of such an important occasion in her life, and of her deep, sweet contentment in such an unusual, unconventional situation. It was a beautiful black-and-white picture of her angelic face reflecting the light from above, gazing out of a grand old café in Amsterdam.
Finally, in Berlin, summer 2014 our paths crossed again when I met Edy's current, long-term partner. Julian Blaue, a German art performer and non-fictional writer who is quite notorious in Norway. It was interesting that I encountered Julian when I did, as I was in the midst of experiencing my father's slow decline to death from a terminal illness as well as processing the shock of the untimely death of a special friend, aged only 32. We met with other friends, outside at a café, just around the corner to my place in Kreuzkölln. Much to Julian's delight and reciprocity, I spent the entire evening discussing the rather socially awkward topic of death. We bonded instantly. It was also on this trip to Berlin, just a few days later, that Edy discovered she was pregnant with their first child.
Personal is Political
Edy and I kicked off our most recent, renewed friendship just before her son Béla Lucian's first birthday. I visited her and Julian in a gorgeous, wooden house in Brandenburg. When I met Béla Lucian, his blue, bright, alive and penetrating eyes definitely inherited from Edy, sucked me in to love at first sight. I was intrigued to see how Edy integrated her new role as mother. She offered her perspective without being prompted, that this was an enormous part of her life. But not her whole life. Béla Lucian seemed carefree and loved, breast-fed at the table, over late-night discussions, then off to bed at the same time as his parents, in their same family bed. They had toured around Brazil when he was just 6 months old, feeding him on the go and sleeping in improvised circumstances, on the hop. By all accounts and appearances, a harmonious adventure for them all. Now Edy was travelling a lot for interviews and workshops: a full-time, successful writer.
It was at this time, the full extent hit me, of how Edy lived her life by making the personal the political. Always, her actions highlight how much it is a choice as to how we are as a woman, man, person, employee, life-explorer, wife, husband, mother or father. These things can, for instance be statements of freedom, fun, of adventure, even whilst simultaneously unravelling and teaching us.
Indeed, as if to illustrate the point, last year, the Blaue-Poppy family, now with a new member, Unica-Rosa made it to the national news. They live occasionally in an old German fire-engine converted to a mobile life-gallery. This is an ongoing art project in which they are exploring world politics from the perspective of their personal experiences. It was entertaining to discover this news via video snippets online, in Norwegian, for a TV article: Julian cooking pasta in his long, leather gestapo coat, pouring the access boiling water down a public drain; Edy reading a bedtime story as the entire family cozied up in bed together; a small group of Norwegian 'viewers' standing at a safe distance, peering into the fire-engine and the babies' little round eyes looking out back at them; intermittently, Edy or Julian standing out on the foot-rest of the doorway, laptop in hand, reading some manifesto.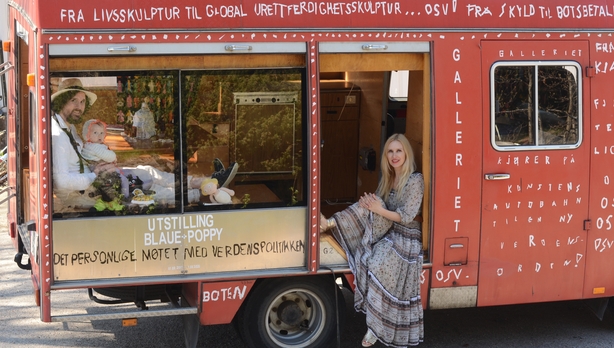 The Precipice of Enlightenment
In the time since its Norwegian publication, Edy's book has already been translated into Italian, Finnish, Polish and German. Over the years, I've read an extract translated into English plus two of her short stories. I adored them, as I adore her. Her lively mind gave birth to equally lively words, laced with exquisite, detailed observations and references, with the depths of her literary, cinematic, cultural life and background. Although my German was good enough to read her novel, two things held me back. Firstly, the story felt too important and personal to me not to get all the nuances and details of the language. And secondly, Edy was not at all pleased with her German publisher: her intelligent title, Anatomy.Monotomy., was transformed, without her permission, to Die Hände des Cellisten (The Cellist's Hands). And in the same cheap-supermarket-romance-style, the original mesmerising cover, Tam's (or, as a photographer: Cyril Albert-Gondrand's) black-and-white photograph showing Edy's naked body twisting down a wooden staircase, was abandoned in favour of an image of a young woman's pert breast, caressed by long, wet hair. Edy's edgy, feminist words had been re-branded as an 'erotic novel' (as emblazoned on the cover). Additionally, her name had been replaced by her birth-name, Ragnhild Moe. Edy, however, used her characteristic feisty alchemy to transform the situation by creating an exhibition called Don't Judge a Book by its Cover!, inviting artists from everywhere to tear off the German cover and create new ones. The exhibition toured in Berlin and Oslo. I was honoured to contribute, too, by sealing the book entirely and then cutting a window through its pages and inserting a self-portrait on the theme of censorship. There were lots of great pieces, including Tam's post-washing-machine fragments of curled, distorted book remnants.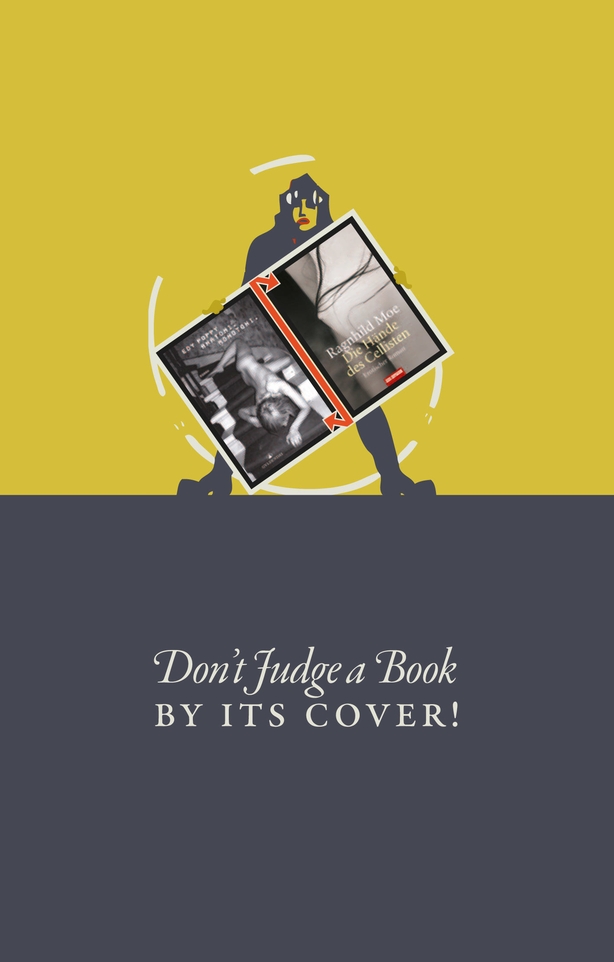 Now, at last, Anatomy. Monotony. has been translated in to English. Already launched in the US, Edy is now touring Ireland and the UK.
Although I am not a character in its pages, I have lived inside and alongside this book, through my relationship with its audacious writer, for the many years we have known each other. From her first jottings in the galleries of Tate to the social media updates on her recent book readings in NYC and LA. I feel I am on the precipice of a kind of enlightenment. All the stories, experiences, concepts, evolution and growth that time gives us, that formed major parts of our lives, Edy made the bold decision to define, 'limit', as hard as that could be for anyone, not least her. Those moments all captured in black-and-white. Dare I read it?
I can't not. Can't wait.
Edy Poppy will be appearing at two events in Dublin next week. On Monday 12th November at 18:00 she will be discussing sex and bodies in literature and literary translation at the Trinity Centre for Literary and Cultural Translation - more details here. And on Tuesday 13th November at 18:00, Edy will be in discussion with novelist John Toomey, about her work, influences and her forthcoming novel Coming Apart, at the Irish Writers Centre - more details here.