Irish National Opera's Artistic Director Fergus Sheil writes for Culture about their latest production, Bartók's Bluebeard's Castle, directed by renowned playwright Enda Walsh, which opens at the Gaiety Theatre, Dublin this weekend, as part of this year's Dublin Theatre Festival.
Those that know and love opera are addicted to the ecstasy it can deliver. The power of the human voice pitted against a large orchestra. The physical feat of performing major roles. The emotion of the drama and how it relates to the music. The designs, the costumes, the lighting, the chorus, the orchestra, the shades of different languages – a bacchanalian feast of everything you could want under one roof. There can be so much to take in on one encounter that opera rewards repeated engagement with the same works, even the same production.
But opera divides opinion also. Some find it overblown, boring, frivolous, too long, too convoluted, vocally unnatural, theatrically unyielding and with unnecessary spectacle.
WATCH: The music of Bluebeard's Castle
Bartók's Bluebeard's Castle is an opera to debunk all these preconceptions. It is dramatically taut and compelling, gripping from start to finish, every moment of music and text intrinsic to the drama, it's a devastating and harrowing story and at just one hour duration, it's compact and direct.
Composed in 1911 and first performed in Budapest in 1918, remarkably Irish National Opera's new production at the 2018 Dublin Theatre Festival is the first production of the opera ever seen in Ireland.
The classic story of Bluebeard is a French folk tale, most famously written down by Charles Perrault and published in 1697. In it Bluebeard is a horrific ugly figure who marries young beautiful wives before murdering them and hanging their bodies in a dungeon of his castle. His final wife discovers his secret dungeon, but manages to escape the same fate herself.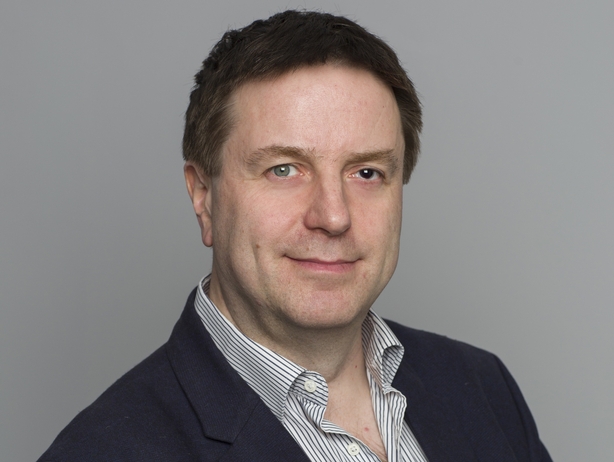 Bartók, and his librettist Béla Balázs, deliver a more psychologically complex work where the relationship between Bluebeard and his new wife Judith is more ambiguous. Both appear to be in love with each other. They are newly married. They go to his castle. It is dark and foreboding. Judith want to open all the doors to let in light and air. Bluebeard tries to stop her. One by one she opens seven doors to reveal aspects of Bluebeard's life and personality. He doesn't want the doors opened, but he senses that he can't stop Judith anyway. At some point she knows that she is crossing the rubicon and that she is going somewhere from which there will be no return. But she goes on anyway.
Is it love, lust, curiosity or madness that drives Judith forward? Could she not accept that Bluebeard has secrets? Why does he protest, but not actually stop her? Is she a moth getting too close to the flame?
WATCH: Enda Walsh on Bluebeard's Castle
The secrets behind the seven doors of Bluebeard's Castle are often seen as representative of aspects of his personality that Judith prizes open once they are married. Is there a danger of knowing too much about the people closest to you? Are there things that once we know we can't un-know?
The drama of Bluebeard's Castle is fertile ground for the theatrical imagination of director Enda Walsh. Celebrated for his theatrical work, often focussing on lives of everyday people facing extraordinary dilemmas, Enda's work has drawn him to opera through his two recent collaborations on new operas with Donnacha Dennehy – The Last Hotel (2015) and The Second Violinist (2017). Here Enda takes on a repertoire opera for this first time with the explosive vehicle that is Bluebeard's Castle.
Irish National Opera's production of Béla Bartók's Bluebeard's Castle, directed by Enda Walsh and conducted by André de Ridder, is at the Gaiety Theatre from Friday 12 – Sunday 14 Oct 2018 , as part of Dublin Theatre Festival - more details here.