Dublin Theatre Festival preview: Willie White, Artistic Director of the Dublin Theatre Festival, writes for Culture about this international shows in the spotlight at this year's DTF, which kicks off on September 27th.
A lanky young man wearing a singlet and shorts is assembling a sculpture made from plastic household items while the Police's Spirits in the Material World plays woozily through the speaker of a portable turntable that's strapped to his head. It's a hilarious and puzzling image from a show that also features a Baywatch spoof and live pancake making.
As so much of our lives are mediated through screens nowadays, I believe that theatre has great value as a social as well as a cultural event.
Louis Vanhaverbeke's acclaimed Multiverse, which will be performed at this year's festival, has quickly established his reputation as one of the most exciting artists to come out of the vibrant Flemish performing arts scene. The theatre tradition in Flanders is coming from a different place to Ireland's and is influenced by art and philosophy, whereas ours is by literature and drama. Multiverse is the kind of production that I love to share with our audience as it's quite different from what can be seen year round in Dublin. It's also smart, funny and accessible and will rock your world, as David O'Doherty would put it, in quite a gentle way.
WATCH: Louis Vanhaverbeke on Multiverse
Irish theatre enjoys a big reputation internationally, relative to our size, and our artists repeatedly nail it on platforms like Edinburgh's Fringe and International festivals. At the same time there's a whole other world of performance out there, particularly in Europe, North America and Australia, that Dublin Theatre Festival offers a rare opportunity to connect to.
The international work we invite to the festival is chosen to stimulate a conversation between artists and audiences about the still exciting possibilities for an ancient art form like theatre. Multiverse is one of two shows from Belgium that, along with a pair each from Poland, the US and the UK and one from the Netherlands, showcase the inventiveness of theatre artists and the topics they deal with.
WATCH: Everyone's Fine with Virginia Woolf at Dublin Theatre Festival 2018
Visiting productions this year cover a wide range of themes and issues, making light work of sometimes heavy topics, from environmental disasters to contemporary social issues. A line running through them is the power of stories to bring audiences together as a community, even if it's only for an hour or two in the dark. As so much of our lives are mediated through screens nowadays, I believe that theatre has great value as a social as well as a cultural event.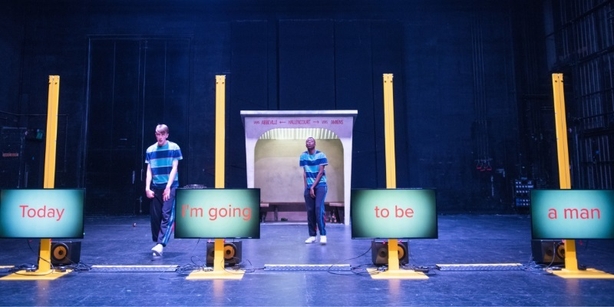 This is especially true for the next generation of theatre goers, who are digital natives and I have been considering how to better involve teenagers in the festival. We usually have a programme of Theatre for Children for 0-12, while the rest of the shows are often most suited for over 18s. This year I made sure that three of our international productions will also appeal to young people who don't fall into those groups. The End of Eddy, a powerful gay coming-of-age story, is for over 16s, Multiverse works for all ages and the US show, The Fever, should appeal to all but the very young - though I know that I'll be bringing my 6 year old to it. I feel that it's really important to offer work to young people that expands beyond their school curriculum and that might give them a sense, at that age, that theatre isn't something that happened in the past and isn't something they have to wait to enjoy until they're older.
The Dublin Theatre Festival runs from September 27th - October 14th - more details here.