Every week, critic Cristin Leach talks us through a different artwork for Through The Canvas on RTÉ lyric fm - this week, in the final episode, she's taking a closer look at The Startled Bird (1961) by Norah McGuinness.
As a critic, I am most interested in the moment of encounter. Some people who write about art are more interested in the moment of creation, or the artistic context, or finding out exactly what it is that the artist wanted to convey or depict. I get more excited about what we as viewers think when we look. Art comes alive in the moment when we look closely, when we really stop, and look. I'm interested in durational looking, which takes place over time, and in distance both physical and mental. I'm curious about what happens when we walk towards or away from an artwork while looking closely, about what happens in the gap between us and the art, that space where memory and personal association come into it.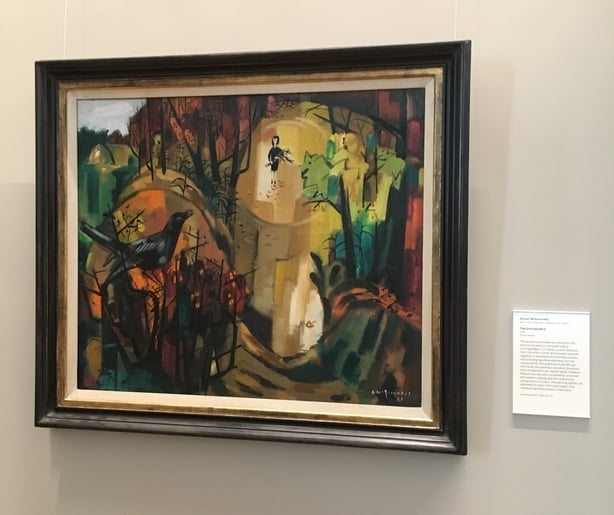 The Startled Bird by Norah McGuinness (1901-1980) is hanging in the National Gallery of Ireland in a room filled with 20th century Irish art. McGuinness is the first artist whose work we talked about in this series. We took the single figure in Garden Green as an initial guide on a journey through Irish artworks that has taken us from Cork to Dublin and back again. For the last episode we went to Ballyannan Woods near Midleton in County Cork and walked through a darkening wood at dusk.
The Startled Bird is a painting of the daughter of a friend of the artist, and the location is actually a wood at Carrickgollogan in County Dublin, near where McGuinness lived. It was exhibited at the RHA Annual show in Dublin in 1961 and was part of two Irish Arts Council showcases of Irish art in Monaco in 1962 and New York in 1963. Art is of the world, always. It always has a context. Artists live in the same world we do, and they bring cultural, communal, individual and personal circumstances, thoughts and experiences to their work; the same things we bring when we look.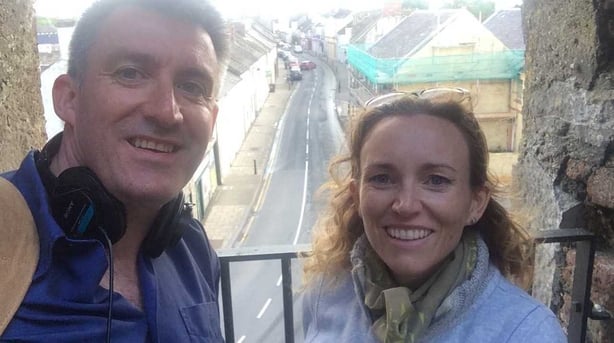 This is why, and how, artworks can be endlessly fascinating, and why the best works endure and remain engaging, relevant and fresh, despite the passage of time: they are capable of sparking a moment of intimate encounter in us, no matter how long it is since they were made. Something special happens in that unexpected moment when we bring a bit of ourselves - whoever we may be in that moment - to a piece of art. This series has been a reminder not to forget that.
In this final episode, the real world and the painted world intermingled so much as to become almost indistinguishable. As dusk fell, we talked about how it felt to be in that place at that time, and about heading home, bringing with us what we have discovered, by walking through the canvas.
Through the Canvas is a Grey Heron production for RTÉ Lyric fm, funded by the Broadcasting Authority of Ireland with the television licence fee. The series is presented by Diarmuid McIntyre and Cristín Leach.
The full series of Through the Canvas is now available for listening here. A perfect audio afternoon in your own art gallery!