Songwriter and broadcaster Carl Corcoran pays tribute to former Irish Chamber Orchestra CEO John Kelly, who passed away earlier this week.
A dark cloud fell over the Irish music community this week with the news that John Kelly had died suddenly in America at the young age of 63.
John's contribution to the Irish music landscape was immense. John was raised on music as his father composer TC Kelly was music teacher at Clongowes Wood College, where John and his brothers grew up. An accomplished viola player, it was however as an impresario, manager and visionary that he left an indelible mark on the lives and in the hearts of many. He took over the reins of the Irish Chamber Orchestra when they were a small Dublin based ensemble in the early 1990's with an ambition to create and promote an internationally recognised Irish based ensemble. That base and ambition came to fruition when, with encouragement from Prof Mícheál Ó Súilleabháin, along with UL President Ed Walsh, John oversaw the ICO move to the Banks of the Shannon in 1995 and over the course of 10 years he had moved closer to establishing that International reputation and a beautiful new home on the campus – the ICO building at UL. Under his guidance, he established and cultivated a strong bond with RTÉ lyric fm, first with then Head Seamus Crimmins and later with Seamus' successor Aodán Ó Dubhghaill. A bond that remains to this day in the shared musical landscape of Limerick and beyond.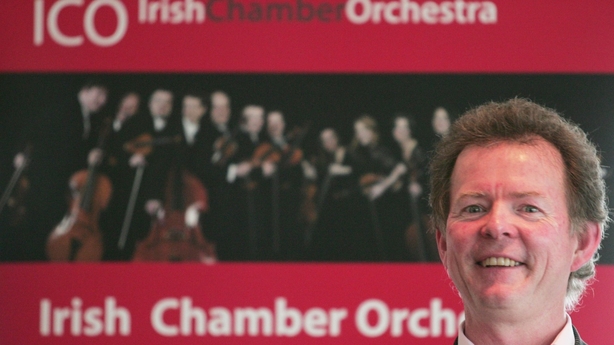 John had moved on from the ICO in 2011, setting his sights on other ambitions and goals. His adopted Killaloe became less and less of a residence as he settled into a 'cross Atlantic' lifestyle. But despite the distance, his encouraging voice with pronouncements of positivity could still be heard by those who wanted to listen. He was willing to convert his Biblical fervour into simple words of encouragement and a 'can do' attitude when necessary. And he was always willing to play a tune or two on the fiddle - I accompanied and sang with him on a many an occasion, as I did when we both were teens all those years ago.
We extend our deepest sympathies and sincerest condolences to the Kelly clan, daughter Sarah-Jane, her mother Bernie, John's wife Ellen and Ellen's children AJ and Beth.