We're delighted to present an exclusive excerpt from Becoming Belle, the new novel by Nuala O'Connor, published by Piatkus.
In 1887, Isabel Bilton is the eldest of three daughters of a middle-class military family, growing up in a small garrison town. By 1891 she is the Countess of Clancarty, dubbed "the peasant countess" by the press, and a member of the Irish aristocracy. Becoming Belle is the story of the four years in between, of Belle's rapid ascent and the people that tried to tear her down. With only her talent, charm, and determination, Isabel moves to London alone at age nineteen, changes her name to Belle, and takes the city by storm, facing unthinkable hardships as she rises to fame.
---
It was Father who came to Isabel's aid when she confessed she was serious about the stage. She had danced on and off in the five years since that first night at Farnborough Hall but never regularly enough to satisfy her craving to perform. She and Father were alone in the kitchen at home one spring evening when the subject bubbled up, not to be quenched. Mother, Flo and Violet were out at a philanthropic talk; Isabel had declined to go. "Shall we drink tea, Issy, while the others enjoy listening to the Queen of the Poor?" Father grunted. He disdained altruists and could not understand why his wife liked to listen to their blather. "Yes," he said "a cup of black tea will do us nicely." As a sergeant Mr. Bilton had a generous tea allowance but, still, he was frugal with his ration; today he meant to be bountiful. "I should rather enjoy a sup. And you, Isabel?" "Of course, Father. Sit by the hearth and I'll make it." John Bilton watched his daughter, nineteen now and glorious, move about the kitchen; she could not cross a room without it looking like a ballet. Her movements were fluid, she was at home in her supple little body. Flo, too, loved to mince about, but she had not Isabel's grace. And Violet, well, poor Violet had a mule's feet. Mr. Bilton looked on while his daughter unlocked the caddy and spooned leaves into a scalded pot; she flitted across the flags and placed pieces of rum cake onto a gilt- edged plate. He observed her with pleasure; Isabel was a dancer through and through. But she was domesticated also, a good cook and tidy, after a fashion. He had to own, though, that there was an itch in the girl: she was giddy, always looking outward, as if for a great rescue. And skitting about like a gadfly, while singing songs, seemed to be her greatest occupation and joy. Would Isabel make a useful wife? Sometimes he thought her no wiser than a child— she could be disconcertingly naïve— and, yet, she was capable. A girl of contrasts. Was this an advantageous thing, or was it troublesome? He couldn't decide. One thing was undeniable, though, Isabel would not suffer being enclosed with the family much longer. How he was to profitably marry three daughters Mr. Bilton could not fathom. He would not brook a soldier's hand for any of them, that he did know, least of all for his darling eldest. "Isabel, Isabel," he said, when she sat opposite and prepared to fill his cup. "Yes, Father?" "What will we do with you?" She poured tea and fussed a slice of cake onto a small plate for him. "I know what I should like to do, Father." Ah, here it was, there were plans abrewing. "And what is that, my dear? No doubt it involves some poltroonish young man who has snagged your heart." Isabel lifted her eyes to meet his. "No, Father, it doesn't. I should like, if I could, to make my way in the theater." "You wish to pursue the life of a performer?" John Bilton sighed. This was Kate's influence, though she would deny it. Why had he ever allowed her to take to the stage? He studied Isabel. "I confess you have the talent for it, my dear, but are you quite certain it's what you want? Your life lived by night? Your mother merely dallies with the stage, but you, I gather, mean to embrace that life. You would be mixing with all the disrespectable types who frequent theaters daily. I'm not sure I like it."
"Queen Victoria herself attends the theater, Father." Mr. Bilton snorted. "So she does." He gazed at Isabel. It was not possible to fully relish the idea of her taking to the stage but he didn't want a military life for her either; he had seen what it had done to his darling Kate. However, the time was ripe to put some distance between his wife and Isabel. The house could no longer contain their histrionics when they opposed each other. Well, when Kate went into opposition against Isabel, if he were truthful with himself. "Isabel, if you are to do it all, it will entail a move to London. You do realize that?"
"Yes, Father, that's what I dream of." "Dreams? Ah!" Mr. Bilton bit into the rum cake; crumbs and raisins scattered to his lap and he pinched them together and popped them into his mouth. He
chewed and regarded her, his lovely girl. How would she fare in the city? She was still under his care and she had a heedless side that worried him, an incautious way that took over sometimes, perhaps born of her guileless nature. But the devil of it was that Isabel had a knack since a baby for triumphing, even when things did not go her way. When things toppled, she righted them.
Becoming Belle (Piatkus) is out now.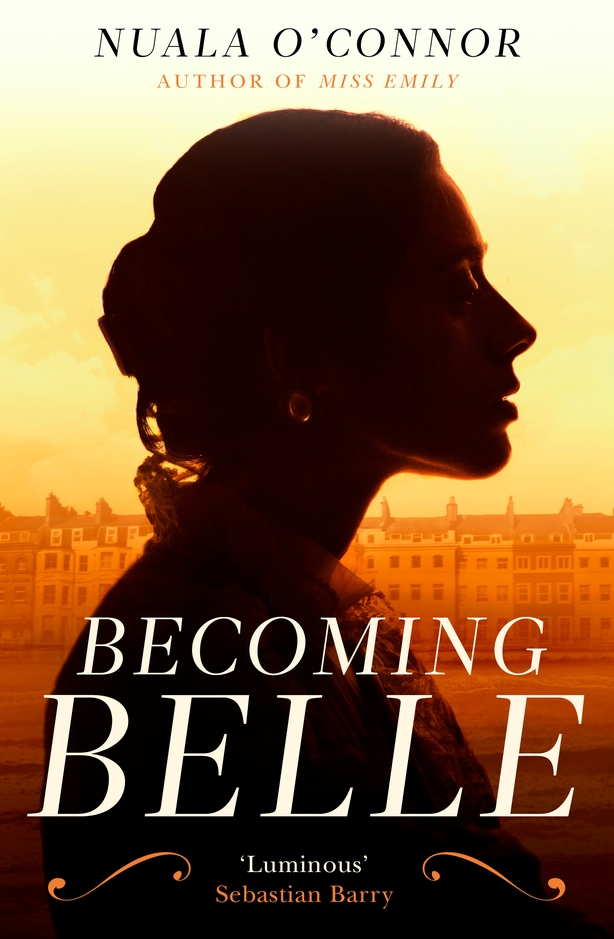 About The Author: Nuala O'Connor (aka Nuala Ní Chonchúir) was born in Dublin, Ireland, she lives in East Galway. Her fifth short story collection Joyride to Jupiter was published by New Island in 2017; her story Consolata from that collection was shortlisted for Short Story of the Year at the 2017 Irish Book Awards.
Nuala's third novel, Miss Emily, about the poet Emily Dickinson and her Irish maid, was shortlisted for the Eason Book Club Novel of the Year 2015 and longlisted for the 2017 International DUBLIN Literary Award.