There have been certain figures that have had such an impact on modern music that it's difficult to understate their influence. Leonard Bernstein is undoubtedly one of them; imagine a life without the eminently hummable scores for movies like West Side Story or On The Town? Or from his classical repertoire, the famous Serenade: after Plato's 'Symposium'?
Such is the American composer, conductor and musician's influence on 20th century music, his compositions are so ingrained in consciousness that many of us will undoubtedly recognise the piece before you realise it's one of his. Born in Lawrence, Massachusetts in 1918 (he passed away in 1990), Bernstein went on to gain huge renown throughout his lifetime for both his Broadway and film scores (the aforementioned West Side Story and On The Town, as well as Candide, On the Waterfront, Peter Pan and more), his work with the New York Philharmonic – of which he was Musical Director for 11 years - and an array of other compositional work.
WATCH: West Side Story Symphonic Dances, with Leonard Bernstein & The New York Philharmonic
Now, as we approach the centenary of Lenny's birth this Saturday, August 25th, RTÉ lyric FM is paying homage to the iconic composer with a series of programmes across the weekend.
On Saturday, Movies and Musicals (RTÉ lyric FM, 1pm – 4pm) presenter Aedin Gormley will present a special Bernstein concert recorded at the Concertgebouw, Amsterdam, featuring Kim Criswell, Julian Ovenden and the Royal Concertgebouw Orchestra, and conducted by film music specialist John Wilson.
Later that day, Vespertine with Ellen Cranitch (RTÉ lyric FM 10pm – 1am) will examine Bernstein's career in more specific detail, where we'll hear some of his orchestral favourites as well as some great jazz versions of his popular compositions.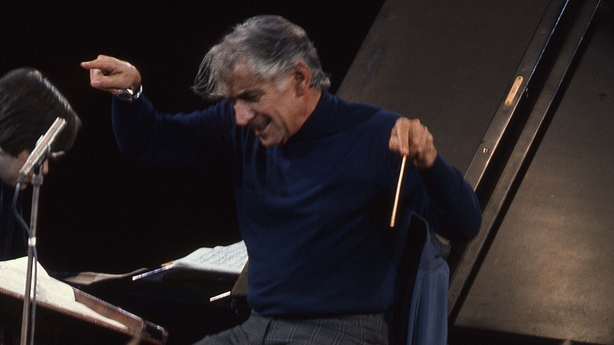 On Sunday, The Lyric Feature (RTÉ lyric FM 6pm – 7pm) will run a series of features on the vital influence Bernstein exerted as conductor, composer, educator, writer and broadcaster. They include musician Jon Tolansky, who played under him, various musicians from the London Symphony Orchestra, New York Philharmonic Orchestra, and Israel Philharmonic Orchestra, and a special recording of Bernstein in conversation with Chicago broadcaster Studs Terkel from 1985.
And if you want to experience the potency of Bernstein's repertoire first-hand, a centenary concert takes place at the National Concert Hall in Dublin next Wednesday, August 29th, kicking off the NCH's International Concert Series 2018/2019. The event will feature the Baltimore Symphony Orchestra conducted by Marin Alsop with their Bernstein Centenary Programme, featuring Nicola Benedetti on violin. More details here.