Writer and filmmaker Maurice Fitzpatrick writes for Culture about his acclaimed new documentary, John Hume in America, which screened on RTÉ One on Tuesday, August 7. Watch the full documentary here.
The beginnings of an entirely new approach to politics in Northern Ireland were outlined in two articles John Hume wrote for the Irish Times in 1964. Like many other beneficiaries of the 1947 Education Act, which instituted mass education and opened up new opportunities to a new generation determined to transcend the old political binaries of orange and green, Hume envisaged a new politics in Northern Ireland. This politics was to find public expression in the noble goals of the Civil Rights Movement in 1968; and political expression in the Sunningdale Agreement between Britain and Ireland (1973), which represented a process of achieving political agreement in Northern Ireland. Despite the palpable gains of the Civil Rights Movement and the power-sharing Executive, paramilitary organisations in the North and British misadministration stymied progress towards a new, shared political structure for years to come. 
We need your consent to load this YouTube contentWe use YouTube to manage extra content that can set cookies on your device and collect data about your activity. Please review their details and accept them to load the content.Manage Preferences
Dublin, right up until 1969, had quite simply no policy towards, or presence in, Northern Ireland. Given the breakdown of civil order in the North, Dublin urgently needed to have a point person whose strategy was credible, and who was consistent and reliable. From such a person a new approach to politics could flow: a new concept of how to create mutually acceptable political structures in Northern Ireland and, crucially, an All-Ireland involvement in Northern Ireland. 
In the Name of Peace: John Hume in America shows that to effectively rebalance the power relationship between Britain and Ireland, Irish-American pressure at the highest levels of US politics was required.
John Hume was first elected to the Parliament of Northern Ireland in February 1969. From that point, up to his retirement three decades later, Dublin—irrespective of political party or government permutation—completely aligned with Hume. Naturally, Hume had his critics, foremost among them was Conor Cruise O'Brien. Yet O'Brien did acknowledge, in his political obituary on John Hume, the unprecedented influence that Hume wielded in Dublin: 'John Hume has had more influence on the political life of this whole island, and on Anglo-Irish relations, than any of the six Taoisigh who have governed in the Republic since the premiership of Sean Lemass [1959–66]. For more than 20 years now John Hume has controlled the policy of every Dublin Government towards Northern Ireland'.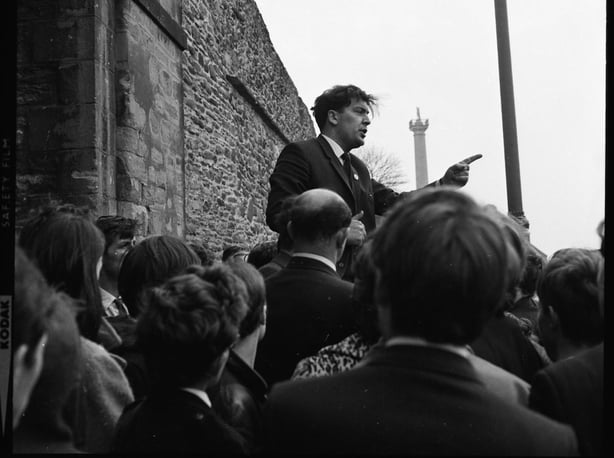 In the Name of Peace: John Hume in America shows that to effectively rebalance the power relationship between Britain and Ireland, Irish-American pressure at the highest levels of US politics was required. Hume perceived this, and from the mid-1970s onwards he determined to create a consensus on Capitol Hill and in the White House to support his agenda for peace and power-sharing. 
The support of senior US politicians for Hume's agenda constituted a fundamental break with precedent—the British perspective that Northern Ireland was an 'internal matter' for the UK alone to adjudicate. Bill Clinton acknowledged in interview for this film that the work done in the 1970s and 1980s was key to enabling him to commit to the Irish Question in the dedicated way that he did. By the time Clinton took office, in 1993, the Carter Statement (1977) and the Anglo-Irish Agreement (1985) had both occurred and the relationship between the US and London, as well as the relationship between Dublin and London, had been entirely recast. This empowered Clinton to take the risks for peace that he took and to support his special envoy, Senator George Mitchell, to the degree that he did.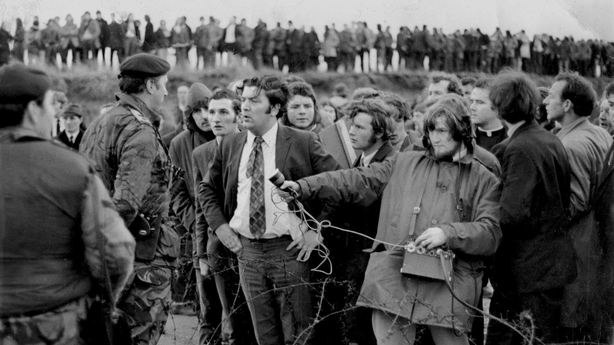 Building peace, and protecting that peace, in Northern Ireland requires a clear view of the nature of the problems in Northern Ireland, and a sense of the depth in time of the current phase of the peace process to educate people about confronting the problems that endure. A reflection on the political life of John Hume in a good place to start. 
In the Name of Peace: John Hume in America was written, produced and directed by Maurice Fitzpatrick. It will screen on RTE One at 9.35pm on Tuesday, August 7th. Fitzpatrick is the author of John Hume in America: From Derry to DC (IAP, 2017).