Over 100 comedians are set to descend upon the Iveagh Gardens from the 26th-29th of July for the Vodafone Comedy Festival. One act that we're particularly looking forward to is Blindboy Boatclub's live podcast with comedian Gregg Turkington (AKA Neil Hamburger) on Saturday 28th in The Funny Bone.
We e-mailed the Rubberbandit to discuss his dislike for festivals, his future career plans and the delicate nature of his weekly podcast hug.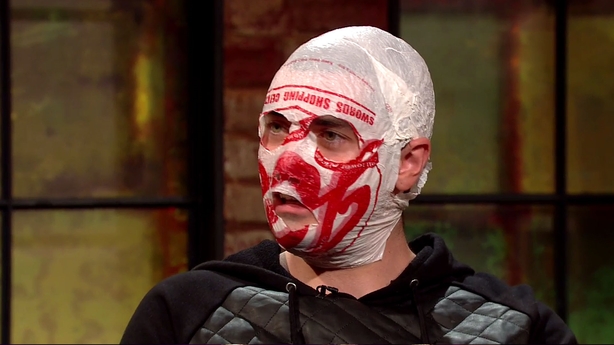 1. The Blindboy Podcast proves that there is an appetite for art, history, politics and psychology from a demographic that seems to have been overlooked - how do you think we can make these topics more relatable?
Is this RTÉ asking me how ye can do it? I'm not telling ye. Feed Ray Darcy a load of yokes or get Tubridy on some DMT. 
2. How does recording the weekly podcast work? Even when you go off topic, you seem to have an incredible amount of information at your fingertips.
The podcast comes about in a very similar way to how I write books. It's flow. I consider the podcast to be writing. I structure what the podcast will be about for the most part and leave the rest down to flow. It's an intense state of concentration that's taken me years to hone.
Regarding the information, I just really love learning about everything and anything, I adore the process. I think this is why I'm able to retain it and have it at hand.
3. Your live podcasts are continuously improving, how have you developed your interview skills?
That's been a big challenge for me. I'm well used to being interviewed but not being the interviewer. What I've started to do recently is to stop viewing my live podcasts as interviews and start approaching them as conversations.
Interviews have become sterile in today's culture. With a conversation, it can be equal and can never go off topic. A good conversation elicits a feeling of voyeurism in the listener too. It's like eavesdropping. That's what I'm working on at the moment, and I'm hitting the mark more and more.
Recently, I've been live podcasting to rooms of 500 people and there's still an intimacy in the room, a peaceful silence, a collective sense of flow. 
We need your consent to load this Instagram contentWe use Instagram to manage extra content that can set cookies on your device and collect data about your activity. Please review their details and accept them to load the content.Manage Preferences
4. You've said that you don't listen to many podcasts except Bill Burr and Joe Rogan - what is it that you like about their work?
Bill Burr showed me that it's OK to have a podcast where I just talk into a mic about everything and anything.
With Joe Rogan, he often has guests on who hold views that I'd disagree with. With internet algorithms these days, its fair easy to find myself in an echo chamber of people and views that are similar to my own. So I enjoy listening to the worldviews of people I disagree with. It's challenging and stimulating to me.  
5. Originally the live podcasts were going be interviews with unknown characters around Ireland but with Summer festivals, you've had the chance to speak with Tommy Tiernan, Louise O'Neill and now Gregg Turkington - what's the plan going forward? 
I'll interview anyone, a woman who breeds rats to the Protestant Bishop of Cork, anyone. So long as they can hold an interesting conversation, I'll give them the time on stage.
I rarely announce who my guest is going to be, that's part of the craic, but with this one, Vodafone announced the guests without asking me coz they're cry-babies. 
I have a folder of about 12 live podcasts that need to go out. 
The problem I was having, is that the live podcasts are a very different energy to the Wednesday podcasts. The Wednesday podcast is about intimacy, the podcast hug. There's a mindful therapy to podcasts, that is difficult to achieve in other mediums, I strive for this aural environment of contemplative mindful relaxation on the Wednesday podcast, and the listeners respond to it.
The live podcast is a different energy, it's more lively, it's more social. So, from a curatorial perspective, it wasn't right to put the live podcast out on Wednesdays. I think I'm going to release one live podcast a month, on a weekend, and then output the collective podcast hug episodes on Wednesdays. 
6. Do you have an interview wish-list?
No, couldn't give a s**t. I'll podcast any woman, man, animal or child and everything in between, I'd interview artificial intelligence if it was going. So long as they can hold a decent conversation. 
We need your consent to load this Instagram contentWe use Instagram to manage extra content that can set cookies on your device and collect data about your activity. Please review their details and accept them to load the content.Manage Preferences
7. You've been busy working at numerous festivals across Ireland this year, what makes Vodafone Comedy Festival different from the rest?
I hate festivals, I'm at it too long to be getting excited. I've been gigging festivals since I was 18, and I wasn't too impressed with them back then either. Most festivals are just really loud fields and hot dogs are eight Euro.
With this one, I suppose, it will be good craic that it's in the middle of Dublin, so it will be much less hassle to get as far as Burgh Quay for the bus back to Limerick. 
8. Who are you looking forward to seeing at the festival?
I'll probably head straight back to Limerick, I'm pure busy with writing my second book and I have a TV thing I'm not allowed talk about yet. But I recommend Alison Spittle, Tara Flynn, Aisling Bea and Aoife Dooley.
Also, there's a lad called Brilliant Shane who's hilarious but not on the bill. I'd love to see him get on a bill like this. 
9. For the podcast, you said you've researched ASMR, created a new studio space, you have a cinematic aesthetic in mind -  what do you envision the podcast becoming in the future?
I'm toying with the idea of expanding visually but at the same time, I'm cautious. The podcast hug is very intimate and it relies heavily on the mind's eye.
Podcasting is quite similar in experience to a good book. It's immersive, it demands attention and visualisation. 
If I can figure out a way to put that into video so that it enhances the experience, I will. But at the moment, I'm still experimenting. Yurt.