This Sunday. Drama on One will  broadcast the play which took 1st Place in the the PJ O'Connor  Radio Drama Awards 2018. The winning play is Ma, written by Elaine Murphy - listen to it above.
In this poignant tale we follow Ellen McCormack, or Ma. 
Ellen, mother to two estranged daughters, is alcoholic. A likeable character in spite of being at best totally undependable and at worst completely manipulative, over a forty-eight hour period of her life we are introduced to the chaos which follows this desperately lonely, feisty, funny woman as she struggles with her addiction.
Marion O'Dwyer stars as Ma, with Séana Kerslake as her long-suffering daughter Dee; the cast also includes Hilda Fay, Enda Oates, Joe Taylor, Nyree Yergainharsian and Mirjana Rendulic.
Below, Elaine writes for Culture about finding her own road back to writing.
---
I've known about the PJ O'Connor awards for a long time. Every year I'd look at the deadline and say to myself - this year I'm entering! On two different occasions I actually did, this was my third attempt. When I got the text message to say I'd won, I was locking my child into his car seat. By the time we hit the M1 I was 'ugly crying'. My four year-old kept repeating 'But your happy, right? Right?' Yes. Very happy. Let me tell you why...
Guna Nua theatre company debuted my first play Little Gem at the Dublin Fringe Festival in 2008. With Paul Meade directing, Anita Reeves, Hilda Fay and Aoife Duffin in the cast, the show was a runaway success. We were left blinking at each other in disbelief as we took to the road - I say 'we' but it was all them, the writers job is done once the show is up on stage - and over the next three years (with a couple of cast changes) this very talented company performed in London, New York, Paris, Australia and toured every corner of Ireland.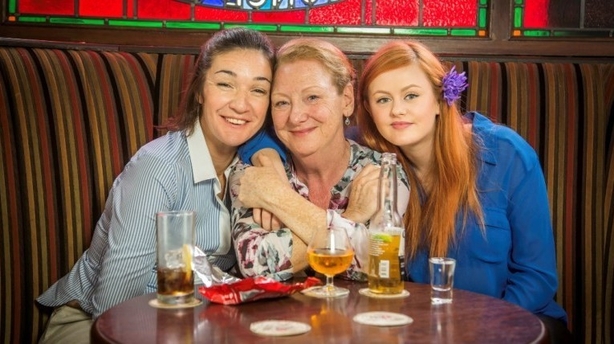 Little Gem will be ten years old this September. A lot has happened in ten years. I got married. Had a baby. Lost a mother. Followed up with my next play Shush at the Abbey theatre. Had another baby. Got sick. Recovered. And then nothing... I tried to write but the words wouldn't come out. When I did eventually manage to cobble something together it was rubbish. I started temping in offices again. Writing and I had officially broken up, but it refused to move out. It hung around the house all day like a cooped-up Alsatian waiting on it's walk. I eventually started again because when I'm writing - my family will tell you - I'm nicer to be around and the house is (a bit) cleaner.
Around this time I read an article about some Japanese women. Through addiction they'd made some bad choices and ended up very alone. This is where the idea for 'Ma' came from. It's a story about a mother and daughter reconnecting for the first time in years and trying to figure out if they can find a way back to each other.
It was great to be back in the room listening to actors work and hanging out with all the talented crew at RTÉ Radio 1. I'd like to extend special thanks to my wonderful director Gorretti Slavin, 'The Kevins' (Kevin Reynolds and Kevin Brew) and Aidan Matthews. I hope you enjoy it.
Drama On One: Ma, RTÉ Radio One, Sunday July 15th at 8pm - listen to more from the Drama On One archives here.