Acclaimed writer and performer Sonya Kelly writes for Culture about her new play, Furniture, which goes on a national tour this spring following a sell-out run at last year's Galway Arts Festival.
I am in Paris. The year is 2016 and it is the wettest spring on record. The Seine has bled it's slimy green banks, drowning trees and recreational walkways. Not a lover, rollerblader or al fresco tango lesson in sight. The sky rinses itself down on the city with the cruel relentless persistence of a taunting schoolyard bully. And to top it all, I am lonely and I only have myself to blame.
Arah would you look.
The full gang have arrived for week 2 of rehearsals. It's all feeling very real now #DruidFurniture
Tickets for 13 venues on sale now https://t.co/9ZoV1on4e6 pic.twitter.com/04kbIilEq1

— Druid Theatre (@DruidTheatre) March 11, 2019
I made a mistake on my application form to the Centre Culturel Irlandais Artist in Residence programme you see. When I said, what time of year it would suit me best to come, I put, 'Spring.' I didn't mean ALL of spring. I meant a bit of it. Month maybe, with moderate sunshine. Six dripping weeks in, and I have sloshed up and down every lane and boulevard, stood at every iconic gravestone, seen all the paintings and palaces, eaten twice my body weight in falafel from the Marais. I am done. The only thing I failed to achieve was the very thing I sent myself here to do: write a play. The irony of it. I had come to Paris to create witty and entertaining dialogue for the theatre, inspired by my time here, and found myself with no one to talk to. Parisians are notoriously difficult to strike up chit-chat with. They hear your accent, assume you are English, then they look at you as if you were personally responsible for lighting the fire under Joan of Arc yourself.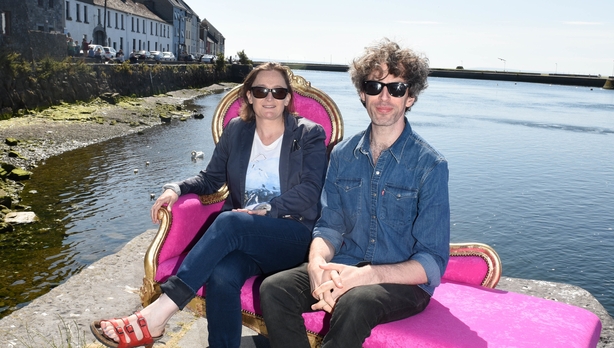 Desperate for the chance of a returned sentence, I head for the Irish Embassy on Avenue Foche. There is a recital on to raise funds to repair Eileen Gray's villa in the south of France. When the opera singer comes out singing Down By The Sally Gardens, I start to worry that I have worn the wrong shoes. After the performances, they are selling limited edition prints at €5000 a pop. A woman with a clipboard asks, 'How many will I put you down for?' I am introduced to Prince Albert of Monaco. I am definitely wearing the wrong shoes.
Fearing any prolonged conversation may result in me having to remortgage my house, I make my way to a safe corner where a simple chair sits quietly bothering no one. Next to it, a sign reads, 'Original work designed by Eileen Gray.' I lean in to get a better look, or at least to disguise my self through interest. It looks like I am getting away with it, when from behind, a voice snakes a little warning in my left ear. 'Don't touch it.' I turn and as I eyeball the art custodian, I can't help but wonder, would he have said it, had I been wearing different shoes? Who does he think I am? More importantly, who does he think he is? A torrent of unspoken unchecked prejudices flow between us as we stare each other down. My fight or flight system lights up like a switchboard: Indignation, embarrassment, amusement rage, but the brightest of them all, sweet, blessed inspiration. I excuse myself, get my umbrella, and head out into the rain.
We need your consent to load this YouTube contentWe use YouTube to manage extra content that can set cookies on your device and collect data about your activity. Please review their details and accept them to load the content.Manage Preferences
As I run down the Champs-Élysées back to my computer, my limited edition blue suede Converse All Stars, squelching in the puddles, I have already have the title firmly in my mind. Furniture, a play about tables, chairs and the people who love them, by Sonya Kelly.
Furniture is on a nationwide tour through May - find a venue near you here.