New York-based Irish filmmaker Paul Rowley writes for Culture about his involvement with Gays Against Guns, a grass roots LGBTQ direct action group joining the campaign for gun control in the US.
I always had an ambivalent relationship to parades. Paddy's Day in NYC was a weird 'Irish' jamboree of cops and bagpipes run by the homophobic Ancient Order of Hibernians. Gay Pride felt like a procession of giant corporate logos rainbow-ed up for the day.
In a country where 1 in 3 people knows someone who has been shot, gun violence touches everyone.
2016 that all changed radically. On June 12th, a man armed to the teeth with semi-automatic weapons walked into the Pulse Night Club in Orlando, and murdered 49 gay kids as they danced. Now for many, Pulse is the day we can never forget. Where were you when JFK was shot? When 9/11 happened? Where were you when you heard about Pulse? I was DJing in a gay bar in Manhattan.
It's hard to describe the grief and anger. The rage. That someone came into one of our safe spaces and gunned down innocent people who were out for the night. With legally bought weapons designed only for slaughter.
Wanting to do something, anything, I combed the internet and found a Facebook page by a newly formed group called Gays Against Guns. They were marching that Sunday at Pride. I messaged them. Did they have a cameraperson? No? They did now. The Pride parade became a Pride march again.
We walked down Fifth Avenue in blasting sunlight. In the front - angry, grieving protesters with the placards and chants you'd expect - calling for gun law reform, a ban on assault weapons. Behind them, a incredibly powerful procession of 49 figures dressed in white, silent and veiled, each one carrying a photo of a life lost at Pulse less than two weeks before. This made a roaring city go silent and weep. The procession brought it home to everyone - these were people like you and me who had been gunned down for being gay. No more Pride, no laughing, no lovers. Just lives lost. These 'Human Beings' as we came to call them, were taking their place instead, to honour and remember them.
The next day we are on the front cover of the New York Times, and since then I've been working with GAG as their video producer. We have grown to become a national volunteer direct action group, modeled much after ACT UP, whose activism changed everything for people living with HIV and AIDS. We work through protest and education to end the public health crisis that is American gun violence, claiming over 38,000 lives every year, all while living under a president who the 'charity' mouthpiece of the gun industry - the National Rifle Association - spent 30 million to elect.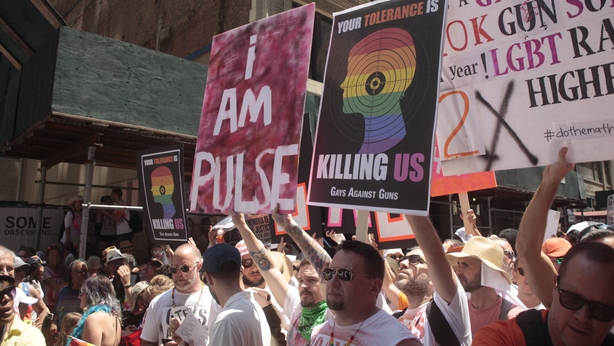 Two years later to the day we're marching again at Pride - and our group of Human Beings is now in the 100's, having expanded to include victims of domestic violence, hate crimes, mass shootings, police brutality. As we walk past the Stonewall Inn where the riots that led to the Gay Lib movement began, one man burst out sobbing. 'Brenda!" he cried out. He points a photo one of the Human Beings is carrying - Brenda McCool - a two time cancer survivor and mother of 11 who died at Pulse saving her son's life. The man is sobbing now, "I knew Brenda, I knew her". And he starts talking to her photograph. Talking about friends she hadn't seen, sending her love. I felt like my heart had been ripped from my chest and almost collapsed on the street. It's just that raw. In a country where 1 in 3 people knows someone who has been shot, gun violence touches everyone. The man turns to us, tears down his face - "Thank you, thank you for what you do. I love you."
Paul Rowley is a filmmaker living in Brooklyn and a director at Still Films. His latest short film The Red Tree plays the Galway Film Fleadh on July 15th. He is currently working on a feature length documentary about Gays Against Guns.