Artist Katie Moore writes for Culture about her new work Entropy, now showing at the Linenhall Arts Centre, Castlebar.
I'm a visual artist based in Mayo. Back in 2015 I went to a talk hosted by the Arts and Disability Connect team, it was great, so many opportunities up for grabs for artists like me – New Work, Mentoring and Training Awards. I was newly graduated from GMIT Galway with a BA first class honours in Design in Textiles at the time. I left the talk feeling very inspired, knowing that I would apply for an award with them sooner rather than later.
Arts and Disability Connect is a funding scheme for artists with disabilities – perfect for me as I have Cystic Fibrosis. Having Cystic Fibrosis has given me this empathy for others, and in return this empathy keeps appearing in my artwork.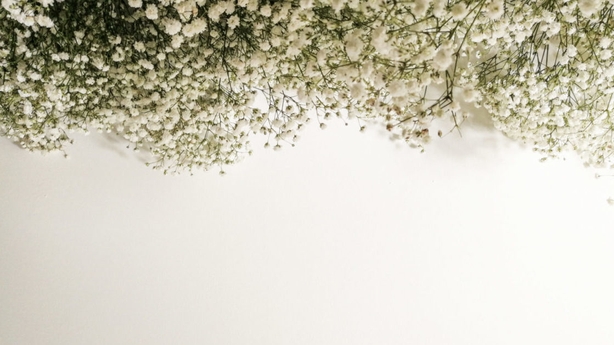 My current work Entropy is inspired by a conversation I had with Tuam historian Catherine Corless. We spoke about the Mother and Baby home Catherine has been researching. She was great to talk to, so fascinating and so forthcoming with all her research. She was such an empathic person to take on this project, which made me think of how some people are drawn to work on such subjects. I was interested in Catherine's connection to her home.
I later visited the site of the Mother and Baby home in Tuam; I started to look at the weeds, and what was growing there, connected to the soil. I worked with the weeds, drawing from them. From that I started to look at flowers, gypsophila to be exact, which is also known as 'baby's breath'.
'Entropy' means the natural decline from order to disorder. This is an installation about life, and death, acknowledging a certain time in Ireland.
In 2017 I was awarded the Arts & Disability Connect New Work Award; Entropy is the outcome of this award. Entropy is an installation made from gypsophila flowers, over 200 stems of baby's breath hanging upside down suspended from the ceiling. The flowers are dried, they look dead and insignificant, but each bud is very significant. The flowers are also fragile-looking, delicate and vulnerable. I was intrigued by the name Baby's Breath – 'breath' meaning life, being the opposite of death. I then looked into breath and breathing, I started to record my breath. While viewing the installation you hear the sound of breathing.
My work is inspired by my own life experiences living with long-term illness. My illness has forced me to spend long periods in hospital and home isolation; it is these experiences that most influence my work.
I use various mediums, including textiles, drawing, and video, to create installations. My work is very conceptually driven. Each process and action within the process is very considered. The materials I use are relevant to each concept I am exploring at the time. Human conditions such as empathy, isolation, trauma, loss, memory are recurrent themes within my practice. 'Entropy' means the natural decline from order to disorder. This is an installation about life, and death, acknowledging a certain time in Ireland. I hope the installation will create an environment for the viewer to experience - one that they will leave thinking about.
Entropy is at the Linenhall Arts Centre Castlebar until the 2nd of June - more details here.