Irish actor Denise Gough has been nominated for a 2018 Tony Award for her performance as Harper Pitt in Marianne Elliot's revival of Tony Kushner's play Angels in America, currently playing on Broadway.
Gough, most recently seen in Conor MacPherson's RTÉ drama Paula, has taken the theatre world by storm in recent years; her acclaimed turn in the acclaimed two-part eight-hour play has already earned her an Olivier Award for Best Actress in a Supporting Role.
The actor, who hails from County Clare, first took on the role alongside Andrew Garfield and Nathan Lane at London's National Theatre, before bringing the performance stateside.
We need your consent to load this YouTube contentWe use YouTube to manage extra content that can set cookies on your device and collect data about your activity. Please review their details and accept them to load the content.Manage Preferences
Speaking on the role, Denise told RTÉ Culture that it was a perfect - if not exhausting - fit.
"It's just in my bones to do that now. Like, I have to take care of myself and I've had to streamline certain areas of my life, but that's what I'm built for."
"I always think that when people who come and do theatre and they haven't done it before, they take on these huge roles and then they're off within two weeks and you think 'Yeah, because it takes stamina'."
"And it takes a different kind of stamina than waiting in a trailer for ten hours. It's an athletic sport, so don't get involved unless you're prepared to build it up, you know? I get so sick of that 'I want to play this huge part' and you think, 'Well then train to play that huge part by doing smaller parts'."
"Yeah, so I'm totally ready; I'm just knackered all the time. And that's fine, I get to play this part in this play and that's amazing."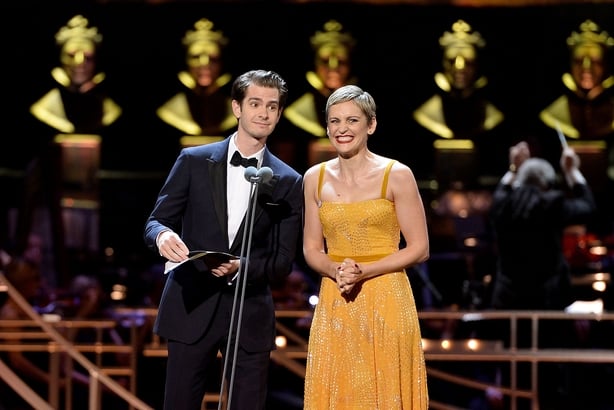 The 72nd Annual Tony Awards will be held on June 10, 2018, in Radio City Music Hall. Denise has been nominated for Best Featured Actress in a Play, as well as her co-star Susan Brown. Additionally, Andrew Garfield is in the running for Best Leading Actor in a Play, and Nathan Lane for Best Featured Actor in a Play.
The production itself has been nominated for Best Revival of a Play, Best Original Score, Best Scenic Design of a Play, Best Costume Design of a Play and Best Lighting Design of a Play.
Gough has recently completed a number of movie roles, including roles alongside Keira Knightly in literary biopic Colette and Patrick Stewart in epic fantasy The Kid Who Would Be King, the eagerly anticipated second film from Attack The Block director Joe Cornish.