Dr Michelle Cullen, the co-founder of Accenture's acclaimed Women on Walls campaign, writes for Culture about the project to date and the exhibition's recent visit to the UN in New York City.
Like many women working in Ireland today, I vividly remember hearing Mary Robinson as President-elect calling out for the first time in history, the women of Ireland, not as other, but as self.
Her hauntingly simple and beautiful words of empathy, inclusion and peace, had a lasting impact on me, and many of my generation. More women joined the Irish workforce in the five years that followed her election than in the previous 20 years combined, and I was one of them. Over a ten-year period, the number of working mothers doubled. Children born to those mothers have now come of age, and my daughter is one of them.
Walls can be a symbol of exclusion and keeping people out. We can challenge that and use walls as a symbol of inclusion.
It can be easy to think that when we started on a path to equality, progress would be inevitable, just a matter of time. But more than 27 years on, we are not where we might have expected to be, and another generation of young women is discovering anew, the invisibility of women in many public spaces.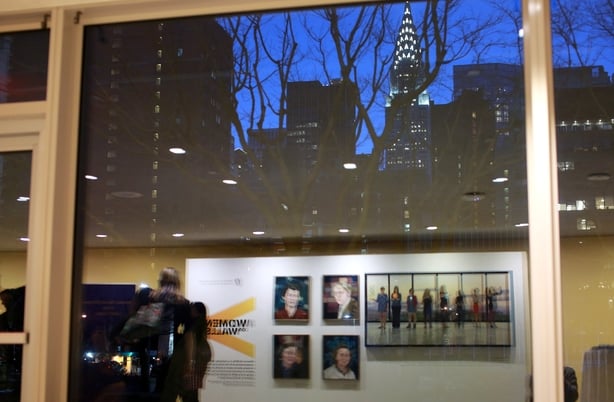 For 230 years, the Royal Irish Academy (RIA) in Dublin had been one of the public spaces in Ireland which had portraits on the walls showing leaders in the sciences and humanities. But the walls recognised the achievements of men only.
All changed, however, in December 2016 with the unveiling of the Women on Walls portraits, a collaboration between Accenture and RIA. I still feel a thrill when I go to Academy House today and see these powerful portraits by artists Vera Klute and Blaise Smith showing twelve women leaders in sciences and humanities, starting to redress that balance in history and paint a different picture for future generations.
Accenture's Women on Walls campaign (12 Irish academics) catching attention at UN Commission on the Status of Women in New York this week. pic.twitter.com/oSQO02h0Kn

— Business Plus (@BusinessPlusMag) March 15, 2018
The paintings have prompted many people, men and women and children, to look again, and reflect on gender. The portraits were transported and showcased at the United Nations in New York in March of this year for the 62nd session of the Commission on the Status of Women. This is the principal global intergovernmental body dedicated to the promotion of gender equality and the empowerment of women, and is attended by delegates from all over the world. For the first time in history, Ireland held the Chair.
It was incredibly moving to see the Irish Women on Walls at the UN, under the leadership of our gracious host, H.E. Geraldine Byrne-Nason, and in the presence of former President Mary Robinson.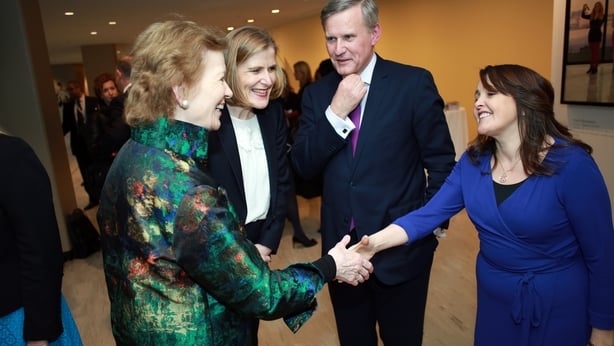 So many people have written to comment on the impact of seeing the portraits. The magic of Women on Walls is helping to change the conversation. Art and images can touch all of us and can connect us all in new ways. Walls can be a symbol of exclusion and keeping people out. We can challenge that and use walls as a symbol of inclusion. An Italian man commented to me in passing: "There is another history, that we do not hear, and it's really important that we start to tell that story too."
It's wonderful to see the RCSI commission a series of new Women on Walls portraits for their historic building on St. Stephen's Green to recognise the achievements of women leaders in medicine.
As Mary Robinson said in her Presidential victory speech on 7th November 1990, "look what you did, you made history".
Watch the RTÉ One documentary, Women on Walls below:
We need your consent to load this YouTube contentWe use YouTube to manage extra content that can set cookies on your device and collect data about your activity. Please review their details and accept them to load the content.Manage Preferences
Women on Walls is a campaign originally by Accenture in partnership with the Royal Irish Academy, seeking to make women leaders visible through a series of commissioned portraits. In March 2018, RCSI in partnership with Accenture announced an Open Call to Artists to commission a series of new portraits. View more information about the Open Call to Artists, managed by Business to Arts here.