Siobhán Kane sends a postcard from the Out the Frame hip-hop festival in Belgium...
The arts venue Vooruit, stands proudly in the centre of pretty Ghent; a labyrinthine, impressive space, it is an intriguing mixture of the past and the future, the historic building filling with new histories, with each interesting programming decision. 
Out the Frame is testament to their programming dynamism, and the inaugural one-day hip-hop festival, in partnership with Vooruit's Wouter Vanhaelemeesch and All Eyes on Hip-Hop's Willem Vandesande, pulls together some of the most exciting hip-hop artists of the moment.
A film screening of Sacha Jenkins' documentary about hip-hop, Word is Bond, contextualises the festival, exploring the history of the form, and its ever-important role in a saturated world, and while highlighting the forms' fetishizing of nostalgia, it also reflects on its regenerative, shapeshifting nature, which in a way, guarantees its future. 
The programme folds in Belgian artists, like Stikstof, as well as London's Gaika, and New York's Junglepussy, connecting the dots between the local and the universal. It also challenges the Anglophone thread in language and music, with Dutch, French, and English living cheek by jowl, both on and off the stages.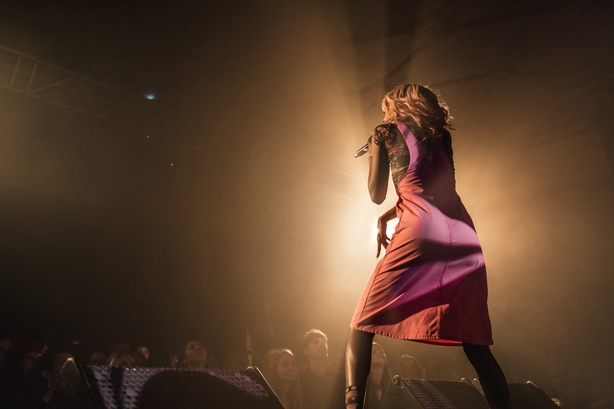 One thing that immediately resonates, is the diversity of representation on the stage, with female artists among the most interesting – from Belgium's only female hip-hop DJ collective SUPAFLY, to Shayna McHale (Junglepussy) and WWWater, who serve to complement each other's work, almost accidentally.
Junglepussy is all raw, and immediate, playful but serious, powerful, and charming, moving easily from work like Bling Bling to State of the Union with a confidence that is affecting, and inspiring. At different turns she brings to mind L'il Kim (who she has worked with) and Missy Elliot, moving around themes of sexuality, femininity and agency with ease, folding in her Jamaican-Trinidadian heritage, with a swaggering delivery, accompanied by her excellent DJ – she is a particular highlight of the night.
Charlotte Adigéry (WWWater) is a revelation, put forward as Solange meets Shabazz Palaces, expectations are high, and her link with Soulwax suggests that a less-obvious musical path is being forged. Accompanied by Steve Slingeneyer (Soulwax) on drums and Bolis Pupul on synths, her set veers from space-age hip-hop, to sensual disco, to drone-like electronics that wrap around her stellar voice, and signify the evolution of a really interesting artist. 
Both Open Mike Eagle and Gaika also complement each other, crossing genres and influences with verve, with Open Mike Eagle mingling a politically-charged set. His visuals point to a witty mind, something last year's magnificent record Brick Body Kids Still Daydream attests to, with comic book graphics harnessing a more interesting take on society, serving to remind about hip-hop's fascination with comics and superheroes (think MF Doom, Wu-Tang Clan) using alternative realities as a prism through which to discuss inequality, rage, and the disingenuousness of society. He provides a lightness of touch to heavy subjects, which he shares with Warp's Gaika, who took us on a darkly radiant journey, taking in moody dancehall, along with grime, trip hop, and techno to deliver a pulsating set that was part performance-art and part-party–uncompromising, arresting, thoughtful work.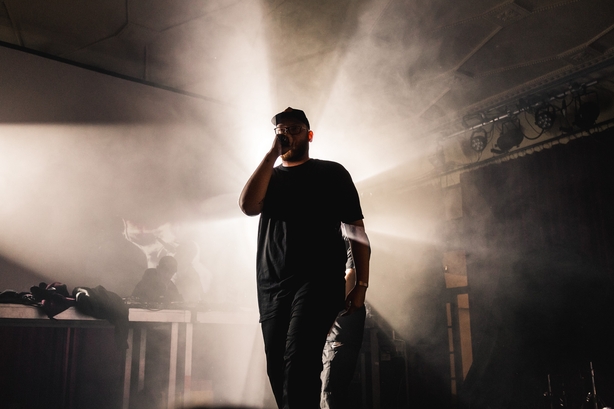 However, it was perhaps Belgium's own hip-hop scene that won the day – the Brussels-based collective Stikstof ruled the stage, where Jazz, Omar-G (aka Zwangere Guy), and Rosko stalked around like men possessed, to beats provided by the excellent Astrofisiks, think the spirit of Kassovitz's La Haine reimagined as a hip-hop group, as images of police brutality dominated the screen, they wove a rich tapestry of narratives, taking in a disenfranchised youth, a largely apathetic world, and the difficulties of living inbetween. The soundscapes were dark and galvanizing, much to the pleasure of the biggest crowd of the festival, who took to creating a lively mosh pit. One of the gifts of hip-hop as a form rests in its ability to blood let frustration, and it is something Stikstof do so well – their work will surely find its way into an international consciousness, while they continue to provoke a national one.
Out the Frame celebrates the more peripheral voices in hip-hop, and mirroring that, society. It is testament to its importance and success, to come away with more questions than answers, more anger than complacency, more food for thought, and more new artists to support and explore. Vooruit roughly means 'forward' - Out the Frame has taken that as its watchword. It will be exciting to see where it brings us next.