Dubliner Manus Boyle Tobin was named the Hennessy New Irish Writer of the Year, at a gathering in the historic surrounds of The Honourable Society of King's Inns Dublin to announce the winners of the 47th annual Hennessy Literary Awards.
Winners on the evening included Aaron Finnegan in the First Fiction category, Louise G. Cole for Emerging Poetry, and Manus Boyle Tobin for Emerging Fiction - from the three winners, Boyle Tobin was named the Hennessy New Irish Writer of the Year. The winners were chosen by playwright Marina Carr, author Niall Griffiths and The Irish Times New Irish Writing page editor, Ciaran Carty.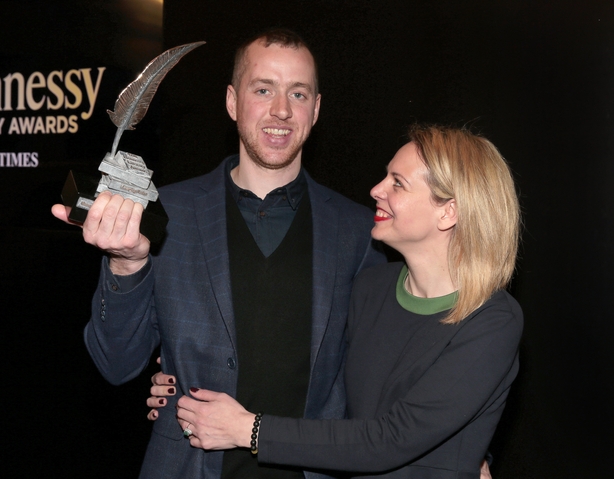 From Dublin, Manus Boyle Tobin holds a M.A. in Creative Writing from UCD. Speaking about his his winning story The Drizzle on the Windscreen, he said: "This story was inspired by glimpses and snapshots of Dublin and its people. By the housing crisis, homelessness and isolation. By each preceding line that gave way to the next. By the taxi driver who had nowhere to return to when he finished his shift." 
Also on the night, celebrated novelist Bernard MacLaverty, author of Lamb, Cal, Grace Notes and Midwinter Break was inducted into the Hennessy Literary Awards Hall of Fame, joining a list of luminaries that include Vona Groarke, Joseph O'Connor, Deirdre Madden Patrick McCabe, Colum McCann, Frank McGuinness, Anne Enright, Neil Jordan, Sebastian Barry, John Boyne, and Paula Meehan.
This year's winning entries in the Hennessy Literary Awards will be published on RTÉ Culture in the coming days. 
The full shortlist of finalists for the Hennessy Literary Awards:
First Fiction:
Aaron Finnegan from Louth for Just This 
Maeve McGowan based in Cork for The Summer of Wasps
Samuel McManus based in Bray for The Dog in the Story 
Pat Nolan based in Dublin Women and Other Anthropoids 
Marty Thornton from Galway for The Mighty Quinn 
Emerging Fiction:
Manus Boyle Tobin based in Dublin for The Drizzle on the Windscreen 
Angela Finn based in Dublin for The Architect's House in Summer 
Ellen Kelly based in Dublin for This Thing 
Niall McArdle based in Dublin for The Light on the Water 
Ruth McKee based in Dublin for There's nothing you can do that can't be done 
Lani O'Hanlon based in Waterford for Undressing the Muse 
Maeve O'Lynn based in Belfast for Inside 
Emerging Poetry:
Louise G Cole based in Roscommon for Fur Coat and No Knickers and Dirty Little Dresses 
Chris Connolly based in Dublin for Particulars of Bovine Husbandry and Old-age Sensibility 
Eoin Devereux based in Limerick for The Bodhi Tree 
Billy Fenton based in Kilkenny for Cracked Voices 
Majella Kelly from Galway for Lichenology and Funeral 
Aoife Lyall based in Scotland for Arcania and Hermit Crab