Mark Baldwin writes for Culture about the inspiration behind his acclaimed Irish animated sitcom, Ends Meet, now showing on Monday nights on RTÉ 2.
When you're a kid, life just seems boring compared to cartoons. That's how I felt. Cartoons just seemed better, more tactile, more beautiful, more tender and more funny than normal life. Normal life being the drab tarmac and cement estates of Swords, Co. Dublin.
As I grew up, life started to insist that I acknowledge it more. And I was finding that difficult. To this day, life seems like a bit of a s**tshow we're all performing in. Like a load of dumb clowns to an audience of ourselves.
Watch Ends Meet: Season One here via RTÉ Player.
When I was about ten, I was allowed to watch The Simpsons and it really changed things for me. The Simpsons was real, but it wasn't. It was absurd but it made perfect sense. It was hopeless and at the same time hopeful. Cynical yet sincere. I loved and consumed every episode I could.
But there was something missing with The Simpsons. For as universal as it was it still wasn't like my world, Ireland. I wanted to see our country, our streets, our houses, our lives as a cartoon.
We need your consent to load this YouTube contentWe use YouTube to manage extra content that can set cookies on your device and collect data about your activity. Please review their details and accept them to load the content.Manage Preferences
Because, again, cartoons are better than real life. I went to college and bolted as soon as a found out how to make a cartoon made from start to finish and started making my own stuff for YouTube. My friends Brian, Sean and Luke were always doing characters themselves. And Luke was a great composer. A one-man film scorer. So we did that in the wilderness of the lowly unwatched YouTube channel SillyBeggarFilms.
I was on the dole since 2011. Getting rejected with every script I wrote, getting little to no response for my cartoons and just trying to stay motivated as life seemed more and more pointless. It was autumn 2015, and I'd been watching a load of Only Fools and Horses with my housemate. It was as funny as it had been when my parents would watch it, laughing the house down. There you have a family that's not like other families. And the more you tell their story the more people can see their lives in it.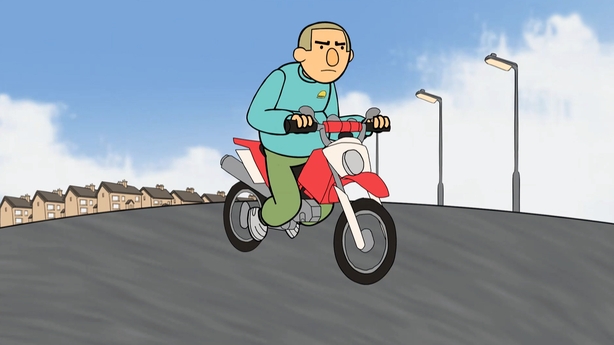 I wanted to take the areas I grew up with and capture their struggles in a sensitive and funny way. I started working on that, and came up with Ends Meet. It was about a lad on the dole, Beezer, that was raising a kid, Sean Og, who he had in secondary school living under Tony's roof (Beezer's grandad). They weren't the type of family you'd see on mortgage ads or posters for Political Parties. The family were too busy struggling to even worry how they were perceived by the greater world. They were always just trying to get by.
That's what I felt was the Irish story. That we just try to get by against a world that doesn't make sense. There's one thing that's said about the Irish people that throughout their tumultuous history they never lost their sense of humour. And I like to think that. It's something I've gripped on to because life just doesn't make sense to me and I'd rather live in a cartoon.
Ends Meet, RTÉ2, Mondays at 11.30pm