Irish drag sensation Victoria Secret, the promoter behind the popular Dragged Up events, gives Culture a brief herstory lesson about some of Ireland's fiercest ladies.
The Netflix generation may have fallen in love with the queens handpicked by legendary drag queen RuPaul for her TV show RuPaul's Drag Race. But Ireland's love affair with drag was well underway long before anyone had entered Ru's thunder dome vying for the coveted title of America's Next Drag Superstar.
The Emerald Isle has borne a host of talented Queens that call Ireland their home, and one thing for sure is… Oh honeeeeey, Irish people are fascinated with drag. They want to know it all; how we do our makeup (Kim Kardashian was still in nappies when our queens were already busy contouring and highlighting), where we get our costumes (Thanks hun, Penneys… of course) but lately everyone is fascinated on whether drag has become more mainstream in Ireland, especially since RuPaul's Drag Race became everyone's guilty pleasure.
It's clear that the show has opened new doors to queens around the world and firmly cemented drag queens into pop culture, allowing them to achieve things they only dreamed of - but anyone that's been around a while (and I'm not calling you an old queen, let's just say seasoned) will know that Ireland was way ahead of the trend.
I've been performing in Ireland for over a decade now, and having just turned 14 in drag years (don't even dare confuse those with dog years) I clearly remember one of my first drag memories, when in 2001 Ireland's most outrageous teenager took over the National Lottery's Telly Bingo show on RTÉ 1. Step forward, Miss Shirley Temple Bar. She won the Alternative Miss Ireland in 1997 with a breath taking gymnastics routine (seriously, it will leave you more breathless than The Corrs) and now she was ready to enter households all around Ireland, including mine… I was in AWE. Shirley's gone from strength to strength, but her home from home has always been her weekly Bingo show in The George Bar, which last year celebrated its 1000th edition - making it one of Ireland's longest-running weekly social events.
Long before that in Co. Cork, the infamous Danny LaRue was born Daniel Patrick Carroll in 1927. Years later, his family made the move to the UK, where Danny went on to make his mark with his celebrity impersonations of Elizabeth Taylor, Judy Garland, Marlene Dietrich and Margaret Thatcher. By the 1960's he was among Britain's highest-paid entertainers and he continued to be in demand and work until he passed away in 2009.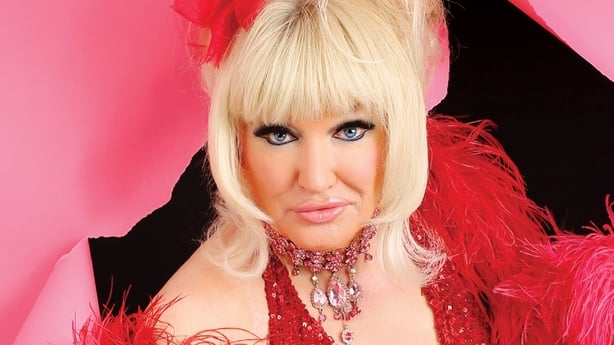 Meanwhile back in Ireland we had our own import in the form of Mr Pussy, aka Alan Amsby, who moved to Dublin from South London in 1969. He became a prominent feature in Irish cabaret, as well as featuring in TV, film and theatre. All of this eventually led to the opening of 'Mr Pussy's Cafe De Luxe' with Bono, Jim Sheridan and Gavin Friday. Located on Suffolk Street in Dublin, Mr Pussy was the hostess with the mostest as the café became known as the night club that broke all rules. Mr Pussy has since retired, but much to the delight of her fans appears at a few select events each year. In 2016, Mr Pussy released a tell-all memoir, Before I Forget to Remember… and if you're a fan of the goss you best get yourself down Easons pronto – she spills all the t.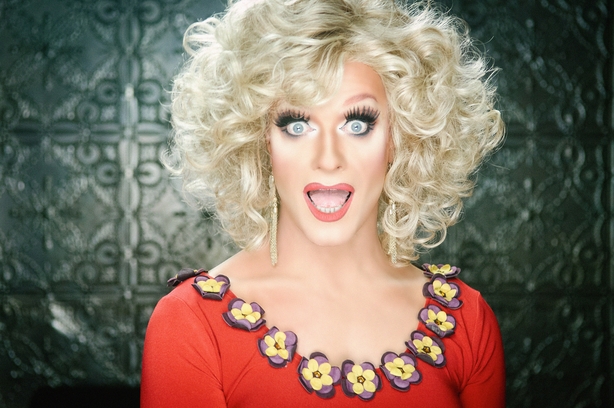 In more recent years there's been one queen nobody has been able to avoid… I mean seriously, I tried (JK). Panti Bliss shook Ireland to its core, telling people exactly how it is and made no apologies for it - all on live TV. Having started drag in Tokyo in the 90's, Panti was always one of the jewels of the Irish gay scene - it just took the rest of you a few years to catch up with us. She hosted the legendary Alternative Miss Ireland fundraiser for 18 years, which saw stars such as Veda, Katherine Lynch and Shirley Temple Bar crowned. Panti has since gone on to star in numerous one-woman shows around the world, wrote a book, opened a bar, released a documentary about her life and is currently working on a new TV show with Sky.
Basically, Ireland has always been home to the glamorous, celebrating those of us who don't fit into a Penneys size 8 shoe and who need to call on Harland and Wolff to construct a heel fit for a queen. You can catch a drag queen 7 days a week, 365 days a year in events around Ireland - and the best part is most of it's free!
Victoria Secret is Ireland's tallest lady. Living in Dublin, you can catch her appearing in venues, street corners or in queues for Abrakebabra all around Ireland. Her events company Dragged Up has been running for 6 years, and continues to bring some of the best International drag talent to Dublin every month - go here for more information.