Awards season is in full flight in Hollywood. Hilary White and Arlene Hunt have been perusing some of the nominated films for Arena.
They were in studio with Kay Sheehy to name their winners and losers. One of the films they reviewed is writer-director Martin McDonagh's Three Billboards Outside Ebbing, Missouri, which stars Frances McDormand. So, does it live up to the hype?
The film follows Mildred Hayes, a grieving mother who takes matters into her own hands following her daughter's murder and the bumbling police response that follows. Hilary described the character of Mildred.
"She's now decided that she's going to bring her animosity and her frustration right out in the open of this very small backwater in Missouri called Ebbing. She sees these three billboards which are dilapidated, nothing being done… puts down a wad of cash and she goes 'This is the slogan I want you to put up'. She basically calls out the completely inept police force who failed to find the killer."
We need your consent to load this rte-player contentWe use rte-player to manage extra content that can set cookies on your device and collect data about your activity. Please review their details and accept them to load the content.Manage Preferences
Arlene took Kay through some of the other players in the film, including Woody Harrelson's Police Chief and a "pitbull"-like Sam Rockwell, who plays his second in command. Hilary explained that he enjoyed McDonagh's direction but took issue with some of the characters' motivations.
"There's a lot of very good characters in this film, and McDonagh knows what to do with them and knows how to herd them off in interesting ideas and pad them but… there is quite a stagey, absurdist, lack of credibility that some of the reactions of these characters to the situations that they're in - we just see them behave in a very peculiar way."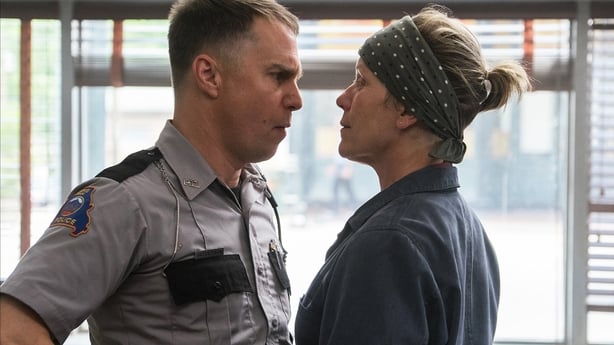 Would they recommend the film? Arlene is on the fence.
"There are great scenes… that were carried by great performances. But as a whole, I found it confusing and it left a peculiar taste in my mouth".
Hilary expressed his frustration with the film.
"I thought the ending was a bit of a cop-out. This character suddenly arrives in the second act that leads to this very convenient, slightly lazy ending. It almost kind of paints itself into a corner a bit… It's a strange film. It's quite frustrating."
To listen back to the whole segment on Arena, click here.